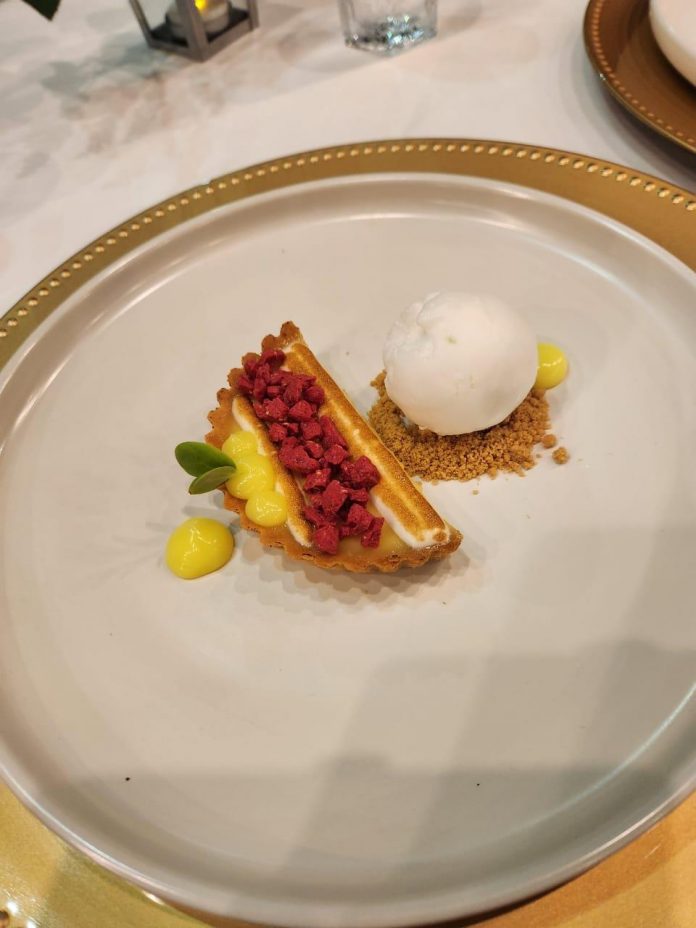 On December 3, 2022 Aruba Today was present at the fine dining occasion organized by the proprietor Mr. Nicholas Gordon of Nicolas Store, better known as Kulture Café, an iconic café in the middle of San Nicolas, the second largest town in Aruba.
The host Chef for this evening was Roy Engelen, a young entrepreneur of chef's table restaurant Royal at Wilhelminatraat 18, downtown Oranjestad. Chef Roy has more than 25 years cooking experience in the Netherlands, including a 2 star Michelin restaurant and other renowned international restaurants.
Upon arrival we were welcomed and immediately seated at our table. The setting was outside in the open air which being in San Nicolas made it an amazing event. The chef surprised us with amuse-bouche of dark roasted cauliflower soup topped with a chicken dumpling.
The restaurant offered a wine pairing created together with Boma wines to enhance your dinner, however they offered wine by the glass as well. We did not go for the wine pairing, but rather ordered our own drinks. Service was excellent. Since I requested a glass of ice to keep my water cold, the servers kept on replacing the empty glass, which to me is a big plus for my fine dining experience.
Our menu consisted of:
Amuse:
Dark roasted cauliflower soup with smoked olive oil and a chicken dumpling
Course 1:
Peruvian causa – grouper ceviche – sweet potato cream with aji amarillo – cancha corn – blackened avocado – cilantro micro greens
Course 2:
Japanse chicken salad – homemade caramel cookie – pickled cucumber – yuzu foam – mustard cress
Course 3:
Caramelized Brussel endive – puff pastry – cooked shrimps – beurre blanc- fresh basil – parmesan cheese
Course 4:
Tenderloin stuffed with beef shoulder stew – pumpkin puree – grilled green asparagus – green pepper corn sauce
Course 5:
Key lime pie – meringue – lemon curd – cookie crumble – frieze dry raspberry's – lemon coconut sorbet
All in all the setting, the food, cordiality and especially the service made it a fine dining experience.