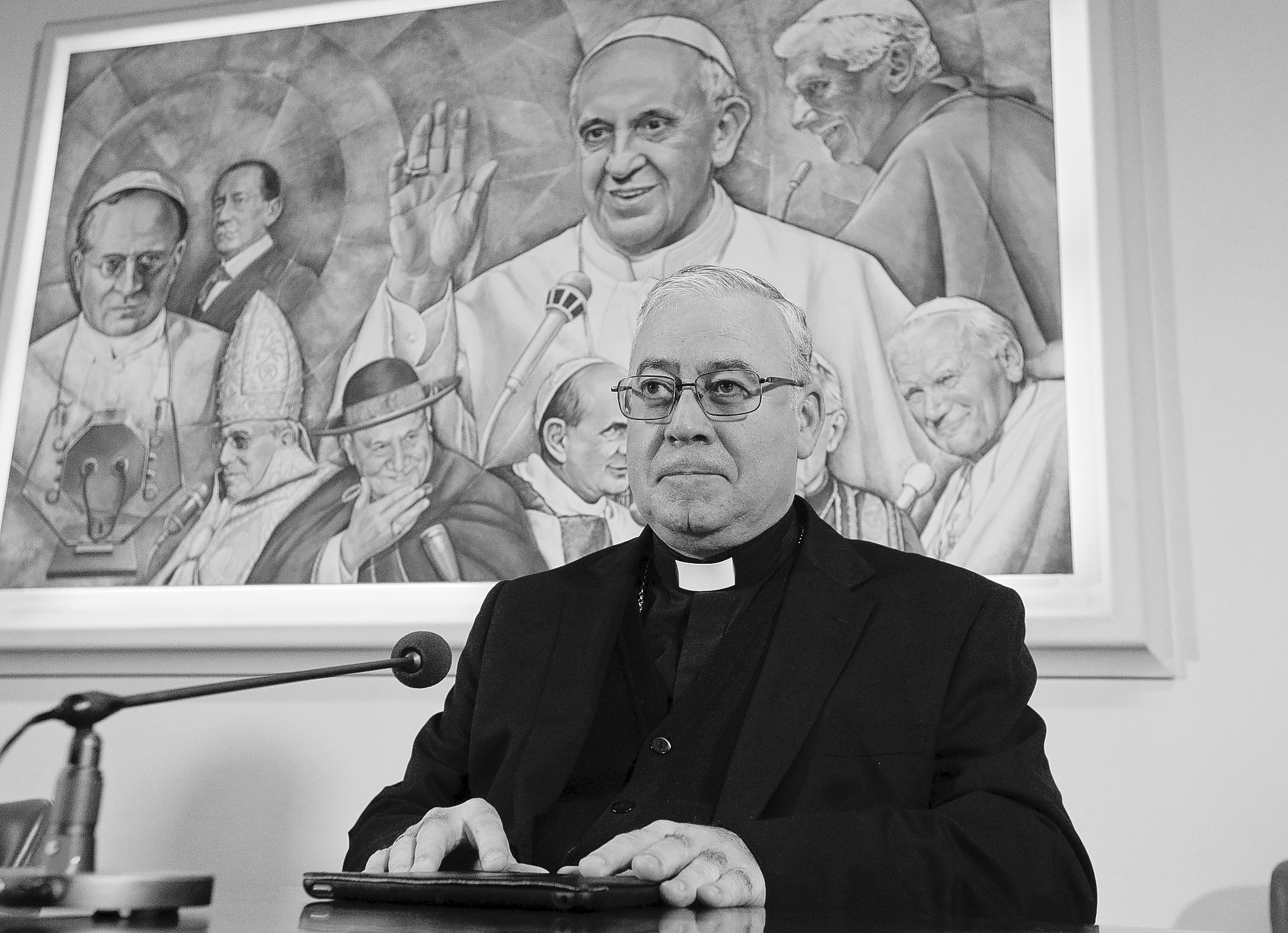 By NICOLE WINFIELD
Associated Press
VATICAN CITY (AP) — Pope Francis on Thursday ended his emergency summit with Chile's bishops by thanking them for their "full willingness" to do whatever it takes to recover from a sex abuse and cover-up scandal that has discredited the church. Francis bid farewell to each of the 34 Chilean bishops amid indications that heads will roll after four days of meetings and prayer. Vatican television showed the bishops thanking Francis as they took their leave. The only one Francis is shown kissing on each cheek and patting on the arm was Bishop Juan Barros, who is at the center of the scandal.

Many Chileans are expecting that at least Barros and two other bishops trained by the predator priest Fernando Karadima will resign, if not more. In a farewell letter given to each bishop, Francis said he had already apologized to the sex abuse victims he had discredited. He reminded the churchmen that they had joined in that apology "with the firm aim of repairing the wounds." "I thank you for the full willingness each one of you has shown to cooperate in all the short, medium and long-term changes and resolutions that we must implement to re-establish justice and the ecclesial communion," Francis wrote.
Francis summoned the entire Chilean bishops' conference to Rome after admitting that he had made "grave errors in judgment" in the case of Barros, who is accused by victims of Chile's most notorious predator priest of witnessing and ignoring their abuse. Barros has denied their claim. Francis had strongly defended him during his January trip to Chile, drawing scorn from Chileans and even his own top sex abuse adviser. After returning home, Francis sent two Vatican investigators to get to the bottom of the scandal, and they came back with a much broader view of the scale of priestly abuse and cover-up in the Chilean church, presenting Francis with a 2,300-page dossier.
One of the investigators, the Rev. Jordi Bertomeu, said Thursday that Francis was "making history" with the summit. "What is sure is that we are facing a very, very particular moment for the universal church, not only for Chile," he told reporters. "It's not normal to call here an entire bishops' conference. Therefore, if I were you, I would expect measures and conclusions that will be important." For years, sex abuse victims have blasted the Chilean hierarchy for discrediting their claims, protecting abusers, moving them around rather than reporting them to police and then handing out light sentences when church sanctions were imposed. Francis too, though, was harshly criticized for discrediting victims by saying their accusations against Barros were "calumny" and demanding proof.
He appointed Barros bishop of Osorno, Chile, in 2015 over the objections of other Chilean bishops who knew his past was problematic. After receiving Bertomeu's report, though, Francis did an about-face, blaming a "lack of truthful and balanced information" about the case for his missteps. He invited the three main whistleblowers for a four-day retreat at the Vatican hotel he calls home. In his letter, Francis said that from now on, the Chilean bishops must build a church that puts those who have been abused — as well as those who are hungry and without a home — at the center of their ministry. At the start of the summit, representatives of the Chilean bishops' conference had said they were prepared to accept whatever measures Francis proposed, including bishop resignations, reforms of Chile's seminaries and economic reparation for victims.
Such measures were also on the table when American cardinals in 2002 and the 24-member Irish bishops' conference in 2010 were hauled before the pope for a dressing down for their dismal handling of abuse cases. The American leadership, discredited after the abuse scandal exploded in Boston, went on to craft tough "one strike and you're out" guidelines that are seen as a model worldwide. Irish church leaders were summoned after a decade of Irish government fact-finding commissions documented widespread abuse and cover-up by clerics. The Irish church was subsequently subjected to a wide-ranging, yearlong Vatican investigation into their dioceses, seminaries and religious orders.