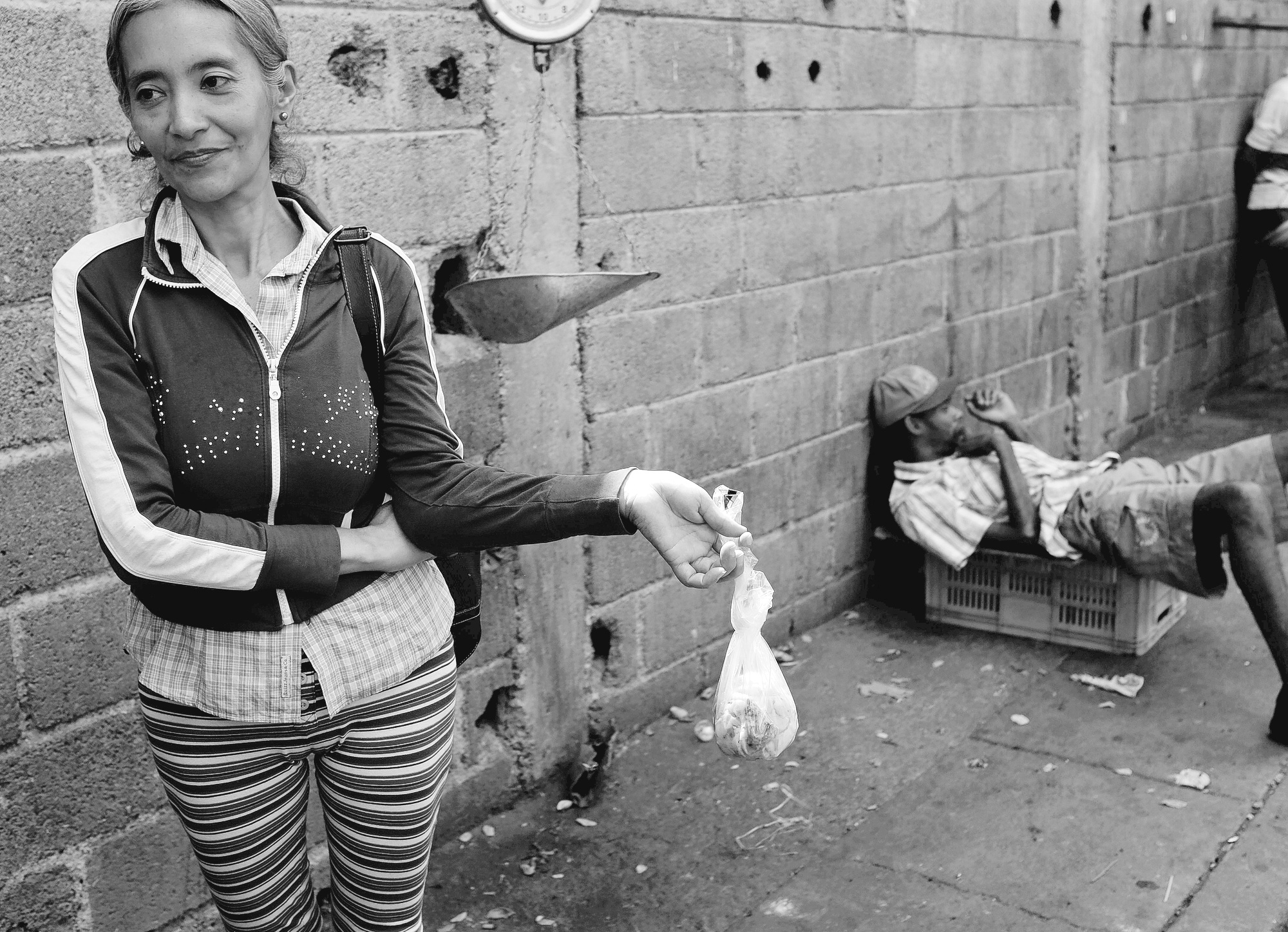 By FABIOLA SANCHEZ
SCOTT SMITH
Associated Press

CARACAS, Venezuela (AP) — Venezuela's presidential candidates are making their last-minute pitches before Sunday's election, though many people are hardly noticing as they struggle to find their next meal and pay for it with money that is next to worthless under runaway inflation. Pausing on a bustling street to buy food, Vaceliza Villa didn't pay attention to a noisy campaign marching through the heart of Caracas' biggest slum, Petare. A woman with a megaphone urged residents to vote for one of President Nicolas Maduro's challengers, who are looking to capitalize on growing social discontent.
"I really don't care what happens on Sunday," said Villa, 47, holding up her bag of raw chicken skins to feed herself and her 6-year-old daughter for the week. "My priority is paying for this." After two decades of polarizing socialist rule, Venezuelans have grown accustomed to seeing entire highways filled with some of the world's biggest political demonstrations, both in support and against the government. But despite impassioned pleas by the candidates, the current campaign seems almost sad by comparison and marked by apathy as mounting daily problems like shortages of everything from water to medicine go unresolved amid a grim economic crisis.
Polls suggest that turnout could be the lowest since the late Hugo Chavez was first elected president in 1998. The opposition's main parties have called for a boycott because their leaders were barred from running, and legions of their supporters won't vote after joining an unprecedented wave of 1 million Venezuelans that have fled the country in recent years.
Maduro's main challenger, Henri Falcon, has drawn tiny crowds and scant media coverage in his crisscrossing of the country. Even those favoring abstention are struggling to ignite a spark. Only a few hundred hard-line opposition activists showed up Wednesday for a march to the offices of the Organization of American States to denounce the "fraudulent" election.
That was a pale comparison to the masses that took to the streets a year ago attempting to force Maduro from office during months of demonstrations that resulted in more than 130 deaths, many at the hands of security forces. Indeed, other than Maduro, who has drawn larger crowds of state employees and beneficiaries of government social programs, the biggest turnout has been for long-shot candidate Javier Bertucci, a TV evangelist who appeals to voters' stomachs by serving free soup at his rallies. Some polls say voters favor Falcon, a former acolyte of Chavez. But many believe he doesn't stand a chance against well-oiled government machinery that will ensure Maduro's re-election to a second six-year term.
A poll by Datanalisis this month said 71 percent of Venezuelans — and 96 percent of opposition supporters — don't trust the nation's electoral council, which is controlled by government loyalists. Further dissuading people from believing their vote matters are almost daily boasts by Maduro that he will get a record 10 million votes — almost 2 million more than Chavez did at the height of his power — and that he won't ever recognize a counter-revolutionary government. "If one day a government is installed that pretends to turn over our nation's riches, I'll be the first one to take up a rifle on behalf of the armed revolution," Maduro said at a recent campaign rally.
The election is playing out as the inflation rate doubles every 35 days and is running near 14,000 percent on an annual basis, according to estimates by the opposition-controlled National Assembly. U.S. sanctions have blocked the government from reorganizing its massive debts, while oil production has plunged to a seven-decade low in the country that holds the world's largest crude reserves. "Even if Maduro wins the election there's no way he can solve these problems," said Michael Penfold, a Caracas-based fellow for the Woodrow Wilson Center in Washington. "This is an election without a happy ending." Maduro, who presents himself as the political heir of Chavez, promises to unveil plans after his re-election for rescuing Venezuela from its crisis, which he blames on U.S. "imperialists" and their conservative lackeys in Latin America.
He daily bashes Falcon, calling him "Fal-Trump," for his proposal to dollarize the economy to stem runaway inflation. The currency crisis was front and center when a small group of supporters of Falcon and Maduro this week faced off in a slum outside Caracas, blaring music at one another from opposite street corners. Falcon's backers showed their dissatisfaction with hyperinflation by tearing up worthless 500-bolivar notes and throwing them into the air like confetti. Maduro supporter Johnny Farias responded by pulling out a fistful of Venezuelan bolivars intact and waving them overhead at the opposing crowd. "When we talk about dollarization, we're talking about the humiliation of Venezuela's currency," he said. "I don't throw it away, because it's disrespectful to our bolivar, to Chavez and to our money."