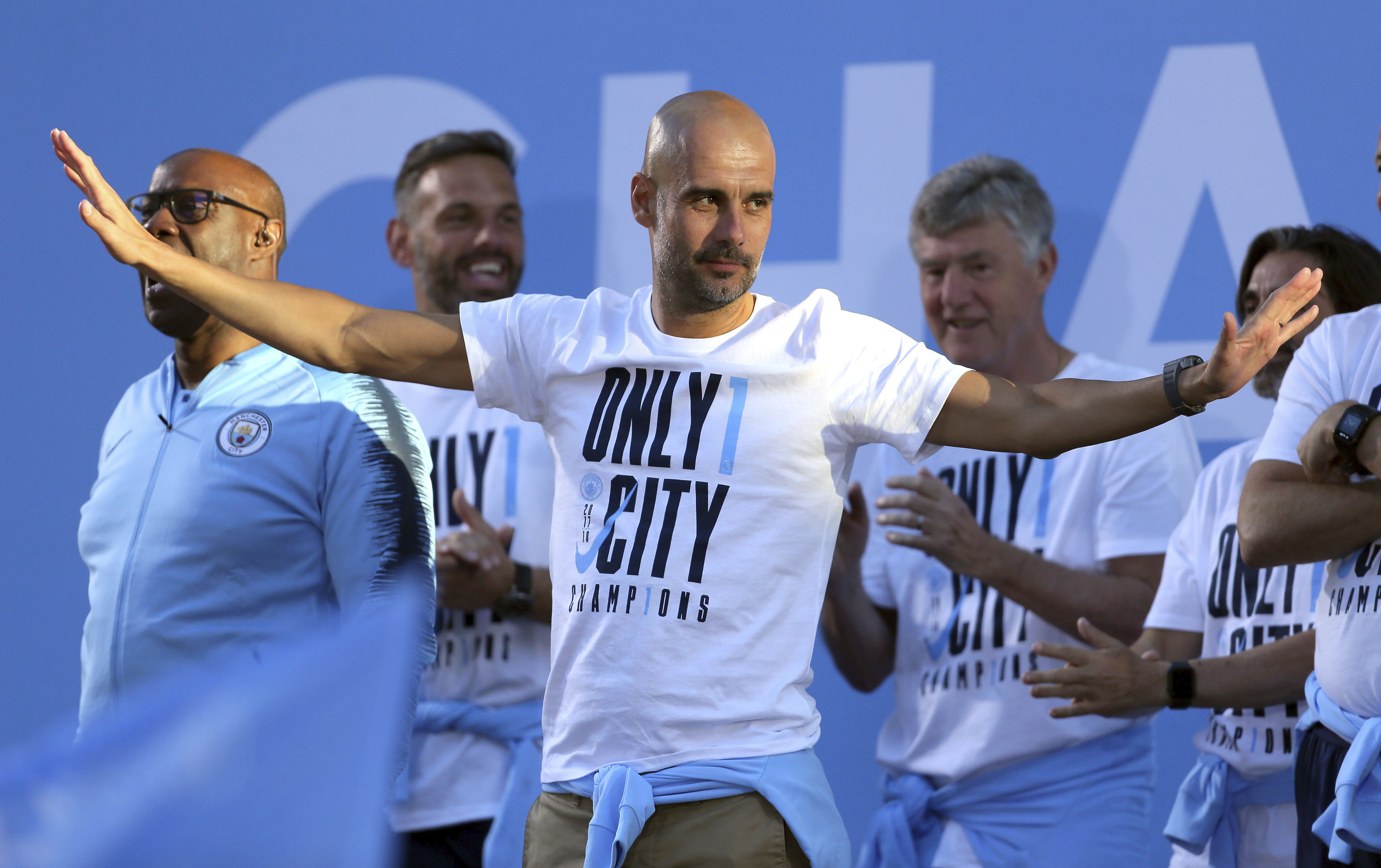 By ROB HARRIS
AP Global Soccer Writer
By committing to Manchester City until 2021, Pep Guardiola is laying the groundwork for a period of sustained Premier League dominance with the newly-crowned, record-breaking champions. England could also be beneficiaries of Guardiola broadening the tactical outlook. Coach Gareth Southgate certainly hopes so. "He's having an impact with his (City) team playing in a manner which is different to anything else we've seen at the top end of the game," Southgate said. "I always talk about us not getting off the island, so it's great we've had coaches coming on to the island to help us."
Southgate reflected on how Guardiola has transformed football hours before City announced the manager's new three-year contract on Thursday. If the Guardiola trend continues, Southgate might well be collecting the World Cup in July. Wherever Guardiola goes, it's not just his club celebrating but also the country. Within two years of him turning Barcelona into an all-conquering side, Spain lifted the World Cup for the first time in 2010 after adopting the same high-pressing, possession-based brand of football. The "tiki-taka" tactics then moved with Guardiola to Bayern Munich in 2013, and the World Cup also passed from Spain to Germany. Six of the players deployed by Germany in the 2014 final victory against Argentina had just enjoyed a first season under Guardiola at Bayern and national team coach Joachim Loew was inspired by the Spanish coach's quick transition, passing style.
In England, Guardiola is already having an impact on Southgate's plans heading into the World Cup in Russia next month. Winger Raheem Sterling, cast as a fall-guy when England was embarrassed by Iceland in the 2016 European Championship round of 16, has matured and flourished during two years with Guardiola at City. Center back John Stones has gained more belief under Guardiola's guidance while right back Kyle Walker has become more versatile and can shift into a central position. Southgate has also borrowed from the playbook by ensuring England plays out from the back. Just as goalkeeper Joe Hart was jettisoned by Guardiola at City and now dropped by England, Everton No. 1 Jordan Pickford could start at the World Cup because of his strength using his feet.
Catching up with Guardiola at the League Managers' Association awards on Tuesday night, Southgate discussed the influence he is having all the way down to the grassroots game.
"He is in danger of having an impact on English football," Southgate said. "When the Champions League was on terrestrial (free) television, more people were watching it, that team. Who coaches our youngest players? It's dads, it's parent-run junior football teams. So the impact of seeing that team five, seven years ago, it was enormous on dads, on football people. "So when I watch kids football now … I see them playing out from the back, I see them encourage. I don't see coaches on the side with their hands in their heads saying, 'Get it forward, get it out of there.' And I think that's been an impact of his teams with (Andres) Iniesta and Xavi (Hernandez) those types (at Barcelona)."
The longer Guardiola stays, the more time English players can learn from the greatest coaching brain of the early 21st century. If Guardiola completes his new deal at City, it would represent his longest tenure in a coaching job. Starting out in top-flight management in 2008, Guardiola spent four years overhauling Barcelona — winning three Spanish league titles and the Champions League twice among 13 honors. After taking a sabbatical, Guardiola took charge of Bayern and won the Bundesliga in each of his three years. Leaving Germany before getting burnt out, Guardiola moved to England in 2016. Resisting changing his methods while enduring criticism through a trophyless first season, Guardiola completed his second campaign at City this month as a double winner.
After collecting the League Cup in February, City sealed the Premier League with five games to spare and finished with a record 100 points. The one doubt hanging over City was regarding the 47-year-old Guardiola's future. That has now been settled before entering the final year of his old contract by penning new terms. "We have a young squad with an average age of 23 and we want to keep taking steps forward and maintain the levels we've achieved this season," Guardiola said after signing the three-year contract.