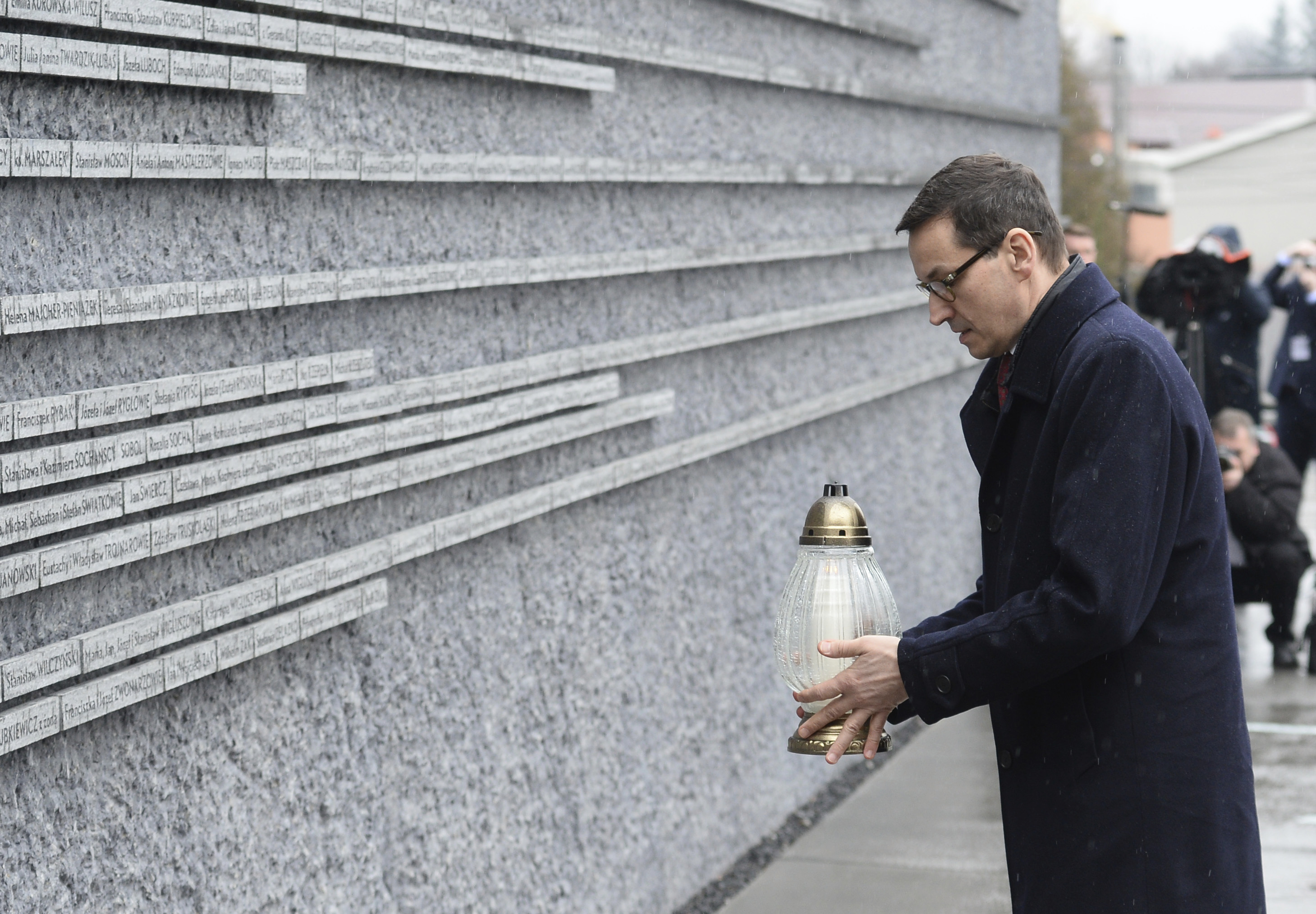 By MONIKA SCISLOWSKA
Associated Press
MARKOWA, Poland (AP) — Poland's controversial legislation regulating Holocaust speech could have been timed and presented better, the prime minister acknowledged Friday, but he insisted that the law is needed to defend historical truth.
Mateusz Morawiecki spoke on Friday to foreign correspondents at a museum that memorializes Christian Poles who risked their lives to help Jews during the German occupation of Poland during World War II.
Poland is involved in a bitter diplomatic spat with Israel over the legislation, which would outlaw publicly and falsely attributing the crimes of Nazi Germany to the Polish nation. The penalty for violations is up to three years in prison.
He defended the law, calling it necessary to protect historical truth and prevent the Polish people as a whole from being blamed for the murder of Jews during the Nazi occupation from 1939 to 1945.
"All the atrocities and all the victims, everything that happened during World War II on Polish soil, has to be attributed to Germany," Morawiecki said. "We will never be accused of complicity in the Holocaust. This is our 'to be or not to be.'"
He insisted the law — which has been passed by parliament and awaits the president's signature — would not impinge on freedom of speech, as feared by some. Israel, the most vocal critic, fears the legislation will be used to whitewash the involvement of some Poles in killing Jews during the occupation.
"This law is not going to limit speech, not even one iota," Morawiecki said.
He did, however, say that Poland should have better explained its intentions to the world, and acknowledged the timing was "unfortunate."
The lower house of parliament approved the legislation on Jan. 26, the eve of International Holocaust Remembrance Day. The Senate gave its approval on Thursday. President Andrzej Duda now has three weeks to sign or veto it; he has so far indicated that he supports it.
Morawiecki toured the Ulma Family Museum of Poles Saving Jews in Markowa after first paying his respects outside the building at memorials to Poles who helped Jews and Jewish Holocaust victims.
He then sat down with reporters to explain his feelings about the law.
Yad Vashem, Israel's Holocaust memorial, has documented 6,706 Polish "Righteous Among the Nations" — gentiles who gave shelter to Jews without profit motive. That number represents only those cases that could be documented, and historians believe there were many cases that never came to light, including cases of helpers and Jews discovered and killed.
The German forces imposed the death penalty not only on any person caught helping, but their entire families. Similar laws were in place elsewhere in occupied Europe, but they were imposed more brutally in Poland.
The museum, which opened in 2016, stands near the place where German soldiers in 1944 killed Jozef Ulma, his pregnant wife Wiktoria and their six small children, as well as eight members of the Goldman, Gruenfeld and Didner families that the Ulmas were sheltering.
Mateusz Szpytma, deputy director of the museum, said it is estimated that between 700 and 1,100 Poles were murdered by the Germans for helping Jews during the war.