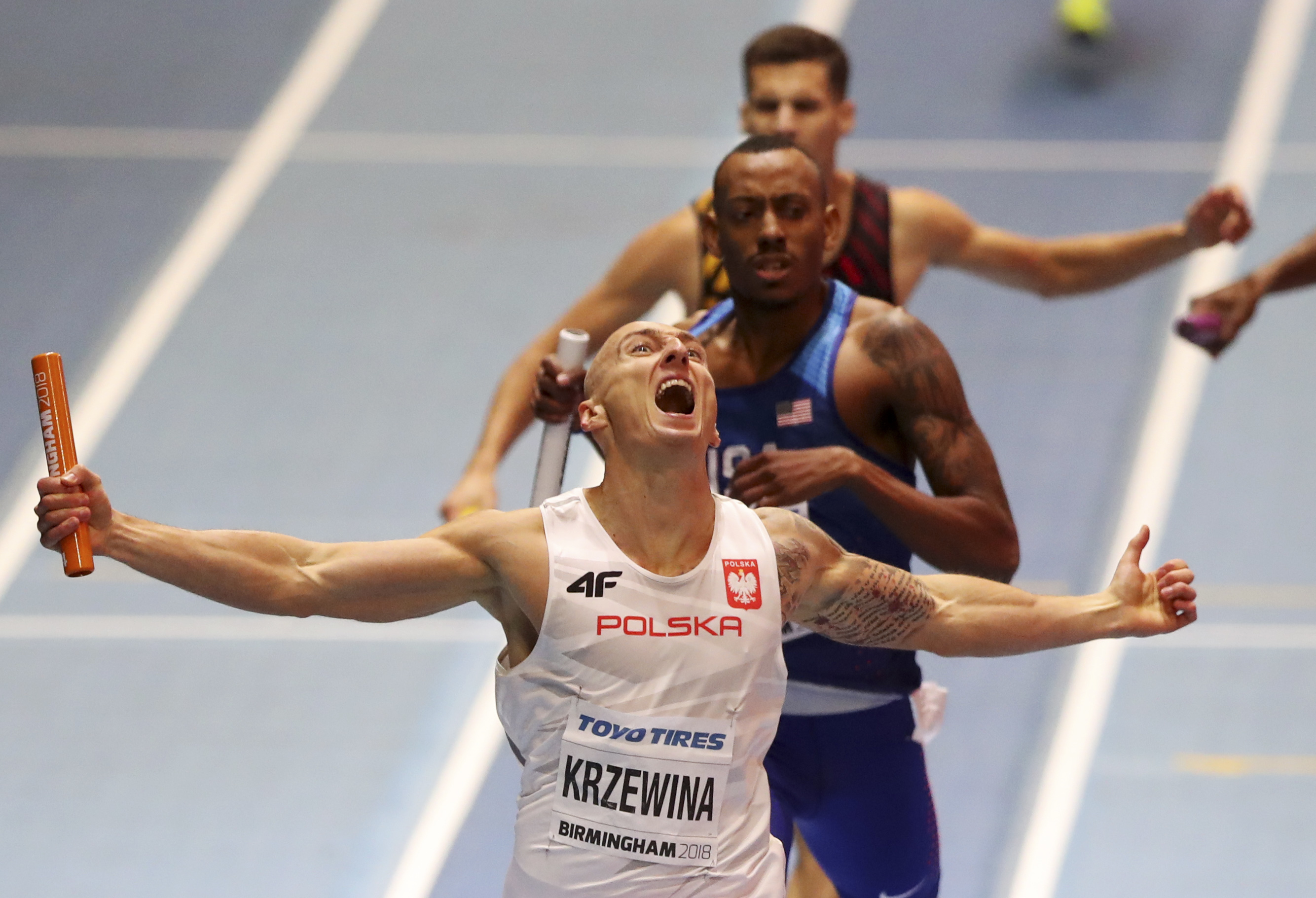 By DANIELLA MATAR
Associated Press
BIRMINGHAM, England (AP) — Poland set a world indoor record in the 4×400-meter relay on Sunday at the world indoor athletics championships, with the United States also inside the old mark. The Polish team of Karol Zalewski, Rafal Omelko, Lukasz Krawczuk and Jakub Krzewina won in 3:01.77. That shaved 0.36 seconds off the previous record of 3:02.13, which was set by the U.S. in 2014.
"It is a big shock and surprise for us," Omelko said. "We were targeting the European record but really did not expect a result like this and never dreamed about the world record."
The U.S. team of Fred Kerley, Michael Cherry, Aldrich Bailey Jr. and Vernon Norwood finished 0.2 seconds behind Poland in 3:01.97, also beating the previous record by a different U.S. team.
"I think the last lap with Jakub Krzewina was the crucial one," Omelko said. "He pushed it so hard and he is very, very strong this year. He helped us to win the most." It appeared as if the Americans would take victory — and the record — but Krzewina surged past Norwood in the final straight in Birmingham.
"The team did a great job, but no comment on my last leg," Norwood said. Belgium was third, with the three Borlee brothers and Jonathan Sacoor, setting a national record with
3:02.51. The American women fared better, winning their 4×400 relay in a championship record of 3:23.85, but faced an anxious wait as the jury reviewed a series of appeals.
The team of Quanera Hayes, Georganne Moline and individual 400 gold and silver medalists, Courtney Okolo and Shakima Wimbley, dominated with the second-fastest indoor time ever — less than half a second off the world indoor record of 3:23.37.
"We came together as a team as we always do," Hayes said. "We don't train together during the normal season. But as soon as we put USA across our chest, everything else goes out of the window." Jamaica crossed the line in second place but was soon disqualified with an athlete in the incorrect order when waiting to receive the baton.
That saw Poland claim the silver with a national indoor record of 3:26.09 with Britain third in 3:29.38. The race triggered a blizzard of appeals. Jamaica appealed against its disqualification, while Ukraine asked for Poland to be disqualified and Poland claimed the U.S. should be as well — both for stepping on the kerb.
All three appeals were rejected with the final order of U.S., Poland, Britain, Ukraine and Italy.
Britain was initially disqualified for obstruction but successfully appealed. Elsewhere, world record holder Renaud Lavillenie won the world indoors pole vault for a third time, but it
was his first significant title in two years after an injury-hit season last year. Lavillenie was clearly emotional on the podium after being the only competitor to clear 5.90 meters.
American Sam Kendricks was second, ahead of Poland's Piotr Lisek after both cleared 5.85 in a competition which lasted more than three hours. The U.S. was also narrowly beaten to the title in the 60-meter hurdles, with Britain's Andrew Pozzi edging out Jarret Eaton by 0.01 to win his first global title. Pozzi and Eaton waited side-by-side after crossing the line to see which one of them had won. Eaton realized first, when the photo of Pozzi's dive for the line appeared on the big screen, and tapped his rival on the arm in congratulations.
"I knew at the fourth hurdle I was behind," Pozzi said. "I can't describe how much I wanted it. I threw everything at the line hoping to get there and I just about got there." Earlier, there was a tribute to Roger Bannister on the big screen at Arena Birmingham to remember the first runner to break the 4-minute barrier in the mile. Bannister died Saturday at age 88 in Oxford.
Also, Samuel Terefa became the youngest ever winner of the world indoor 1500 title.
The 18-year-old Ethiopian won in 3:58.19, beating Poland's Marcin Lewandowski and Abdelaati Iguider of Morocco. Teammate Yomif Kejelcha successfully defended his 3,000 title ahead of another Ethiopian, Selemon Barega, and Bethwell Birgen of Kenya. Kejelcha's winning time of 8:14.41 was the slowest in the 32-year history of the championships by more than 10 seconds.
Francine Niyonsaba of Burundi also successfully defended her title, in the 800, beating American Ajee Wilson — just as she had done in Portland two years ago. Shelayna Oskan-Clarke took bronze. In a reversal of the top two long jump places in Portland, Serbia's Ivana Spanovic beat Brittney Reese. Reese was trying to make history by winning her fourth world indoor title to add to the four golds she has won at the world championships.
"I did not execute the way I needed to on the day. Ivana got the better of me," Reese said. "I'm a little disappointed but I can go home with something. "I don't feel like I performed to my best today. I beat myself today. It is what it is."