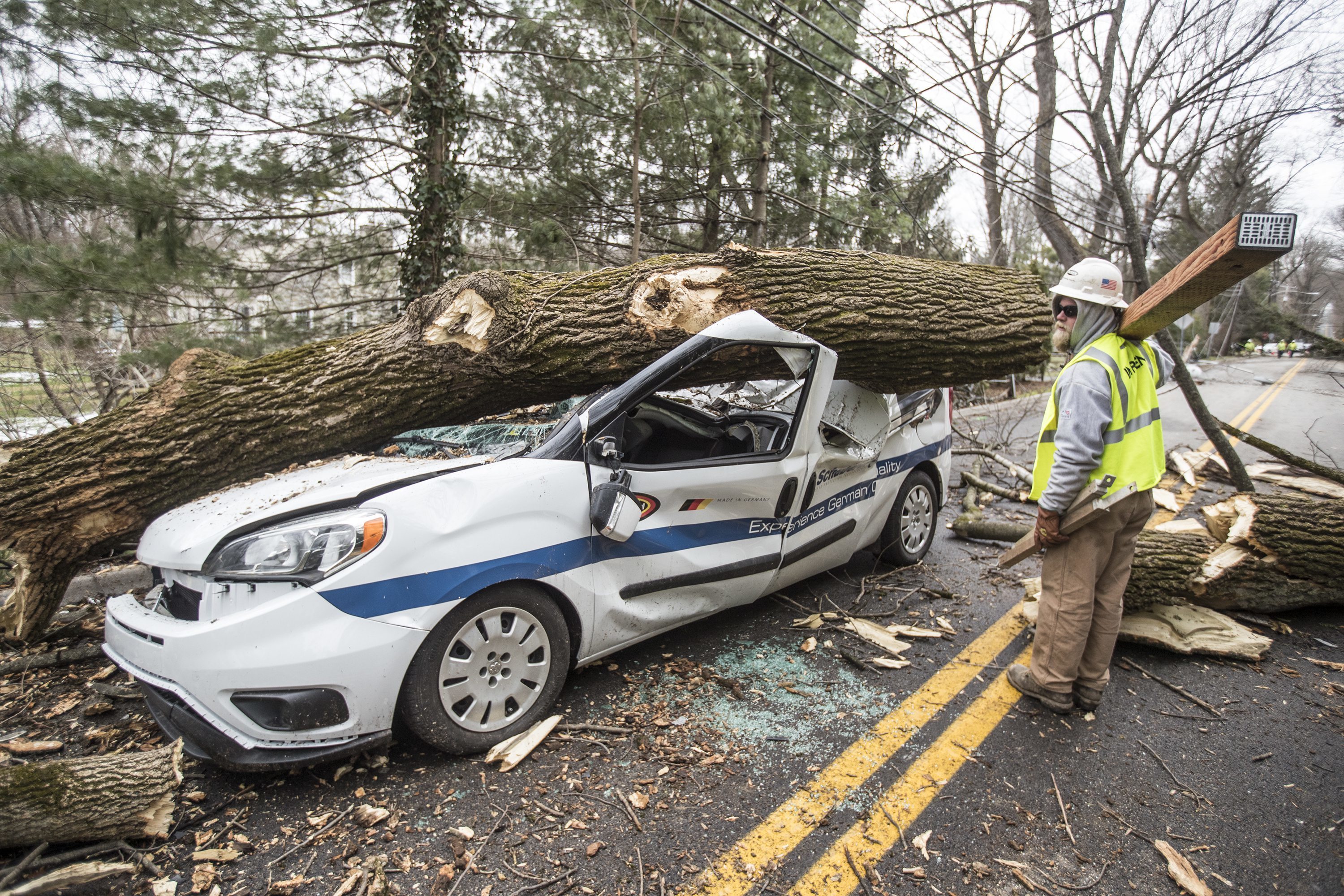 BOSTON (AP) — Hundreds of thousands of homes and businesses from Virginia to New England remained without power Monday, several days after a major nor'easter struck the East Coast, and with another storm bearing down.
Residents faced a massive cleanup Monday following the storm, which was blamed for nine deaths, including two children struck by trees. The storm downed trees and power lines, flooded coastal towns and forced schools to cancel classes. Utility crews worked around the clock to restore power to the roughly 440,000 customers still without electricity Monday afternoon.
At the height of the storm, more than 2 million homes and businesses were without electricity. Some coastal communities in Massachusetts were bringing in heavy equipment to clear sand, rocks, trees and other debris blocking waterfront neighborhoods. Fierce winds and high tides damaged dozens of homes in Scituate, where on Monday water still filled yards and rocks blocked streets. Quincy is sending trash trucks through the hard-hit neighborhoods all
week to pick up trash.
Even as the cleanup is underway, another storm is headed to the region Wednesday, albeit a much different beast. "There's going to be a lot more snow over a wider area," said National Weather Service meteorologist Lenore Correia, in Taunton, Massachusetts. The forecast is for 8 to 12 inches of snow west of Boston and south into Rhode Island and Connecticut,
she said.
The good news is that the winds won't be as strong and there is less risk of coastal flooding.
The Mid-Atlantic states will likely see some precipitation starting late Tuesday and continuing through Thursday. A winter storm watch has been issued for northern New Jersey and parts of Pennsylvania. The nor'easter pounded the Eastern Seaboard with a combination of gusting winds, rain and snow, and coastal communities were left to deal with damaging high tide flooding as powerful waves and churning surf pounded shorelines and beachfront homes.
Dozens of Massachusetts schools remained closed Monday, most in coastal areas south of Boston, the region which bore the brunt of the storm. It could be midnight Tuesday before everyone is back online. In Pennsylvania, more than 100,000 were waiting for power to be restored as hundreds of crews worked to clear trees and repair power lines. Officials said some customers may not have service restored until at least Tuesday.
At the peak of the storm, roughly 587,000 customers were without power. Some schools were closed, while others were delaying their opening. Nearly 50,000 people in the Washington area were without power Monday, and some might not have service restored for a few more days. The vice president of technical solutions at Dominion Power, Kevin Curtis, told WTOP-FM that last week's storm was a "top five event" as far as the number of customers affected, which totaled almost 70,000 homes and businesses. He said about 25 percent of the company's system was affected by the storm.