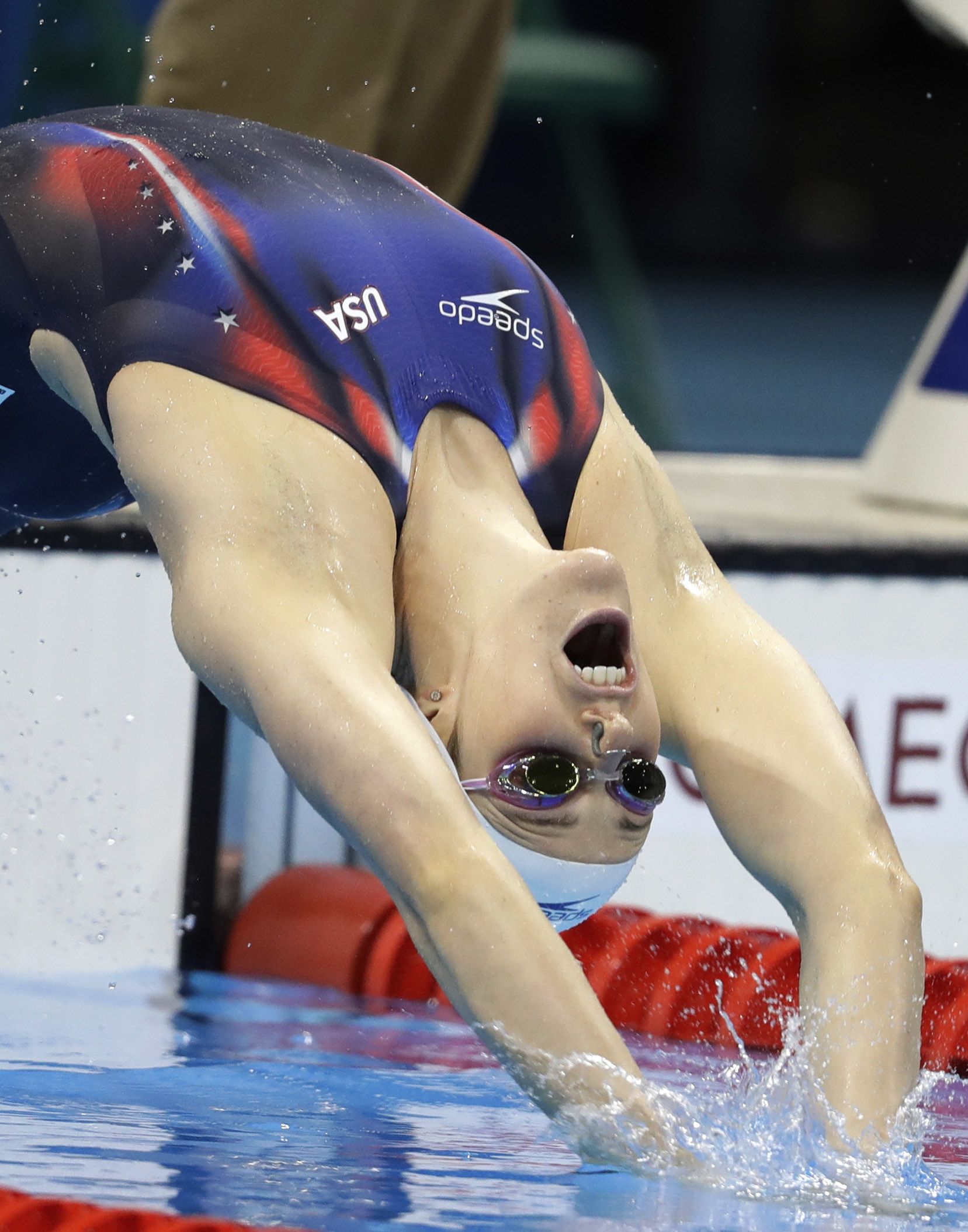 By BETH HARRIS
Associated Press

IRVINE, Calif. (AP) — Two years to the day the Tokyo Olympics open, Katie Ledecky is swimming as fast as ever, Caeleb Dressel is heralded as a potential Michael Phelps and Missy Franklin is attempting a comeback. As for Ryan Lochte, he's banned again. Ledecky is entered in five events at this week's U.S. national championships, including a double in the 100-meter freestyle and 800 free on Wednesday. The five-time Olympic champion is back in Irvine, where she set one of her 14 world records in the 400 free at the 2014 edition of the meet.

"That was a memorable one, not to say all of them aren't," Ledecky said Tuesday. "But that was especially memorable and that was my first meet at this pool. I do like this pool, and I'm hoping that I can put up some good swims this week." Dressel has the most ambitious schedule of anyone, similar to what Phelps did in his heyday. Dressel is entered in eight events, having added the 200 individual medley and 50 and 100 breaststroke races.
Dressel will be looking to build on his seven-gold medal performance at last year's world championships.
There's a lot on the line in the meet that runs through Sunday. The results decide the U.S. team for the Pan Pacific Championships in Tokyo next month, as well as next year's world championships, World University Games and Pan American Games. Lochte is one swimmer who won't be part of it. He was banned for 14 months by the U.S. Anti-Doping Agency on Monday for getting an excessive amount of an intravenous infusion of vitamins in May. The 12-time Olympic medalist incriminated himself by posting a photo of the outing to a clinic on his Instagram account, which triggered USADA's investigation.
Lochte was set to swim four events this week, and several of his teammates were eager to see him at nationals for the first time since 2016. He was banned for 10 months by USA Swimming after the Rio de Janeiro Olympics for lying about being robbed along with three teammates at a Rio gas station. Lochte's latest punishment was the second doping violation by a national team member in the last few days. Madisyn Cox was hit with a two-year suspension last week after trimetazidine showed up in an out-of-competition doping test in February. Her suspension ends in March 2020. The substance can be used medically to treat tinnitus, dizziness and chest pain.
Cox, who swam at Texas, was entered in five events this week. She would have been seeded second in the 200 individual medley. At last year's world championships in Hungary, Cox won gold as a member of the 800 freestyle relay and bronze in the 200 IM. "I was in shock when I saw the news," said Olympic backstroke champion Ryan Murphy, a friend of Cox. "I'm definitely hurting for her, and it's really sad to see one of our own go down like that."
Five-time Olympic gold medalist Nathan Adrian said the suspensions send a message that the U.S. takes clean sports seriously.
"To be totally honest, I think we're watching the American team be leaders in accountability right now," he said. "I don't think that this punishment would have necessarily been as strict if they were part of certain other federations." Although Adrian didn't mention his name, Chinese distance star Sun Yang received a three-month ban after testing positive for trimetazidine in 2014. Adrian said U.S. swimmers have been warned for years that if they violate the rules, whether accidentally or not, they could face bans. "You're seeing us kind of stay true to our word," he said. "If that happened in the U.S., we would bring on harsh repercussions.
It would be nice if the rest of the world kind of did the same thing, felt that they were not there to protect their athletes, that they were there to govern their sport." Olympic 100 breaststroke champion Lilly King famously called out Yuliya Efimova of Russia at the Rio Games. Efimova served a 16-month doping ban for failing a drug test and returned to be a major rival of King's in the breaststroke events. King said it was hard to see Lochte, a teammate she has looked up to, get in trouble. "But then again, you can't break the rules like that," she said. "I appreciate that FINA and WADA and USADA and all the doping agencies are cracking down on that now because it's something that needs to happen."
Lochte was expected to fully launch his comeback toward Tokyo this week. Instead, it will be Franklin who is in comeback mode. The darling of the 2012 London Games is competing at her first nationals in two years, although she has scaled her schedule down to two events: the 100 and 200 freestyles.