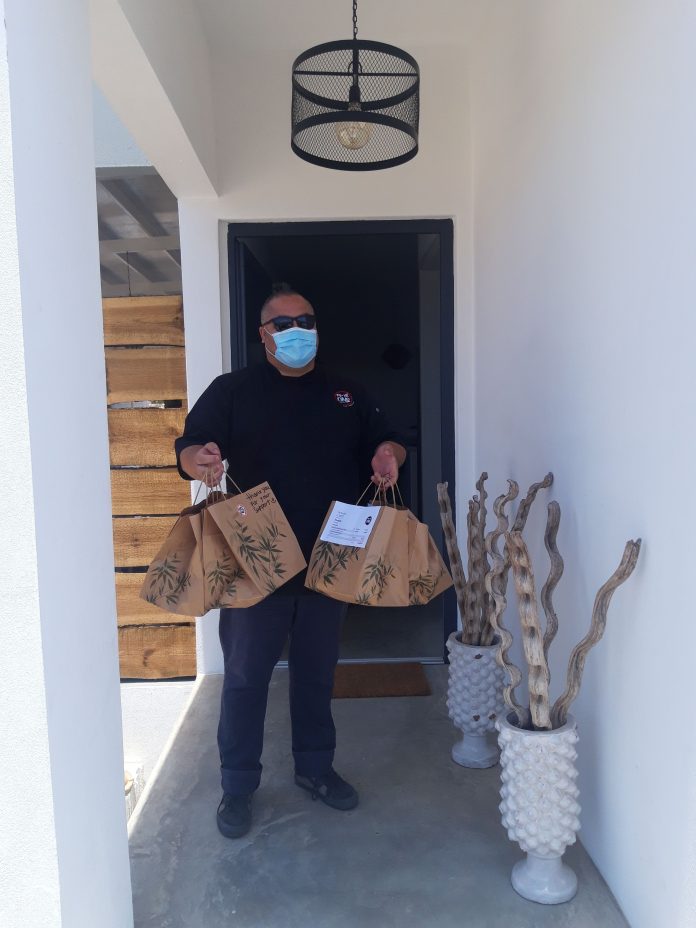 Try a three course delivery meal, packed in eco-friendly, separate bags for starter, main course and dessert. Coming from the hand of the master with great taste and including a video link how to finish your courses. It can be perfectly matched with beverages selected by Croes and his team. Best of it all: an unbelievable bang for your buck. Don't wait: order now and get it delivered between 1 and 4pm.
Crisis times force us to make choices: wait and see what happens or take action and be creative. I always have liked chef Croes for being the latter and he proofs it again. He launched a new concept together with his Po-Ké Ono family. "We wish to make food with great taste and against a great price." I ask him how it is possible to make a 3-course menu including delivery for two persons for only Afl. 50? "My goal is to have some income to pay my staff and so far we are doing great."
Starter is Poke Tuna, a sushi grade tuna, diced and marinated with poke dressing, served with mango, sweet potato crème, wakame salad, chicharon, spicy mayo and locally produced lettuce from Happyponics. Dream on with Chicken Tonkatsu and Nakimeshi, the main course of breaded chicken breast served with Japanese fried rice, pickled cucumber, Petit Greens Aruba micro greens, Tonkatsu sauce and spicy peanuts sauce. Finish the heavenly trip with an Asian Trifle, 5 spices marinated honey dew melons and pineapples, spiced crumble, served with a lemon grass and coconut custard. The above can be paired with a Da Luca Prosecco, Cono Sur Reserva Pinot Noir and Poke Ono cucumber, ginger and sake cocktail.
What's in a name, we wonder. "Poke bowls are very popular now and therefore I introduce this new concept to Aruba. I did play with the name a bit because Po is the name of the panda in Kung Fu Panda movie and my friends always tease me with my resemblance of him as he loves eating just like me," Croes laughs. He continues explaining that Ké means family and Ono stands for delicious. Well, no need to say more, curiosity is tickled, go order and get your Po-Ké Ono!
Facebook page: Po-Ké Ono.