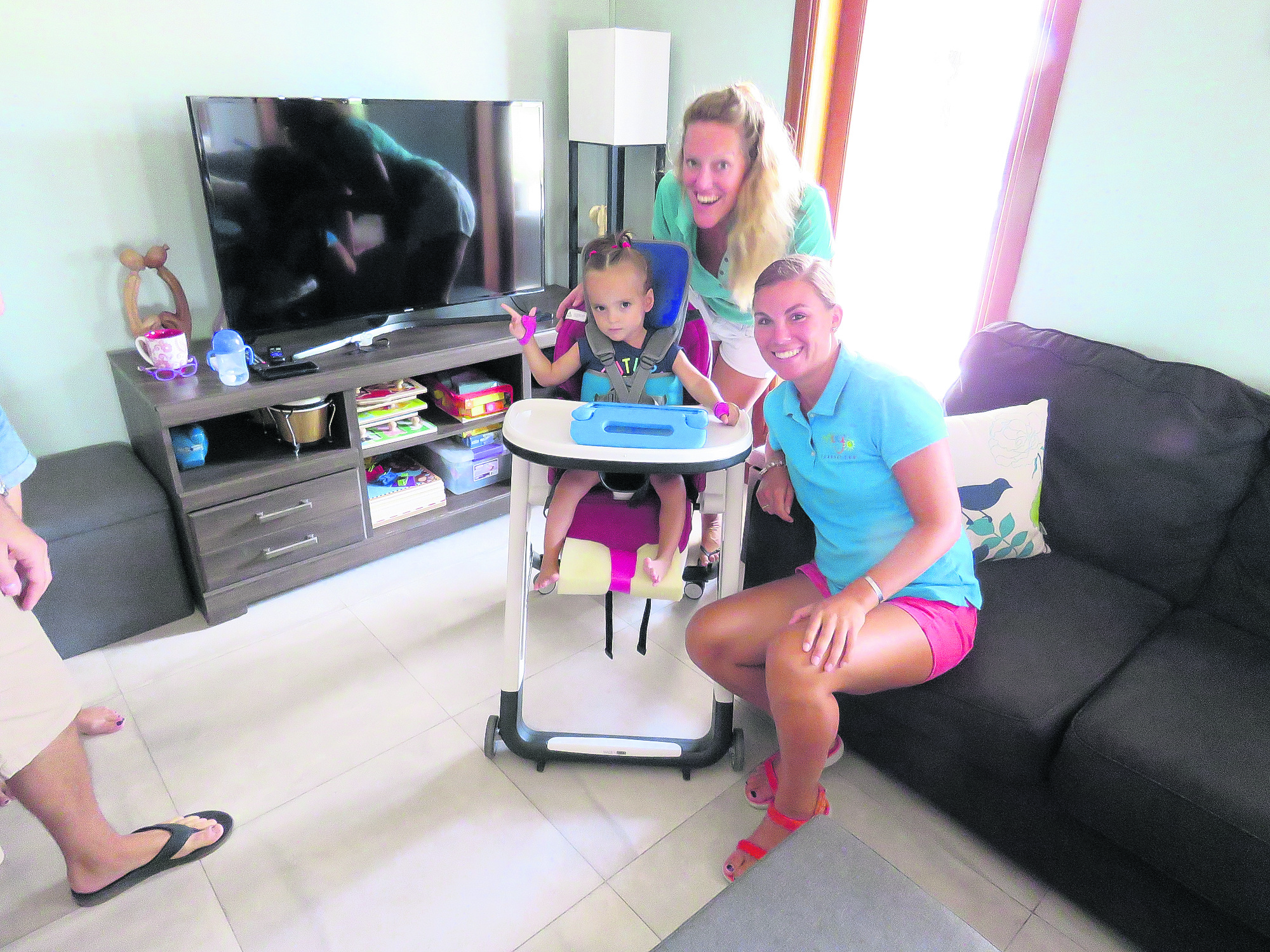 ORANJESTAD — Aruba Today had the honor to meet a little girl named Isla. With her beautiful big eyes and a smile that lights up an entire room we can easily call her "Little Miss Sunshine". Isla was born premature and 5 days later, Isla was diagnosed with Cerebral Palsy (CP). Micky's Foundation was founded in 2014 and their objective is to be able to provide specialized and intensive therapy at the homes of the children, for free.
Since 2014 they have organized 10 projects. Inger Ruight a pre-verbal pediatric therapist and Esther van Schelden an ergo therapist from Holland are on the island and working with Micky's Foundation and are part of project # 10. They both have been working very close to Little Miss Sunshine, Isla.
Cerebral Palsy is disorder that affects muscle tone, movement, and motor skills (the ability to move in a coordinated and purposeful way). It is usually caused by brain damage that happens before or during a baby's birth, or during the first 3 to 5 years of a child's life. We can only imagine how heartbreaking that must have been for her parents. But Isla could not have asked for better parents. The love of daddy Juan and mommy Tatiana for her is unconditional and they go day-by-day doing their utmost to provide Isla with a better life.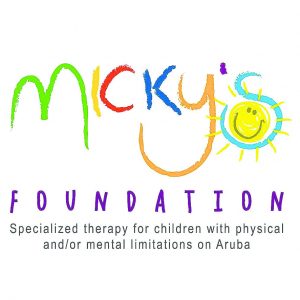 Isla is developing greatly. She likes to eat a lot. Popcorn and cookies are her favorites. What a beautiful sound of voice she has. She enlightened us with her favorite song "head, shoulder, knees and toes". Isla can count perfectly from 1 to 10. This adorable girl can communicate in 4 languages. She's quite a clever girl. All this would not have been possible without the efforts of her parents of course but also thanks to a wonderful foundation that is giving them a helping hand in her development.
We live on an island where medical resources for children with severe medical conditions is limited. But fortunately this island is filled with loving and caring people that go the extra mile to help in any way they can. Gijs Rooijer is one of these people. Rooijer experienced a life changing incident when his son Micky, who was only five-months-old at the time, was involved in a severe accident when a drunk driver crashed into their car. Micky survived the accident, but due to the severity of the brain injury he will remain with only 40% of his brain capacity for the rest of his life.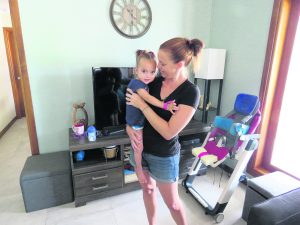 Because of the limited resources on the island, Rooijer had to work with what he had and make the best of it. This also gave him the idea to start a Foundation that could offer as much help as possible to parents and children going thru such medical conditions. Each project consists of helping between 20-25 children. For each project, they seek for therapist such as pediatric physiotherapist, pre verbal speech therapist and pediatric ergo therapist willing to come to the island for 2 to 3 months and provide their expertise in order to help these children. The foundation has provided specialized therapy to 73 children since 2015.
The projects of Micky's Foundation are 100% sponsored by the community. Together with the parents they form a support group to help each other in periods of their lives which are characterized by despair, distress, a general lack of information and solitude. The main focus of the pre-verbal pediatric therapist and the ergo therapist is helping the children by providing them with opportunities to develop at their own pace. They both know the circumstances on the island before theyarrive, but for them it's important to work with whatever tool is available at that moment without having to set aside the children's development.
They use their knowledge and techniques to help Isla develop as much as possible. Isla has been taught to use her hands more, taught how to eat with a fork and is able now to work on an I-pad. They have installed several apps that makes it possible for the parents of Isla to help her and at the same time understand what Isla wants. The apps are also perfect to help Isla develop her speech. Inger and Esther are not only giving the right therapy to the children but they also provide the parents with as much information as possible on how to continue helping and practicing with their kids after they leave.
Seeing that they have to visit over 20-25 children each week it's impossible to spend much time with each of them; so the involvement of the parents during therapy is very important. The system we have here in which the children are able to receive therapy at their home is according to Inger and Esther more beneficial compared to their work place in Holland which is a school where the parents bring their children to every morning and the therapists only see their parents maybe once a month. Here the children are being treated in their own environment surrounded by their family and in their comfort zone which is great for their development.
The way they do their work and the love that they spread towards these children isadmirable. Leaving your country and your family behind in order to provide help to children in need on an island where things are limited is worthy of admiration and respect. In order to provide continuity of the program, Micky's Foundation will be starting project # 11 on October 15, 2018 with 2 experienced therapist (pre-verbal speech therapist & pediatric therapist). For 2019 they have plans for 4 projects. If everything goes according to plan they will be receiving a considerable donation by the end of this year of 10-15 orthopedic tools that will be loaned to the children in order to help in their development at home. These are tools that are not available on the island.
For more information on the developments of Isla and all other children visit their Facebook page Micky's Foundation Aruba.