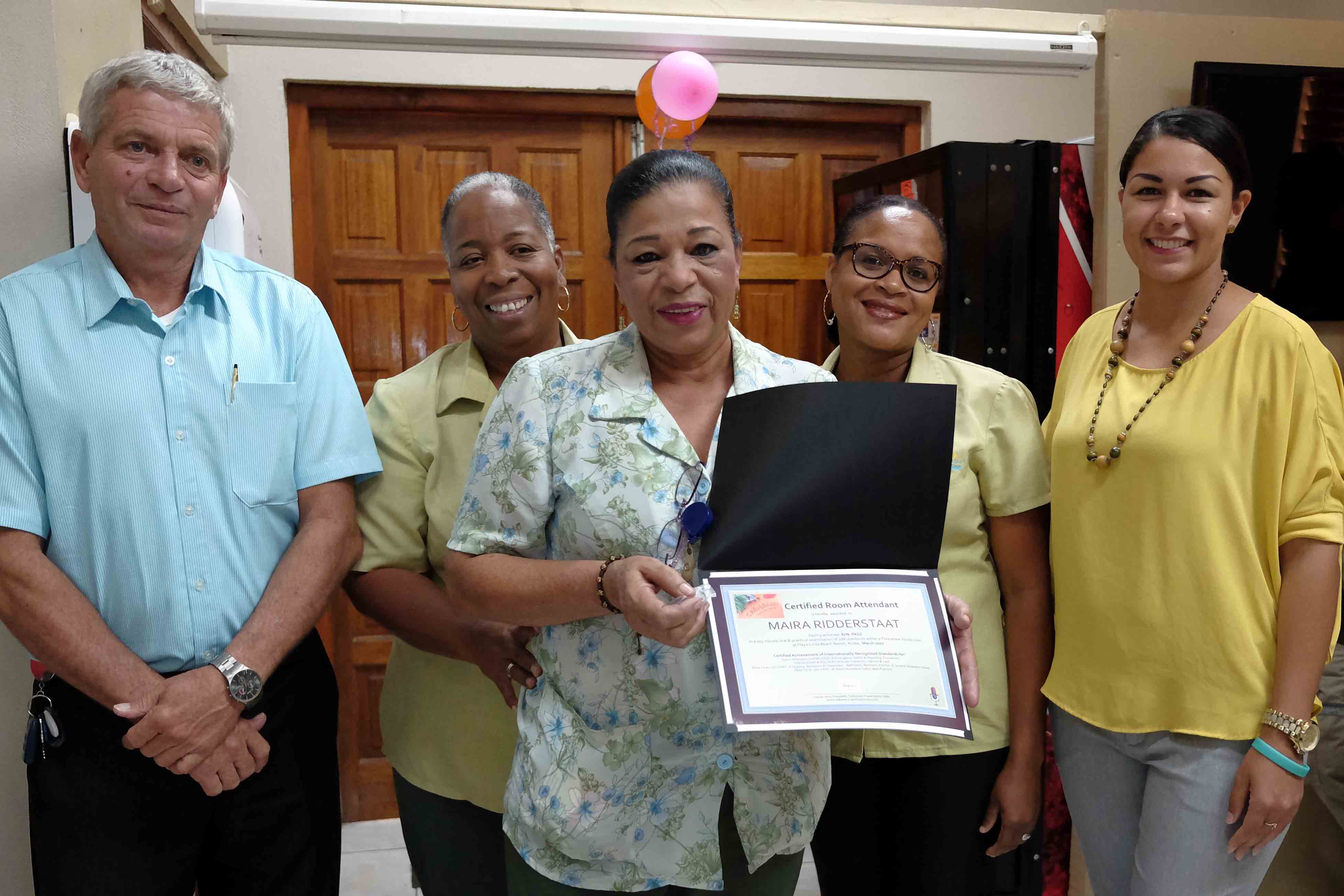 Accolades for Maira Ridderstaat, Jolanda Roza, Adela Maduro and Gloria Koolman
ORANJESTAD – Playa Linda Beach Resort is proud to recognize Maira Ridderstaat, Jolanda Roza, Adela Orman Maduro and Florencia "Gloria" Koolman, who marked 30 years of service all within the same four-month period. Recent celebrations provided proper recognition to these exception women who have contributed so much in their three-decade-long career with the Playa Linda Beach Resort.
As well-respected members of the Housekeeping Department, sincere expressions of congratulations and appreciation were made during events marking their work anniversaries. They each started their career at the Playa Linda, with Maira, Jolanda and Gloria having moved into leadership positions as supervisors, and with all four of the honorees displaying extraordinary dedication.
Executive Housekeeper Ingrid Todd, who is also the most senior member of the staff and who herself has been working with the resort for over 35 years, ensured the sense of family that pervades the Playa Linda was also a factor in individual celebrations. Although Adela was out from work on her work anniversary, Playa Linda brought a surprise celebration in the form of a Mariachi band directly to her home. Gloria and Jolanda enjoyed an equally festive celebration in the Playa Linda Members Lounge, with the party including members of her family.
"Playa Linda's philosophy has always been to create a 'home away from home' environment both for members and guests as well as for employees. In housekeeping, we are not only a team, but also a family, and we depend on each other. I am particularly happy to recognize Maira, Jolanda, Adela and Gloria for their achievements and show appreciation for their long years of service," remarked Executive Housekeeper Ingrid Todd.