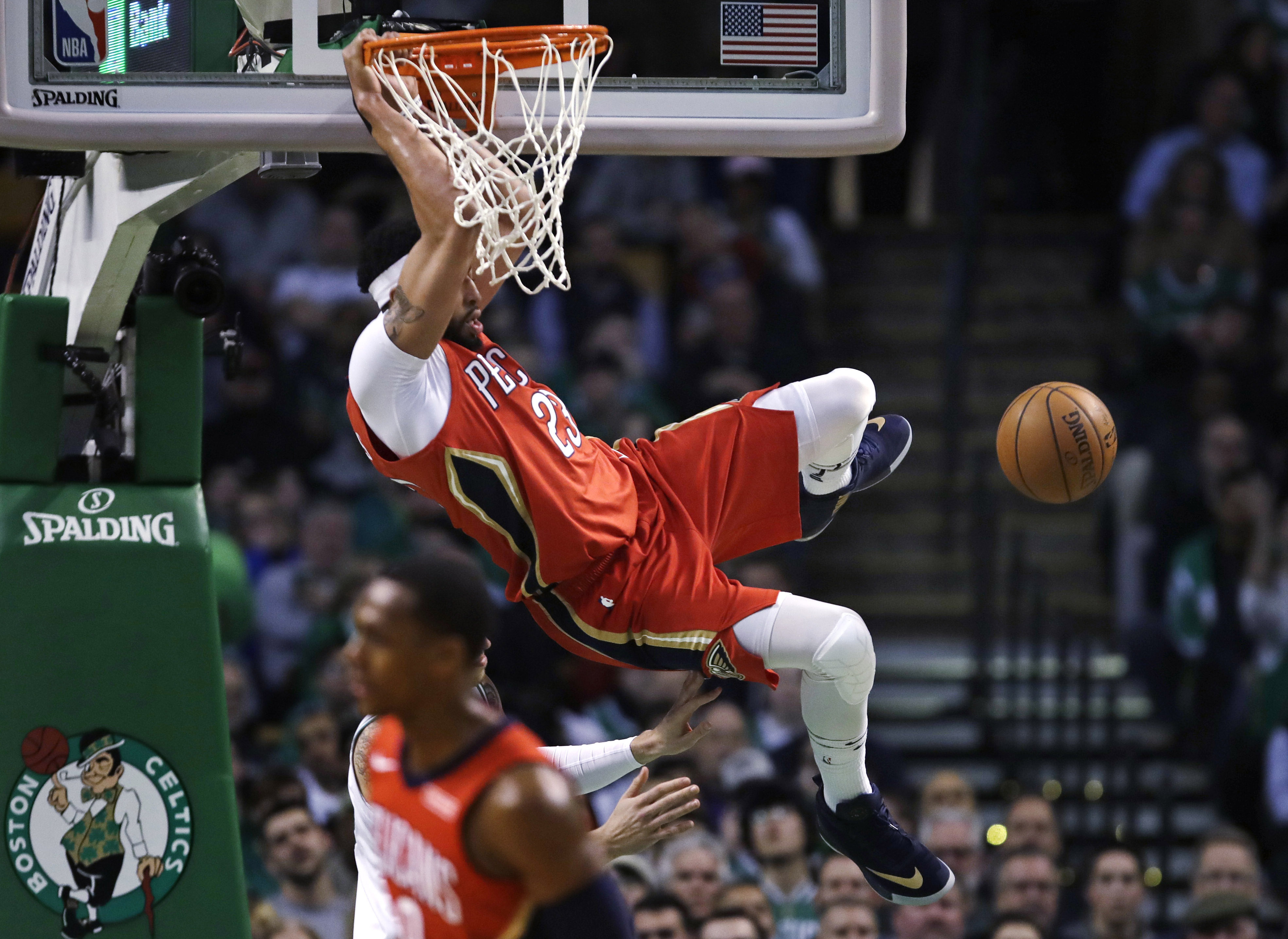 By The Associated Press
BOSTON (AP) — Anthony Davis had 45 points and 16 rebounds to lead the New Orleans Pelicans to a 116-113 overtime victory over Boston on Tuesday night, ending the Celtics' seven-game winning streak.
Davis, who scored 48 on Sunday in an overtime win in New York, had four points in overtime and blocked two shots for the Pelicans, who overcame a sluggish start to the fourth quarter and erased a five-point deficit in the final few minutes of regulation.
DeMarcus Cousins had 19 points and 15 rebounds, and Jrue Holiday added 23 points and seven assists. Ian Clark added 15 points for the Pelicans, whose size inside ended up prevailing in overtime when Boston's barrage of 3-pointers stopped falling.
Kyrie Irving led Boston with 27 points and Al Horford had 14 points and nine rebounds. Marcus Smart and Jaylen Brown added 16 points apiece for the Celtics, who attempted a season-high 50 3-pointers.
MAGIC 108, TIMBERWOLVES 102
ORLANDO, Fla. (AP) — Evan Fournier scored a season-high 32 points to help Orlando break a seven-game losing streak with a victory over Minnesota.
D.J. Augustin added 11 points and three assists in the fourth quarter, when the Magic scored 35 points after trailing by two through three.
Jimmy Butler had 28 points and seven rebounds for the Timberwolves, who had won five straight games by an average of 18.8 points.
Bismack Biyombo had 16 rebounds for the Magic, leading the team with the NBA's worst rebound percentage to a 51-37 advantage.
NUGGETS 105, MAVERICKS 102
DENVER (AP) — Nikola Jokic scored 29 points and grabbed a season-high 18 rebounds, Gary Harris hit two late free throws and Denver led by as many as 23 points before holding on for a victory over Dallas.
Harris finished with 25 points and Will Barton added 22 for the Nuggets, who won for just the second time in six games.
The Nuggets led 82-59 with 4:04 left in the third before Dallas staged a massive comeback. The Mavericks cut the deficit to one on a three-point play by Dennis Smith Jr. with 10.4 seconds remaining. After Harris made two free throws, the Mavericks had a chance for a last-second shot, but Dwight Powell couldn't corral a long pass as the buzzer sounded.
Smith had 25 points for the Mavericks, while Harrison Barnes contributed 17.
TRAIL BLAZERS 118, SUNS 111
PORTLAND, Ore. (AP) — Damian Lillard scored 31 points and Portland snapped a three-game losing streak with a victory over Phoenix.
CJ McCollum had 27 points, including six 3-pointers, and the Trail Blazers led by as many as 27 points in third quarter.
Devin Booker had 43 for the Suns, who have lost three straight and five of their last six.