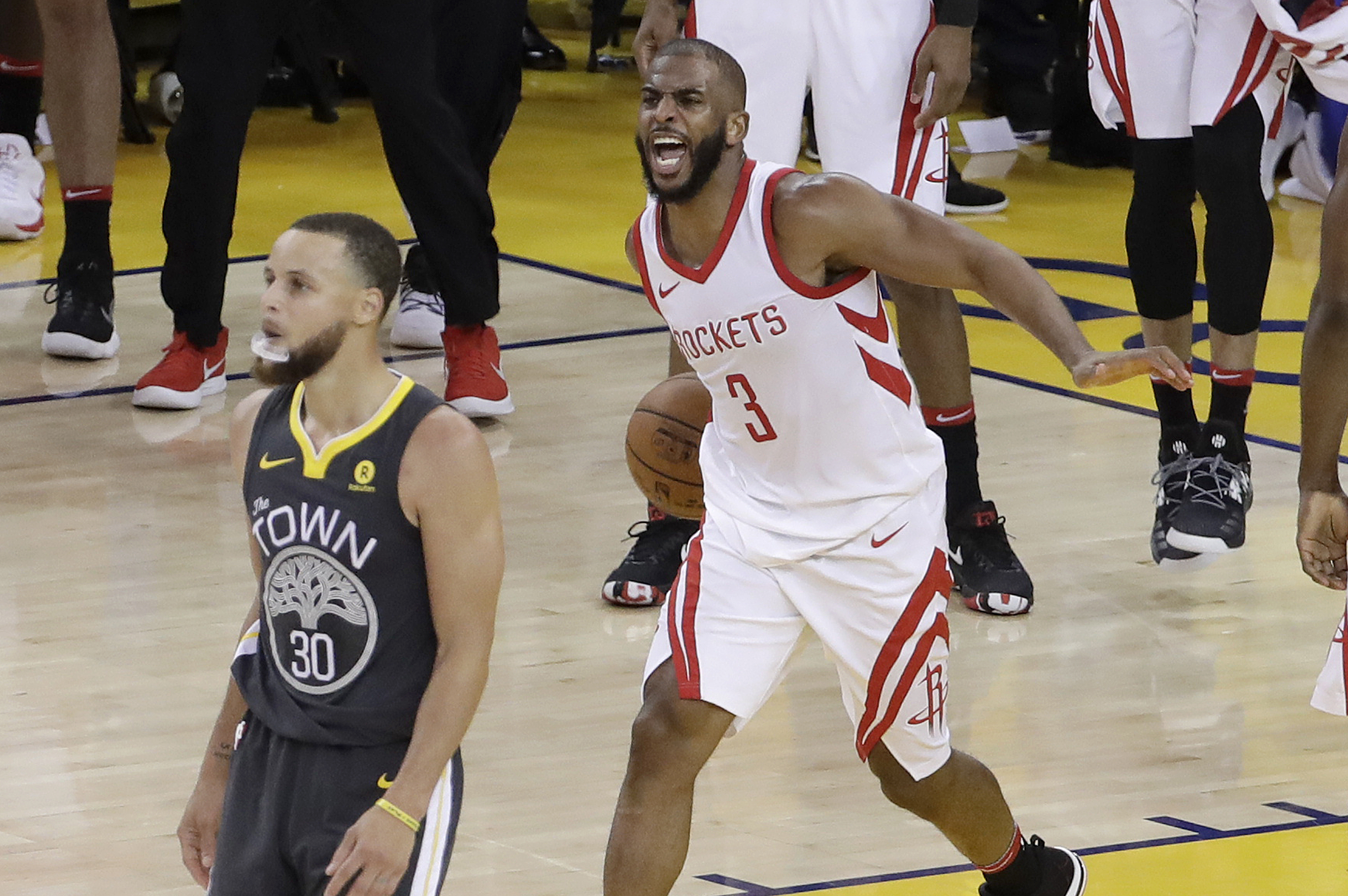 By JANIE McCAULEY
Associated Press

OAKLAND, Calif. (AP) — Chris Paul pounded the ball down demonstratively on Stephen Curry's home court in sheer delight. And maybe he sent a little message: These Rockets are for real and very much remain in the championship chase. Houston handled the defending champions in their hostile, imposing home arena and sustained the latest second-half flurry by Curry, getting 30 points from James Harden and another 27 from Paul to even the Western Conference finals at two games apiece with a 95-92 victory Tuesday night.

Curry scored 28 points and Kevin Durant added 27 points and 12 rebounds but the Warriors missed their final five shots from the floor and their NBA-record postseason winning streak at home ended at 16 games. The Rockets shook off a 41-point embarrassment in Game 3, a 12-0 deficit to start Tuesday and another big run by the Warriors in the third, then won it with defense down the stretch. "We're a team. We're really good as a team," Harden said.
Paul rebounded Klay Thompson's miss just before the final buzzer sounded for the first time and celebrated in front of a stunned, yellow-clad home crowd. A replay review ensued and it was determined Shaun Livingston fouled Paul before the game ended, so Paul made a free throw with 0.5 seconds left.
And he did it all playing on a tender foot. "A whole lot of treatment," Paul said. "It's as good as it's going to be right now." Curry couldn't get off a final attempt before the buzzer.
Game 5 is Thursday night at Houston. Golden State, which went a record 16-1 on the way to last year's title, will play its longest playoff round after closing out its first two series in five games. "Now we've got to fight and really understand that this is a true playoff-type experience," Curry said. Golden State got the ball with 1:27 to play down 94-91 and Thompson and Curry each missed contested 3-pointers. The Warriors got another chance with 42.5 seconds left following Houston's shot-clock violation.
Curry missed a driving layup and Draymond Green pulled down the offensive rebound and was fouled by Paul, but Green converted only one free throw. "I thought this is the highest level we've ever played defensively, without a doubt," Rockets coach Mike D'Antoni said, "because we're talking about the best offensive team ever." The Rockets went ahead 85-84 with 6:03 remaining on Trevor Ariza's 3-pointer from the baseline after a beautiful bounce pass from the opposite corner by Paul. Golden State trailed 91-86 with 3:30 left following a pair of free throws by Eric Gordon, then Curry converted a three-point play moments later.
Green wound up with 11 points, 13 rebounds and eight assists while going at it with Paul all night in Game 4 — the first nail-biter so far in a series that had featured only lopsided results of 13 points or more.
"I'm sure we'll look at the film and kick ourselves," Warriors coach Steve Kerr said. "Look, this is a great team we're playing. They won 65 games for a reason." Curry knocked down three straight 3-pointers during a key third-quarter sequence in which he scored 11 consecutive points before Thompson's 3. Down 53-46 at halftime two days after a franchise playoff-record 41-point victory in Sunday's 126-85 win, Curry shined in the second half once more. He scored 17 in all during the third-quarter spurt. Curry came out and hit a 3 from the top and seemed on his way to another spectacular finish until the late misses on a night both Western Conference powers shot just 39 percent.
His 3-pointer from 29 feet out at the 5:43 mark of the third got Golden State back within 62-60 then he knocked down another moments later on the Warriors' next possession for the lead. Then, another from the baseline before a driving layup to the left. Much-improved Warriors big man Kevon Looney, who shed 30 pounds last offseason, earned his first career postseason start in place of injured Andre Iguodala and had four points and six rebounds.
Iguodala, who banged his left knee during the fourth quarter of Sunday's win, was upgraded from doubtful to questionable after an MRI exam earlier Tuesday on the knee revealed no structural damage.
The Warriors got another scare when Thompson briefly went to the locker room in the second quarter with a left knee strain then returned and hit baseline 3-pointers from both sides and wound up with 10 points on 4-for-13 shooting. The Rockets missed their first eight field-goal tries and committed two turnovers before Harden's layup with 6:42 left in the first. D'Antoni called timeout at the 7:06 mark of the first with his team trailing 12-0. "We just kept playing," Paul said.
TIP-INS
Rockets: The Rockets were outrebounded 49-41. … Houston scored just 19 first-quarter points, its fifth straight period failing to score more than 24 before scoring 34 in the second. … After saying the pressure was on the Warriors, D'Antoni cracked pregame, "That really worked out well, didn't it?"
Warriors: Curry picked up his third foul at the 5:06 mark of the second quarter and took a seat and Golden State was limited to 18 points in the period. He pumped his right arm so hard after a basket in the first he nearly hit official Mike Callahan. … Curry made his signature pregame tunnel shot on the fourth try. … Golden State dropped to 32-7 in the postseason since 2015 when holding opponents to fewer than 100 points. … Looney started for just the ninth time in his three-year NBA career.
IGUODALA OUT
Without 2015 NBA Finals MVP Iguodala, the Warriors were down one of their top defenders and playmakers. Iguodala's status for Game 5 was still unclear. Since 2014-15, Golden State is 14-4 in postseason games started by Iguodala. "If it was close, he would play," Kerr said. "He's injured so he's not playing. So we'll see what happens in the next couple of days."
TECHNICAL STANDS
The Warriors spoke to the NBA about Green's double-technical in Game 3 with Trevor Ariza issued at the 6:49 mark of the fourth quarter when Ariza shoved Green as they traded words. "They're not rescinding it," Kerr said. "Those conversations are always private, so we respect their decision and move on."