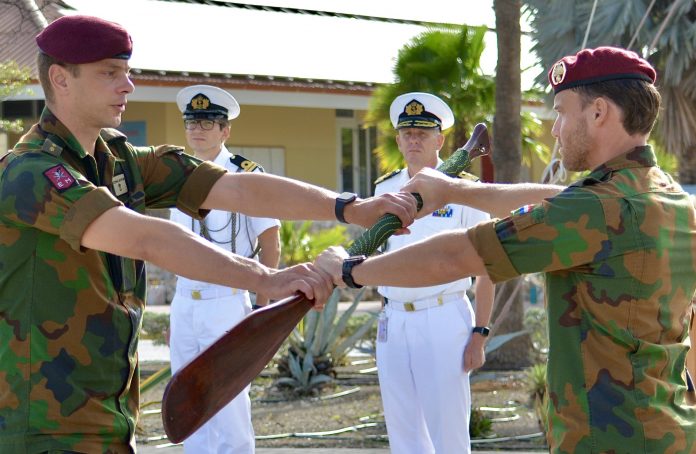 The paddle transfer took place from the 33rd rotation Company in the West (CidW) to the 34th rotation by means of a short military ceremony. Commander of CidW 33, Captain Ruben, has transferred the paddle, thereby assigning her duties as CLAS Company (Commando Land Forces Company) in the Caribbean, to Commander CidW 34, Captain Maarten. He and his company will carry out these tasks for four months.
The previous rotation has been much visible on Curaçao in recent months. This was mainly due to the many deployments made in the field of maritime border surveillance, but also surveillance and security missions in this country. Due to the COVID-19 situation on the islands, this rotation did not allow training on Aruba and Bonaire.
CidW 33 comes from the 11th Infantry Battalion Air Assault Guard Regiment Grenadiers and Hunters. This company, the Alfa Company, is also called the "King's Company" because Hereditary Prince William of Orange, later King William III, had command of it in his military training. CidW 34, the new rotation, is also from 11th Infantry Battalion but is called the Charlie Tiger Company. This Tiger company is no stranger to the region, in 2015 and 2018 she also had the duties of a CLAS company. Both units come from Schaarsbergen and know each other from the Army base there.