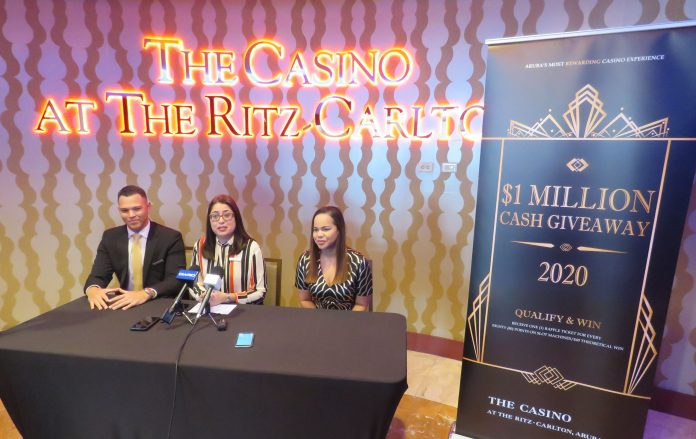 It was an exciting moment yesterday afternoon at The Casino of The Ritz-Carlton, Aruba when the enthusiastic team announced the new campaign for this year. Communications Manager Yahira Santoni, Communications & Promotions Manager Joanna Maya and Director of Casino Operations Axl Ismael surprised the local press with a unique campaign: one million dollars cash to win!
Ismael: "I cannot be more thrilled to announce another great campaign for The Casino at The Ritz-Carlton, Aruba. This is a historic moment because this campaign's price has not been offered before in the Caribbean. We closed 2019 with the winner of our Deal or Wheel campaign who could choose between a Ferrari 488 Spider and 250.000 dollar cash. This year we even have a bigger price. Rumor has that speculations went from a boat to a house to a Bugatti but it is nothing less than one million cash dollars!"
Maya goes into the details of this amazing campaign by explaining the conditions to participate. "This is easy, you need to be a VIP member which can be done by showing your ID at the desk and register your membership. With your VIP membership card you can play at the slot machines and for each 80 points you will gain a ticket to be part of our new campaign that might turn you into a millionaire. There will be five draws and the first one will be on March 31st. We will have 15 possible winners that will be in the run for the big price. The first five finalists will be announced on February 29, the following five on March 31st. There will also be a special promotion for our top players (table and slot machines) in the months of February and March where the last five finalists will be selected from to participate in the Grand Finale.
Santoni elaborates on how to win a ticket by dining in the hotel's restaurants, Casa Nonna and BLT Steak. "After your dinner at one of our restaurants you will receive a voucher which allows you to play at the casino and participate in this unique campaign."
For more information on The Casino at The Ritz-Carlton, Aruba:
The Casino at The Ritz-Carlton, Aruba
L.G. Smith Boulevard 107
Palm Beach
www.facebook.com/thecasinoattheritzcarltonaruba
https://ritzcarlton-local-news.com/Aruba