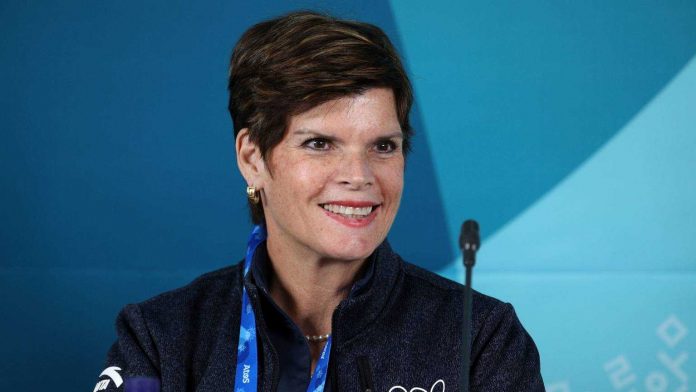 Nicole Hoevertsz has been elected as the new Vice-President of the International Olympic Committee (IOC). The Aruban takes over from the American Anita DeFrantz, who has reached her maximum number of terms of two times four years.
Hoevertsz was the only candidate for the position. She showed pride after her election: "If you had asked me earlier if this was possible, I would have thought it a dream. But you make a little girl's dream of an island possible." The former synchronized swimmer took part in the 1984 Olympic Games in Los Angeles on behalf of the Netherlands Antilles (which last competed as a country in 2008) and then started working as a sports director. In 2006 she set foot in the Olympic Committee as a member and slowly worked her way up. Hoevertsz is currently chairman of the committee that monitors the progress of the 2028 Olympic Games in Los Angeles. She is the daughter of an Aruban father and Dutch mother and studied law in Leiden.
President 2025
The new vice-president will serve on the IOC board until 2025, when her term also expires. In the same year, a new president of the IOC is also elected. Then the current chairman Thomas Bach has reached his maximum term of twelve years.
'Very close to us'
Since Camiel Eurlings withdrew as an IOC member in 2018, the Netherlands is no longer represented on the committee. Eurlings was discredited for assaulting his ex-girlfriend. According to the rules of the IOC, he could have stayed on because he had no criminal record. Gerard Dielessen, general director of NOC*NSF, said after the departure of Camiel Eurlings he was not concerned about Dutch interests. "Hoevertsz is very close to us. And we know about fifteen to twenty IOC members very well and we have a lot of contact with them. So it's not that we are out of touch," said Dielessen. But how important is such a seat in the Olympic committee? "A place within the IOC is very nice to keep in touch with the international sports world. It doesn't matter what position you are in within the IOC, you have a voice," says Hinkelien Schreuder, chairman of the athletes' committee of NOC*NSF. Schreuder therefore hopes that Dutch blood will soon flow through the veins of the IOC again and suspects that the athletes' committee is a good first step.
Ambition
"I do think that there are Dutch athletes who aspire to that, but it is a combination of qualities, capacity and timing. It takes quite some time in such a committee membership." In August, NOC*NSF nominated a new candidate for the International Paralympic Committee (IPC). Wheelchair basketball player Jitske Visser will then compete against 22 other candidates for a place in the IPC athletes' committee.
Source: NOS nl