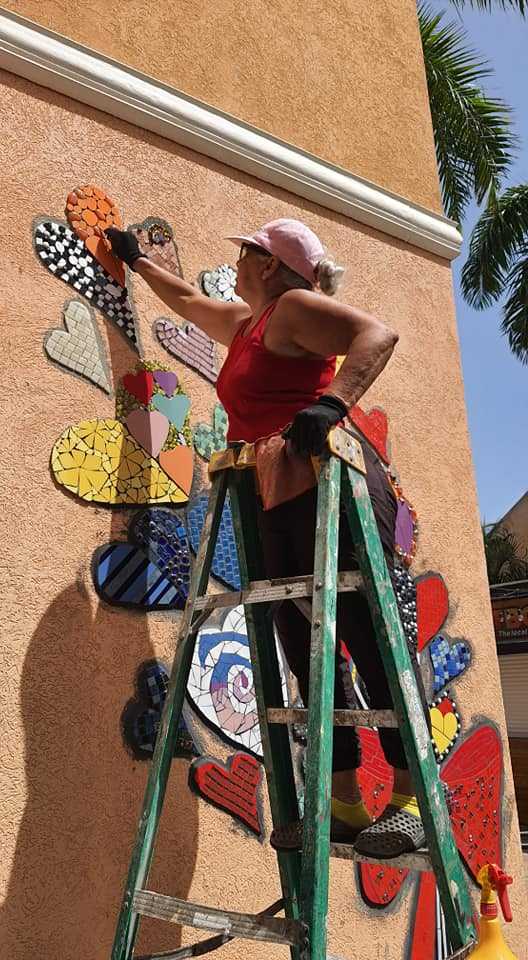 Paseo Herencia continues with its Mural Art projects around the Paseo Herencia Plaza with the local artist "Omaira Silva".
About the Local Artist
Omaira is a kind, motivated and inspiration driven local artist, who has brought her artistic creation to Paseo Herencia. With her active spirit and enjoyment in her work, everyone in Paseo Herencia including tourists were involved and excited with her mosaic creation.
With years of experience, Omaira has created this amazing art piece with ease and precision. Paseo Herencia is proud to present her "Love is in the Air" mosaic wall art design.
Love is in the air
Omaira's art creation has an interactive design where visitors can hold the beautiful big red bow that is attached to unique heart balloons. Making it an eye stopper for your social feed. Certainly, a design that will lift your spirits. Catch her beautiful mosaic mural art near the Paseo Mall entrance next to Maggy's and King Churros.
Aruba Artist Gallery
Omaira has inspired many to pursue their artistic abilities and now continues with her Aruba Artist Gallery @ Paseo. Hereby, artists will now have the ability to showcase their art pieces in this Artist Community Gallery, accessible to both locals and tourists. As a result, a new way to reconnect with other artists and community.
Let's spread creativity, inspiration and cultivate the Art Community, for the Love of Arts, at Paseo Herencia.