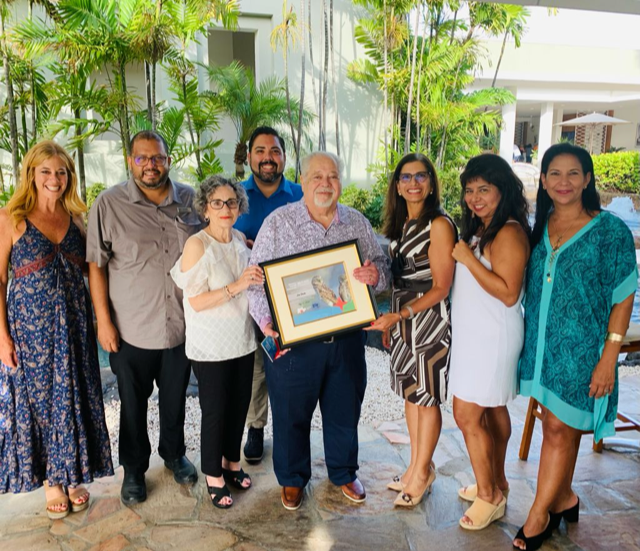 Recently, Mrs. Sanju Luidens, the Chief Marketing officer of the Aruba Tourism Authority (ATA) had the great pleasure to honor one of Aruba's loyal and friendly visitors as an Emerald Ambassador of Aruba. The Emerald Ambassador certificate is the highest certificate that we have and it is presented on behalf of the Minister of Tourism, as a token of appreciation and to say 'Masha Danki' to the guests who visit Aruba 35 years and more consecutively.
We owe the greatest pleasure to Mr. Lou Flacks. Flacks is a huge fan of Aruba, and frequently raves about our people and our 'One Happy Island'. Flacks has been visiting the island with his family for over 58 years consecutively. Yes, that is right, 58 years!
Flacks considers Aruba his second home and has made many friends on the island over the years. Flacks enjoys telling stories about his Aruban friends and his past experiences on the island to others. One of them especially, is how he used to drive down a dirt road to Palm Beach and having to wait for a large pack of goats to cross first. That was indeed a long time ago!
Flacks not only fell in-love with Aruba, but has also brought the Alpha Zeta Omega Group to the island many times. Alpha Zeta Omega Group is a pharmaceutical fraternity composed of pharmacists and undergraduates in Pharmacy. This is to also show his much appreciation to his team and the love for the island. It is incredibly beautiful to see that after so many years Aruba still has so many loyal visitors that still choose Aruba as their top vacation destination to travel to.
We are incredibly content and we want to thank him from the bottom of our hearts once again!
Sanju Luidens from the ATA together with the Hilton Aruba Executive Team presented the certificate to Flacks, handed over some presents and also thanked him for choosing Aruba as his favorite vacation destination and as his home-away-from-home.