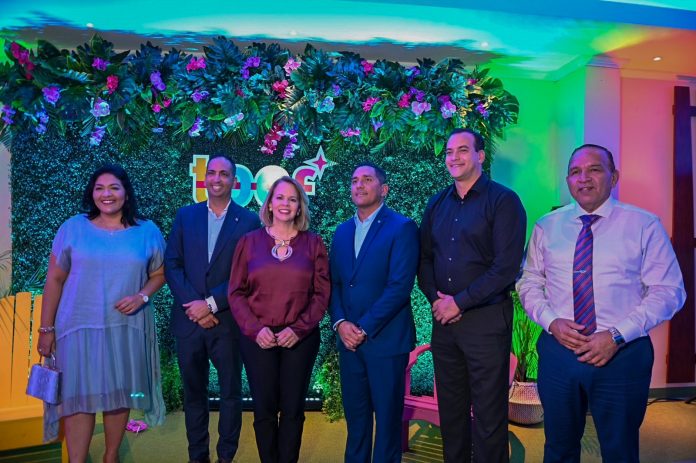 This week, minister of Tourism and Public Health, Mr. Dangui Oduber made an important announcement regarding the enhancement of our product Aruba. This time, it is the project to improve the strip of Eagle Beach from the roundabout at Amsterdam Manor to the roundabout of Alhambra.
This project will be financed by the Tourism Product Enhancement Fund (TPEF) and Aruba Tourism Authority (ATA).
According to a press release, this is a beautiful project where the public and private sector will be working together. The public sector will make investments and the private sector is committing to carry out the necessary maintenance in the years ahead of us.
Monday night during a ceremony, minister Oduber together with all General Managers of the properties on the strip where the enhancement will take place, as well as the president of the board of TPEF, Mr. Mario Arends, signed a MoU where all parties are committed to each other.
This project will be realized in two phases. The first phase will begin in the upcoming days. In total, the public sector is investing a significant amount in this project while the private sector will invest in maintenance of the project. According to the press release this is a new model chosen by the ministry of Tourism in order to allow the private sector to also actively participate in the maintenance of different projects. This makes the project unique and a good model for the future. It is proof that by cooperating and working together more can be achieved.
This way we can guarantee that the project will be sustainable and will elevate the product Aruba.
The project will see the enhancement of the entire strip of Eagle Beach, where the landscape will be uniformed with flora and white stones in order for it to be better organized and structured. The idea is for the entire strip to look the same, creating a better feeling for our visitors. More trash bins will also be installed on the strip in order to improve waste management in the area.
Finally, minister Oduber thanked the board of TPEF, ATA and all the General Managers of the properties for their collaboration in the project.