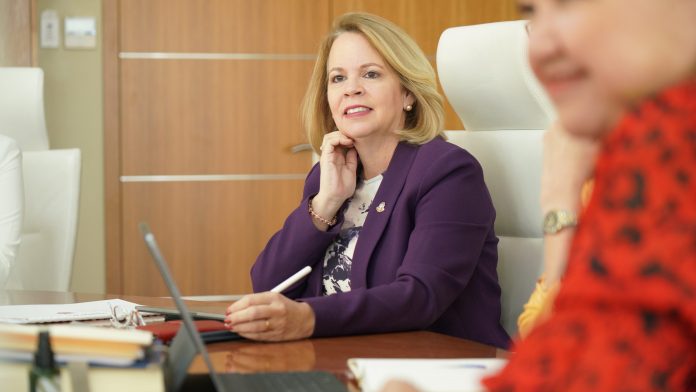 Prime Minister of Aruba, Evelyn Wever-Croes had a meeting with the commission installed to prepare for the royal visit. King of the Netherlands, Willem-Alexander, Queen Maxima and Crown Princess Amalia are visiting Aruba on January 30 and 31. On the first of February they depart for Curaçao.
Wever-Croes said that the beautiful program prepared for the visit to Aruba includes many opportunities for the people of Aruba – and our beloved visitors! – can meet the royal family, particularly Princess Amalia since it will be her first time visiting Aruba.
On January 30, when the king, queen and princess arrive in Aruba, they will leave the airport and head to the Whilhelmina Park where there will be different activities and members of the military. Here, school children and other members of the community will be present to greet and welcome the royal family.
After Whilhelmina Park the delegation will walk to the Ceremonial House of the Governor for a meeting with the Governor of Aruba. After this they will be walking on the main road towards the Parliament of Aruba.
Following this visit the royal delegation will walk towards the main center of the government, Cocolishi.
Afterwards the delegation will depart for the hotel for a short break.
Following the break, the entire delegation will go to San Nicolas. The first visit will be at Filomena College for a presentation of a mural honoring our World War II hero, Boy Ecury.
Afterwards they will visit the Industrial Museum of Aruba.
Following this visit, the delegation will get to see the murals and art in San Nicolas.
This visit will conclude in Nicolaas Store, where the royal guests will be delighted with a cultural demonstration.
After leaving Nicolaas Store, the delegation will arrive at the Marinierskazerne – the marine barracks.
The second day on Tuesday will begin early morning with a hike in Aruba's nature, starting at the Franse Pas, the gold mine ruins.
Following the walk the delegation will visit the Visitors' Center of the park and see the center of farming where certain special plants are being grown and will be introduced to the project.
Following the park, the royal delegation will visit Aruba Aloe, which recently received the title "royal".
Afterwards they will enjoy a lunch at the Whilhelmina Restaurant, and continue on to the University of Aruba, where they will meet with lecturers and students.
Following this visit the King and princess will depart for the Frans Figaroa Sports Center. The Queen will visit Qredits Aruba.
The program for the royal visit will end with a visit to Fort Zoutman, which will begin on Plaza Padu.
Afterwards they will enter Fort Zoutman where they will experience a portion of Bon Bini Festival.
Prime Minister Wever-Croes indicated that during the two-day visit, the royal family wants to be in touch with the people and experience Aruba.
The Government of Aruba invites our entire community to prepare and bring the children to meet the royal family of the Netherlands. "Let's show them the cordiality that we know in Aruba and let's give them a warm welcome."