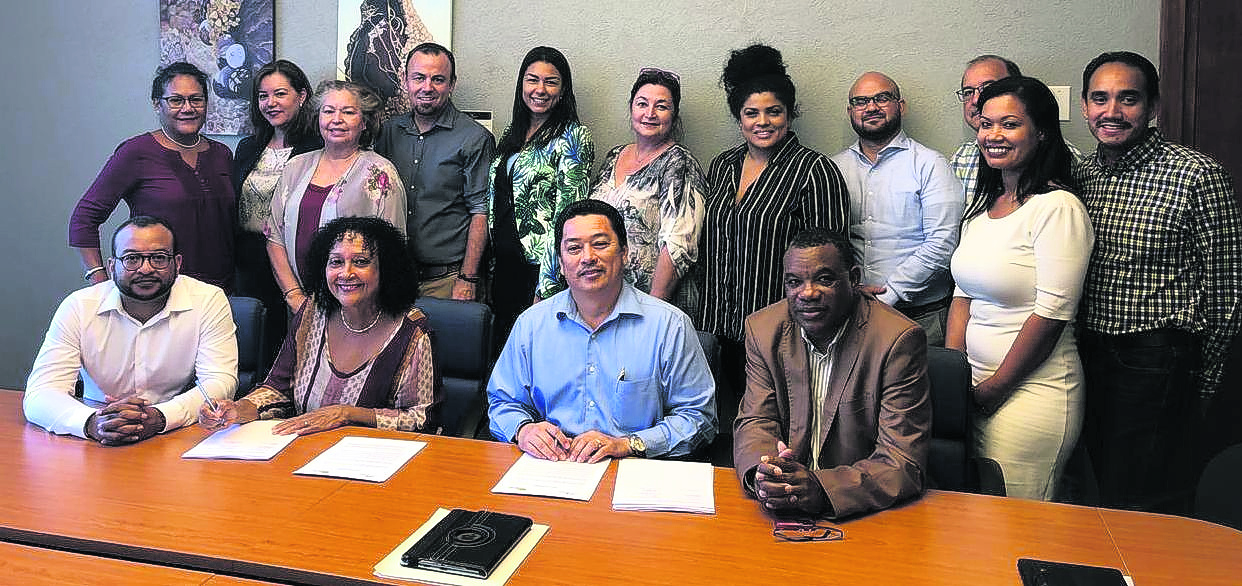 ORANJESTAD — Stichting Centro pa Desaroyo di Aruba (CEDE Aruba) and Aruba Timeshare Association (ATSA) recently signed a cooperation agreement for the 'Happy Community Initiative', a collective effort between CEDE Aruba, ATSA and the member organizations to raise funds in the tourism sector.
In 2017, CEDE Aruba gave a presentation to ATSA, highlighting social issues in the Aruban community as well as innovation in the world of fundraising. After a positive survey within the timeshare owner community, the parties developed the strategy to invite vacation owners and island visitors to support local community initiatives, making it possible to donate and, in a further state of the project, also to volunteer. The donations of the visitors will be managed by CEDE Aruba and provided to projects that make an impact on the development of children and youngsters in Aruba, especially after school programs, vacation activities and projects dedicated to youth at risk.
Tourism & Social Sector
The signing of the agreement took place at the office of CEDE Aruba. "We are excited about the partnership with CEDE Aruba to provide more support for our youth & families and make a much bigger impact on the future of our community," says Mr. Luigi Heredia, President of ATSA. The board of CEDE Aruba acknowledges this agreement as a milestone; the social sector and the tourism sector are growing closer together in order to foster social and sustainable development.
About ATSA
The Aruba Timeshare Association (ATSA) is the legal entity representing the special interests of timeshare within the island's tourism sector. ATSA was established in 1994, and currently counts the active membership of the majority of timeshare properties in Aruba (as well as condominium co-op associations). The Association works on a local level, as a supporting member of AHATA, the Aruba Hotel and Tourism Association, and with other local organizations as well as Government entities. On a regional level, where Aruba continues to receive recognition as a model timeshare destination, ATSA has professional ties with CHA, the Caribbean Hotel Association and also benefits from continuous collaboration with ARDA, the American Resort Development Association. Visit us online at http://www.arubatsa.com/
About CEDE Aruba
CEDE Aruba is a development and grant making organization, bringing together people and resources for sustainable development. In the fight against the socioeconomic and social problems in Aruba, we bring the target groups into contact with each other and act as a catalyst, whenever there is an opportunity for social and educational development. CEDE Aruba provides funds to non-governmental organizations, matches organizations with (international) funding opportunities, supports local organizations in the development of projects and initiates developments within different sectors of society. CEDE Aruba contributes to a community where people of all ages and backgrounds can develop themselves. We believe that sustainable development in the Aruban community is feasible. Visit us online at http://cedearuba.org/
For more information concerning the Happy Community Initiative, please contact: Ms. Kimberly Mathilda, Project Leader Happy Community Initiative Aruba, Phone: +297 582.7666 Email: info@happycommunityaruba.org