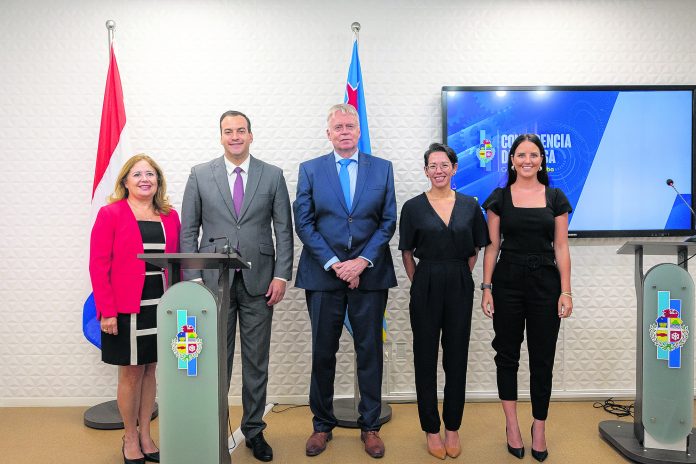 "As minister of Economic Affairs, today I have the honor and pleasure to inform the people of Aruba that the fair competition authority for Aruba's economy, Aruba Fair Trade Authority, is a reality", minister Geoffrey Wever said yesterday morning during a press conference announcing this very important development for Aruba.
Minister Wever said that, just as every expert who contributed to the process, he is convinced that Aruba Fair Trade Authority (AFTA) will bring important and structural changes to our economy, businessmen, and every citizen.
AFTA is a legal entity based on law. Its main task is to create a level of fair, free and unrestricted competition for every company in Aruba, stimulating investment in general. AFTA will contribute to better prices for products and services, better choices for products and services, and better products and services for our consumers.
Most developed countries in the world already have an entity like AFTA which prevents consumer abuse. Now the citizens of Aruba can also be proud and happy that our island also has its fair trade authority in AFTA, according to Wever.
As minister of Economic Affairs, Wever indicated that he will be the person in charge of managing AFTA, but AFTA is an independent body based on law, and is in charge of implementation and supervision of the fair trade authority law.
"We all know that Aruba is going through financial difficulty", Wever said. "But even so, the government of Aruba saw the importance of AFTA and decided to allocate funds to make this a reality." He also highlighted "the important role of the Netherlands in this process", because the Netherlands approved the project and allocated funds – Afl. 620,000 – for the implementation of AFTA, and also made available for Aruba an expert on fair trade, Mr. Albert Scholten.
Mr. Scholten will be in charge of implementing AFTA and guiding the local professionals to set up AFTA.
Mr. Scholten has a lot of experience in fair trade, both in the Netherlands and in Curaçao, "and I think we are lucky to have the professional support of Mr. Scholten", according to Wever.
Wever said that since 2019, the Department of Economic Affairs travelled to the Netherlands to visit the fair trade authority there, to find out if introduction of a similar law in Aruba would benefit our economy. The result of this showed that the fair trade law will have benefits for the local economy, will promote investment through fair, free and limitless competition for every local enterprise. "So after a long journey, the law was also approved in the Parliamento of Aruba", Wever added.
"Recently, as part of the economic reforms which form part of the Country Package [terms and conditions agreed with the Netherlands in exchange for financial support during the Covid-19 pandemic], Aruba managed that since 2021 this project was a priority, which allowed us to accelerate the implementation of AFTA."
Wever introduced the team leading AFTA, Mr. Albert Scholten, Mrs. Amanda Maduro and Mrs. Carondina Leijdekkers.
Mr. Scholten gave a detailed presentation on AFTA. He highlighted that AFTA will bring a lot of benefits to the consumer, enterprises and the economy, and that small and open economies do benefit from a body like AFTA. Scholten explained that more than 125 countries have a fair trade authority, and this brings positive effects to the countries' economies.