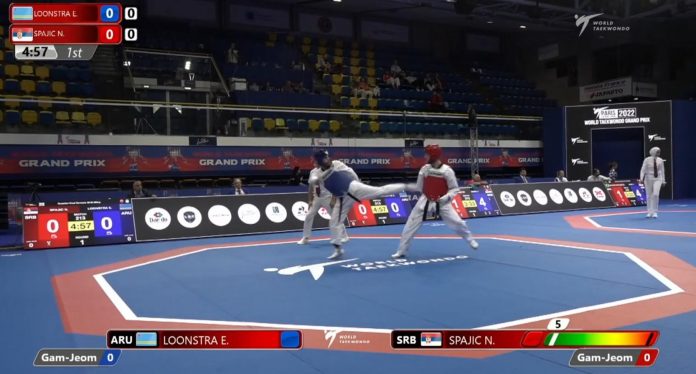 Elliott Loonstra PLY and his coach Luciano Mazzeo attended the 2nd event of the World Para Taekwondo Grand Prix Series that took place in Paris, France on September 5th, 2022. The event was held at the Palais de Sports Marcel Cerdan and was attended by 28 countries from across 4 continents.
In this event only the top 12 athletes globally in each category were allowed to participate in the matches. Loonstra who is currently 10th in the world fought against Spajic from Serbia, who is currently 9th in the world. This made for an exciting match, because it was a fight not just for the semifinals, but also for ranking. Elliott Loonstra PLY did his best, but the match ended in favor of the Serbian. Elliott Loonstra PLY did a great job during this event in Paris finishing in 5th place, an improvement from the first event from the series in Bulgaria where he finished 9th.
Elliott Loonstra PLY is currently in Brazil for another tournament in preparation for the 3rd event in the World Para Taekwondo Grand Prix Series, which will take place in Manchester, England in October. Elliott Loonstra PLY took 5th place the last time he was in Manchester and he and his team are looking for podium in the upcoming competition. Elliott Loonstra PLY and his team would like to thank CEMEDAR, BodyZone Fitness and Roro Fitness for all the help they have provided during these last months helping him move towards his goals.