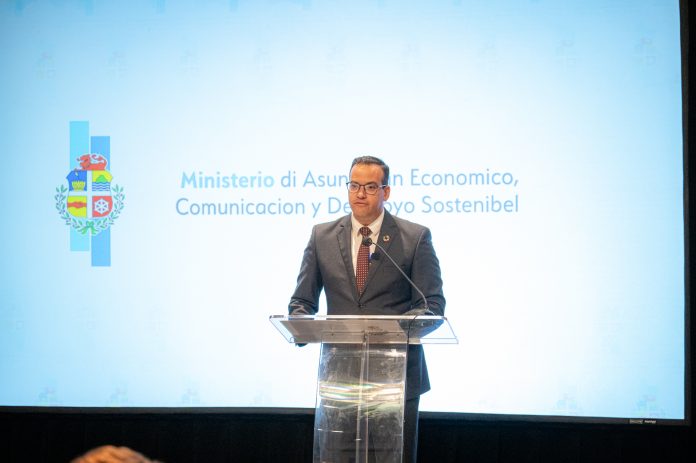 (Oranjestad)—Minister of Economic Relations, Communication and Sustainable Development, Mr. Geoffrey Wever, opened for the first NSS seminar "Building a modern National Statistical System–Emerging data needs for monitoring sustainable development". Minister Geoffrey Wever is implementing the National Statistic system (NSS), in which it is important for stakeholders to be well-informed about what the NSS will mean in practice, and what the benefits of this system are.
This seminar was attended by various members of the Aruban Parliament, public and private sectors, and NGOs, all whom have shown an interest and support for the NSS. Minister Wever is glad that Aruba is getting the support from renowned international organizations like the United Nations Statistical Division (UNSD) and United Nations Economic Commission for Latin America and the Caribbean (UN-ECLAC) in the implementation of this new system.
Mr. Gabriel Gamez of the UNSD is an expert in implementing NSS's in different countries around the world, and underlines that citizens and users are central to the NSS.
Minister Geoffrey Wever explained that the NSS is a key mechanism that Aruba needs for the modernization of the economic foundation, and for the insurance of a sustainable future for the island and future generations. The Sustainable Development Goals Framework also states that the NSS is an essential system for sustainable development. The NSS is also a part of the effort to implement SDGs.
In the fast-paced world we currently live in, data and information play a crucial role in decision making, planning and management development. Even though that is the case, sometimes data are left incomplete or unreliable, which make the challenges ahead blurry. The NSS focuses on fixing this issue by providing users high quality, up-to-date and impartial data in order to make decisions based on reliable information.
"By implementing the NSS, Aruba will have the necessary data to monitor our progress, identify areas that need improvement and make decisions based on reliable information, which benefit the citizens. I'm glad to see the positive reception for this seminar and I'd like to thank those who attended. I'm sure that with this established foundation, we can work together to create a better and prosperous future for Aruba," Minister Wever concluded.