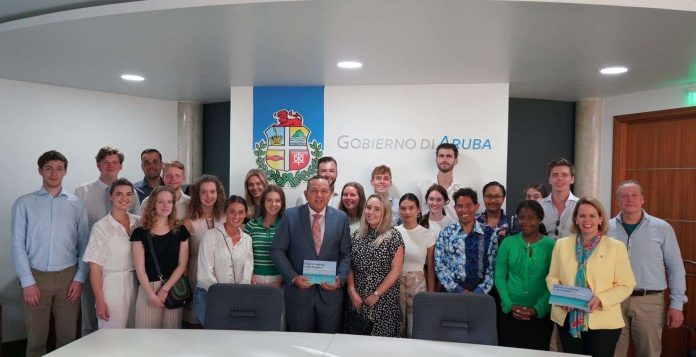 (Oranjestad)—On January 23rd, The Prime Minister Wever-Croes and Minister Croes recived a visit from a group of 34 university students who made a academic trip to Aruba.
This visit involves students from the law, public administration and integral safety science programs at the Haagse Hogeschool University in The Netherlands. The students are also doing a Minor course related to Kingdom relations.
This visit to Aruba is a part of that Minor. The purpose of this is for the students to explore the similarities and differences between The Netherlands and the Dutch Caribbean within the Dutch Kingdom. The Minor course emphasizes the relationship between the islands in the Dutch Kingdom, The Netherlands and The European Union.
The students posed different questions to the Prime Minister and Minister Croes about education on Aruba and how this can be improved. All questions were answered and the students seemed satisfied with their visit. Minister Croes wishes the students all the best with their studies.