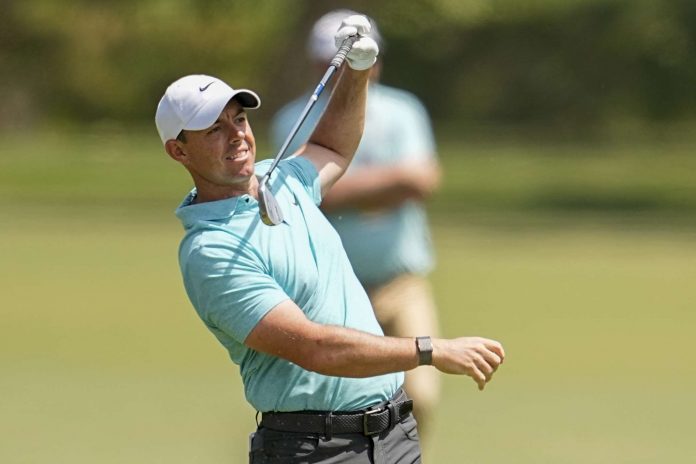 By DOUG FERGUSON
AP Golf Writer
LOS ANGELES (AP) — The only thing worse for players than getting asked about winning their first major are endless questions about when they will win another one. That's what Rory McIlroy is facing.
The scrutiny no longer is limited to the spring, with Augusta National on the horizon and the reminder that a Masters green jacket is all that keeps McIlroy from the career Grand Slam. Any major will suffice at this point.
And about the only answer is what Wyndham Clark offered not long after the tears, the hugs and the hoisting of the U.S. Open trophy.
"I just feel like it was my time," Clark said. Sometimes there's no better explanation.
Clark never had to face the "when" question because he earned his first PGA Tour victory only six weeks ago, and because the U.S. Open was only the seventh major he had ever played.
He showed big game at Los Angeles Country Club, from the par saves around the turn to his deft touch with a wedge and putter over the last two holes to preserve his one-shot win over McIlroy. Perhaps five years from now it won't seem like such a surprise, at least for Clark.
Tiger Woods never faced those questions, either. Much of those 11 years between his 14th and 15th major was more about when he would play than when he would win.
Woods had reconstructive knee surgery and four back operations. McIlroy missed one major after hurting his knee playing soccer.
McIlroy is a massive talent, and so it's reasonable to at least consider whether a four-time major champion has underachieved. Worth noting is winning majors has become tougher than ever as golf gets deeper and younger. Of the 33 majors McIlroy has played since his last win, 21 of those winners were younger than him.
More alarming is not that McIlroy failed to win Sunday, rather that he has given himself so few chances over the last nine years.
Since his last major title in near darkness at Valhalla in 2014 at the PGA Championship, he has played in the final group only twice — he was three behind Patrick Reed in the 2018 Masters and tied with Viktor Hovland last year at St. Andrews in the British Open.
Los Angeles allowed for natural comparisons with St. Andrews. It's not so much what McIlroy did wrong as what he failed to do — make putts. He hit all 18 greens and took 36 putts in the British Open. He didn't make a putt longer than 7 feet over the final 33 holes of the U.S. Open.
The final day at LACC wasn't quite that bad, but it wasn't great. McIlroy had 16 pars, one bogey and one birdie. That's a round that often wins a U.S. Open. It's just that this Open featured two 62s and a 63 before the week was over. McIlroy didn't make a birdie over the last 17 holes.
There wasn't much left for him when he finished but to hope for Clark to three-putt — yes, he was hoping for such an outcome because it was all he had — and when that 60-foot putt settled a foot next to the hole, McIlroy didn't bother to stick around in the scoring trailer to watch him finish.
"As soon as he cozied it up there, I was like, 'OK, get through this, and then go home and regroup,'" he said.
By "get through this," that would be mean a brief inquisition. He knew what was coming. What happened? How come? What's next?
When?
The next chance — the last chance this year — was 32 days away from when McIlroy signed for an even-par 70. The British Open is at Royal Liverpool, where McIlroy won the claret jug in 2014 when he took a six-shot lead into the final day and was never seriously challenged.
That was his time.
Sunday at LACC was not, just like so many others, some of them recent. He was tied for the lead at the Memorial and shot 75 to finish four back. He was two behind going into the final round at the Canadian Open and shot 70 to finish five shots behind.
This time he was in the penultimate group, one shot behind and playing in the group in front of two players — Clark and Rickie Fowler — who had never won a major.
His regret was not making putts — that's true with everyone — and not waiting for a gust to settle when he had a wedge in his hand going into the par-5 14th. Stranger still was why he chose to lay up from a reasonable lie in the left rough. But that's hindsight. Reality is coming up short and taking bogey to lose ground when he could least afford it.
"I'm getting closer," McIlroy said. "The more I keep putting myself in these positions, sooner or later it's going to happen for me. Just got to regroup and get focused for Hoylake."
That's what Fowler used to say when he was finishing in the top five at all the majors in 2014, and what he can say again with the turnaround in his game.
All anyone can say is it starts with opportunity. The questions don't stop — for Fowler getting his first one, for McIlroy getting his next one — until it leads to a trophy.