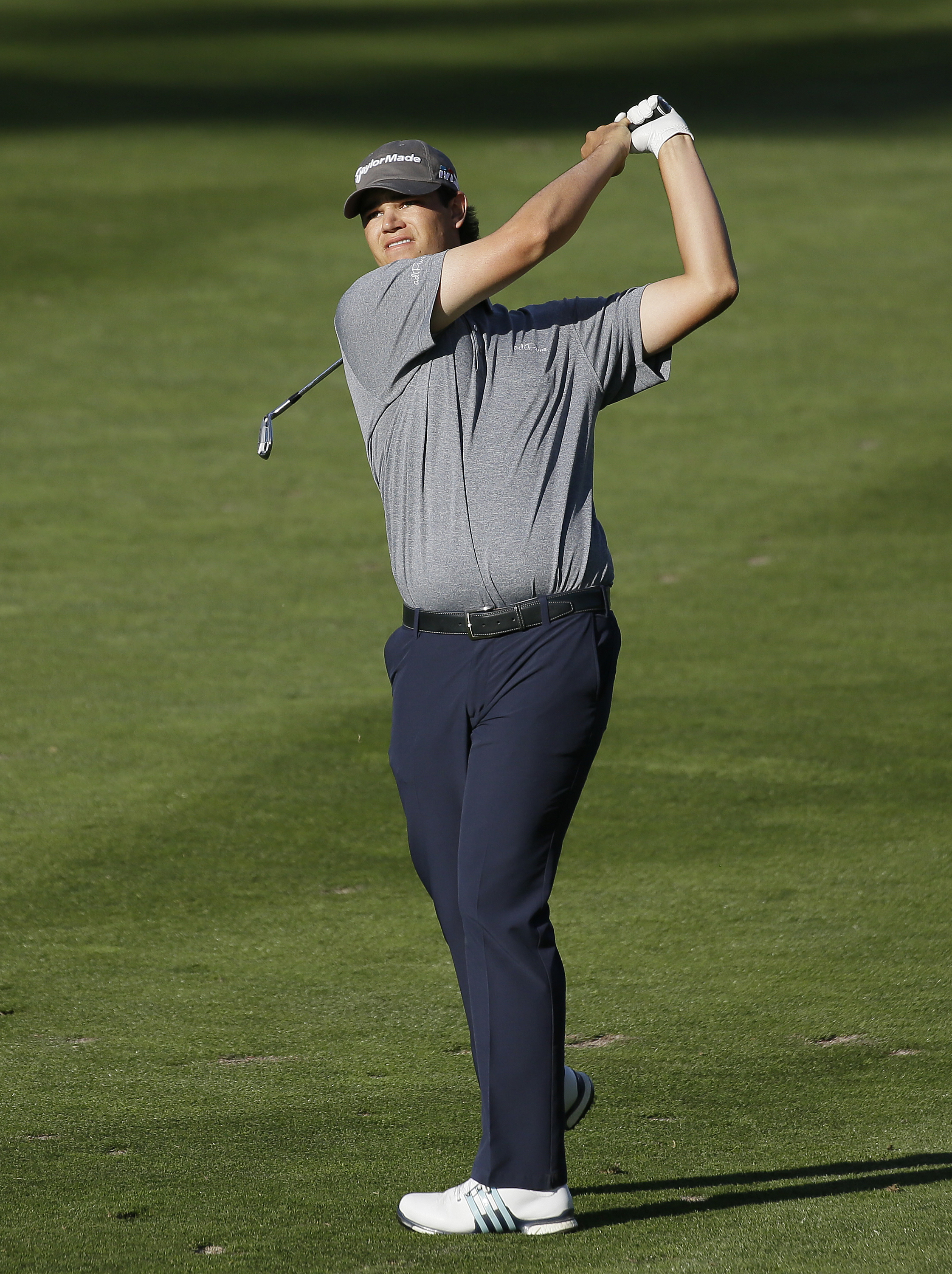 By DOUG FERGUSON
AP Golf Writer
PEBBLE BEACH, Calif. (AP) — Dustin Johnson already was feeling good about his game heading over to the Shore Course at Monterey Peninsula. Another day of gorgeous weather in the AT&T Pebble Beach Pro-Am made him feel even better.
Johnson ran off three straight birdies to start his round, made four birdies in a five-hole stretch around the turn and wound up with a 7-under 64 on Friday to share the 36-hole lead with Beau Hossler.
"Probably my lowest by about seven shots at Monterey Peninsula, so I was happy with that," Johnson said. "It's probably the first time, too, I think we have ever played over there with nice weather. So it was definitely a good day."
He only slightly exaggerated, but not by much. In four times playing at Monterey Peninsula since it joined the rotation, he only broke 70 one time and twice shot 73. The evidence of the different day he faced came early. Johnson hit a 9-iron on the 176-yard hole that plays downhill. A year ago, he hit 4-iron. On the 434-yard 13th hole a year ago, he "roasted" a driver and a 3-iron. This year, he hit 3-wood and had 85 yards left.
"But I was right behind the tree," he said.
Hossler, the PGA Tour rookie best known in these parts for contending on the weekend at Olympic Club in 2012 U.S. Open when he was 17, was flawless at Spyglass Hill in a round of 67 to join Johnson at 12-under par.
Hossler has not made a bogey this week. He holed an 18-foot par putt on the 10th hole at Pebble on Thursday. For his second round, he never came close to bogey, hitting all but two greens in regulation and having standard chips on those.
Hossler heads over to Monterey Peninsula, while Johnson spends his last two days at Pebble Beach.
They were two shots ahead to par on Julian Suri (67 at Monterey Peninsula) and Troy Merritt (67 at Spyglass Hill).
Lurking another shot behind were Phil Mickelson and Jon Rahm.
Mickelson hasn't won since the British Open in 2013 at Muirfield, and he finally started to see some reasonable results after a sluggish start this year. Mickelson was tied for the lead at one point when he ran off three straight birdies at Monterey Peninsula, though he made only two more over his final 11 holes for a 65.
Rahm was at Pebble Beach and holed his share of 6-footers for birdie for a 67. Just as big was the 8-foot putt he made on the 18th hole for par when he hit 3-wood to the right behind a tree, pitched nicely under the limbs and over the bunker just through the green, and then his chip ran downhill by the hole.
Jason Day had a 65 at Monterey Peninsula and was in the group at 9 under that included Steve Stricker (66 at Monterey Peninsula).
Jordan Spieth found some touch with the putter to make five birdies on his opening nine holes at Monterey Peninsula, and he wound up with a 66, though he remained seven shots behind Johnson.
"I saw a couple putts go in early and normally that's all I need to kind of stop skiing uphill and start to turn downhill," Spieth said.
Rory McIlroy went downhill.
He was hanging round at 5 under, not far from the lead, when he drove to the front of the par-4 fifth hole at Monterey Peninsula, leaving him a 70-foot eagle putt. He ran that about 6 feet past the hole, and then missed his birdie putt. But then he missed his par putt from 3 feet, and it ran about 6 feet by the hole, and he missed that one. That's five putts for a double bogey, and two more bogeys led to a 74 and left him in danger of missing the cut.
Hossler, who played at Texas, is part of the new generation who thought they could take on the best from when they were in college. He's not one to be intimidated by the world's No. 1 player (they are represented by the same manager), and that won't be an issue on Saturday, anyway.
Johnson is part of the celebrity rotation at Pebble Beach. Hossler figures to be in relative solitude at Monterey Peninsula.
"I try and not let those things affect me," Hossler said. "But yeah, playing on a moving day-type day, not at the home track for the tournament, that's certainly different really most weeks out here."
Johnson was full of good news on Friday — his 64 for a share of the lead as he goes for a third victory at Pebble Beach, and he found out that his dad bowled a 300. The world's No. 1 golfer grew up with bowling and said he once had a chance at a perfect game.
"I bowled 11 in a row," he said, breaking into a smile, "and then I gassed it."