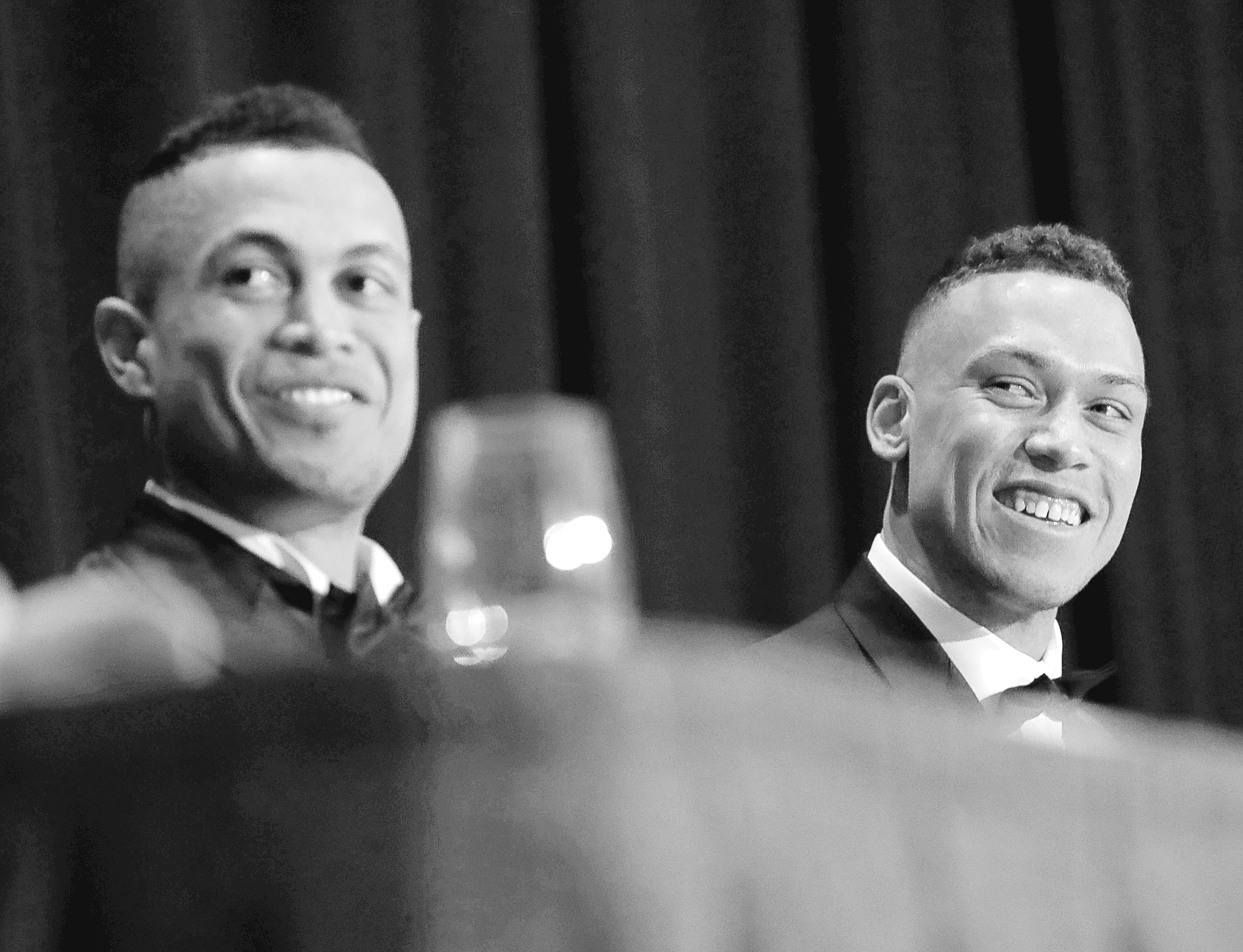 By The Associated Press
A team-by-team look at the American League East entering spring training, including key players each club acquired and lost, and dates of the first workout for pitchers and catchers, and the full squad:
Boston Red Sox
Manager: Alex Cora (first season).
2017: 93-69, first place, lost to Houston in ALDS.
Training Town: Fort Myers, Florida.
Park: JetBlue Park.
First Workout: Feb. 14/19.
He's Here: Manager Alex Cora.
He's Outta Here: Manager John Farrell, RHP Doug Fister, INF Eduardo Nunez, OF Chris Young, RHP Addison Reed, OF Rajai Davis, LHP Henry Owens, LHP Fernando Abad, RHP Blaine Boyer.
Going campin': The Red Sox won 93 games for the second straight season and claimed the franchise's first back-to-back AL East titles. But Farrell was fired after they failed to advance in the playoffs for the fourth year in a row. They are virtually the same team as last year; boss Dave Dombrowski said he was looking for a bat with power and still might add one of the free agents remaining on the market, including J.D. Martinez, Eric Hosmer, Logan Morrison and Mike Moustakas. For now, they are relying on re-signed first baseman Mitch Moreland (.246, 22 HRs, 79 RBIs), and the hope that Hanley Ramirez (.242, 23, 62) can be more like the player he was in 2016 (.286, 30, 111). The theory behind them keeping up with the reloaded New York Yankees goes something like this: A full season of a healthy David Price, who made just 11 starts last season, will bolster a rotation that already has a quality ace in Chris Sale, plus 2016 AL Cy Young Award winner Rick Porcello and All-Stars Drew Pomeranz and Steven Wright. Second baseman Dustin Pedroia (out until May) and catcher Christian Vazquez will be back from injuries, and 20-year-old third baseman Rafael Devers will be up for the full season. Jackie Bradley Jr. slumped in the second half, and there's hope that won't repeat. The bullpen, anchored by closer Craig Kimbrel, remains strong.
New York Yankees
Manager: Aaron Boone (first season).
2017: 91-71, second place, wild card, lost to Houston in ALCS.
Training Town: Tampa, Florida.
Park: Steinbrenner Field.
First Workout: Feb. 14/19.
He's Here: OF Giancarlo Stanton, OF Jabari Blash, INF Danny Espinosa, LHP Wade LeBlanc, INF/OF Jace Peterson.
He's Outta Here: Manager Joe Girardi, 2B Starlin Castro, 3B-1B Chase Headley, 3B Todd Frazier, DH Matt Holliday, LHP Jaime Garcia.
Going campin': In what was expected to be a rebuilding year, the Yankees reached Game 7 of the ALCS led by Aaron Judge, who set a rookie record with 52 home runs. He's now united with Stanton, the big league home run leader and NL MVP who was acquired from Miami after former Yankees captain Derek Jeter took over as Marlins CEO. New York's other big move was to fire Girardi and replace him with
Boone, who has never managed at any level. Unless more free agents are signed or trades executed, top prospect Gleyber Torres will get a chance to win the second base job and rookie Miguel Andujar will have the opportunity to take over at third. The rotation seems set with Luis Severino, Masahiro Tanaka, Sonny Gray, CC Sabathia and Jordan Montgomery, but Chance Adams might be given a chance to earn a spot in spring training.
Tampa Bay Rays
Manager: Kevin Cash (third season).
2017: 80-82, third place.
Training Town: Port Charlotte, Florida.
Park: Charlotte Sports Park.
First Workout: Feb. 14/19.
He's Here: OF Denard Span, OF Jake Bauers, RHP Brent Honeywell, SS Willy Adames.
He's Outta Here: 3B Evan Longoria, RHP Alex Cobb, 1B Logan Morrison, 1B-DH Lucas Duda, RHP Brad Boxberger, RHP Steve Cishek, RHP Tommy Hunter, OF Peter Bourjos, INF Trever Plouffe, RHP Chase Whitley, RHP Sergio Romo.
Going campin': Coming off a fourth consecutive sub-.500 finish that follows a stretch in which they made the playoffs four times in six seasons, the Rays spent the winter trimming payroll and might not be finished. Longoria, the face of the franchise, is gone and so is Cobb, one of the most reliable components of a young rotation that still has the potential to be among the best in the AL. That is, if two-time All-Star Chris Archer and another starter, Jake Odorizzi, aren't traded before opening day. Tampa Bay closer Alex Colome, an All-Star two years ago who led the league last season with 47 saves, could be a short-timer, too, for the right price. Meanwhile, the middle of the batting order will have a different look with the departures of Longoria and Morrison, who led the team with a career-best 38 home runs. Despite hitting a club-record 228 homers in 2017 — the sixth-highest total in the majors — the Rays ranked 14th in the AL and 25th in the majors in runs. Span has been the biggest offseason addition, acquired in the trade that sent Longoria to San Francisco.
Toronto Blue Jays
Manager: John Gibbons (sixth season of second stint, 11th overall with Blue Jays).
2017: 76-86, fourth place.
Training Town: Dunedin, Florida.
Park: Dunedin Stadium.
First Workout: Feb. 14/19.
He's Here: OF Randal Grichuk, OF Curtis Granderson, INF Yangervis Solarte, INF Aledmys Diaz, RHP Taylor Guerrieri, INF Gift Ngoepe.
He's Outta Here: OF Jose Bautista, RHP Dominic Leone, LHP Brett Anderson, INF Darwin Barney, RHP Leonel Campos, OF Darrell Ceciliani, RHP Taylor Cole, INF Ryan Goins, C Raffy Lopez, RHP Tom Koehler, RHP Dominic Leone, C Miguel Montero, INF Rob Refsnyder, OF Michael Saunders, RHP Bo Schultz, RHP Cesar Valdez.
Going campin': After consecutive ALCS appearances, the Blue Jays slumped badly during an injury-ravaged 2017 season, scoring an AL-low 693 runs and finishing one game above last place. Improved health will be essential for the Blue Jays, who haven't made splashy offseason additions. Toronto's offense will be anchored by third baseman and 2015 AL MVP Josh Donaldson and first baseman Justin Smoak, who hit career-high 38 home runs last season. Donaldson, catcher Russell Martin, shortstop Troy Tulowitzki and second baseman Devon Travis were key regulars who dealt with injuries in 2017. So did right-hander Aaron Sanchez, limited to eight starts because of blister issues. The Blue Jays don't have any significant position competitions, but will use spring training to settle on a fifth starter behind right-handers Sanchez, Marcus Stroman and Marco Estrada, and lefty J.A. Happ. All-Star closer Roberto Osuna
saved a career-high 39 games last year but had a career-worst 10 blown saves and acknowledged dealing with anxiety.
Baltimore Orioles
Manager: Buck Showalter (ninth season).
2017: 75-87, fifth place.
Training Town: Sarasota, Florida.
Park: Ed Smith Stadium.
First Workout: Feb. 14/19.
He's Here: OF Jaycob Brugman, C Andrew Susac, INF Engelb Vielma, OF Austin Hays, LHP Nestor Cortes Jr.
He's Outta Here: C Welington Castilo, SS J.J. Hardy, RHP Ubaldo Jimenez, LHP Wade Miley, RHP Jeremy Hellickson, RHP Chris Tillman, 1B Pedro Alvarez.
Going campin': Coming off a disheartening last-place finish in 2017, the Orioles have plenty to accomplish this spring if they are to be a factor in the AL East. Baltimore is expected to have 35 pitchers in camp, with the main objective filling out a rotation that currently features only Dylan Bundy and Kevin Gausman. Showalter will also be looking closely at a new infield alignment, with Manny Machado moving from third base to shortstop and Tim Beckham shifting from short to third. The bullpen was sound until closer Zach Britton tore his Achilles tendon during the offseason, leaving Brad Brach as the front-runner to fill the void. The staff no longer will be throwing to Castillo behind the plate, so the Orioles will likely choose between Susac and promising rookie Chance Sisco as backups to Caleb Joseph, who moves into the starting lineup for the first time. Showalter also hopes to see DH Mark Trumbo and first baseman Chris Davis return to form after their lackluster performances a year ago.