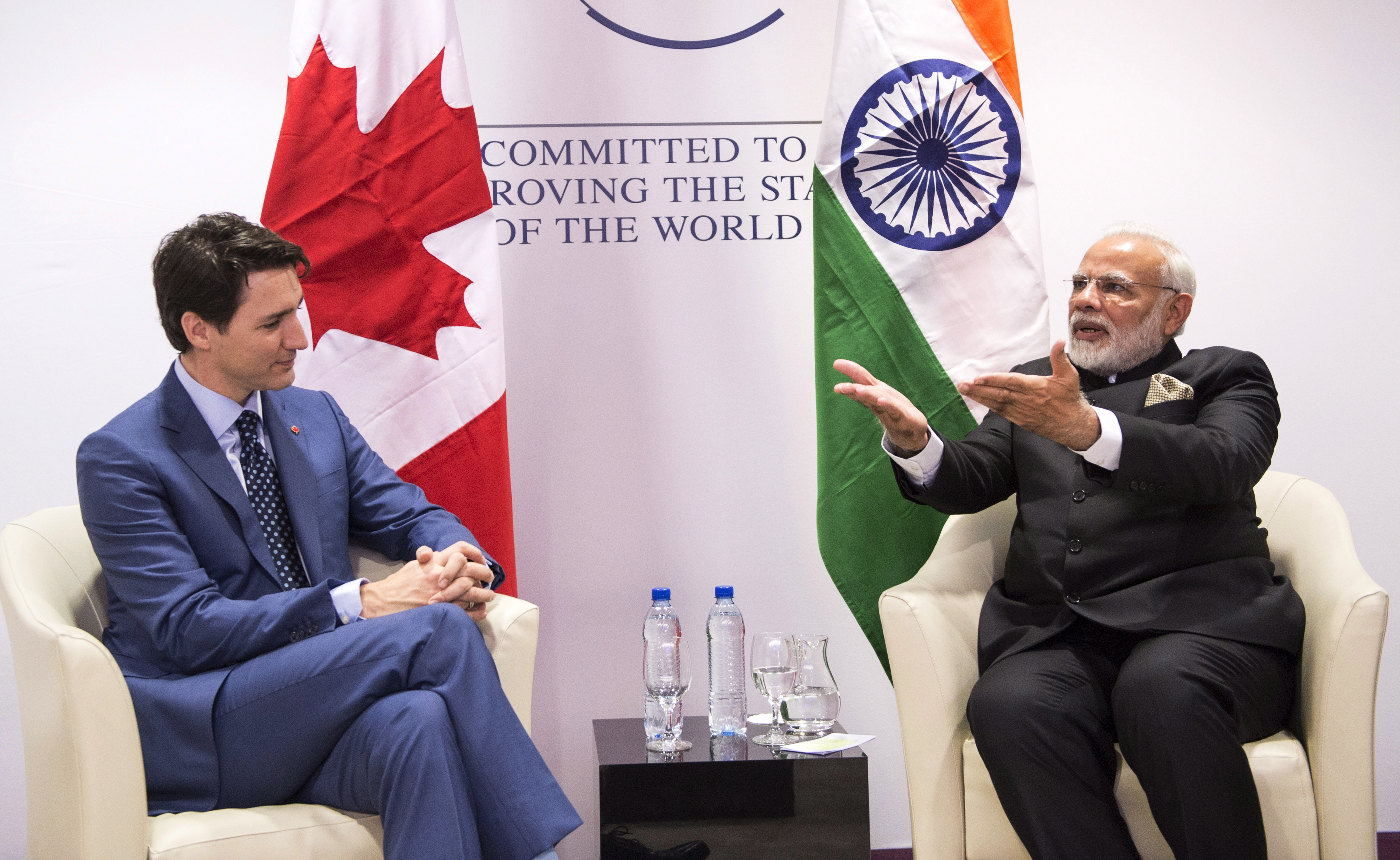 By TIM SULLIVAN
PAN PYLAS
Associated Press
DAVOS, Switzerland (AP) — Just hours after President Donald Trump approved new tariffs on imports, the leaders of Canada and India came out forcefully Tuesday against a drift toward protectionism in the global economy.
While Indian Prime Minister Narendra Modi said new barriers to trade could pose a danger on a par with climate change and extremist attacks, his Canadian peer, Justin Trudeau, revealed that his country and the 10 remaining members of the Trans-Pacific Partnership have revised their trade deal in the wake of the U.S. withdrawal.
"Forces of protectionism are raising their heads against globalization," Modi told a crowd of business and government leaders in the opening address at the World Economic Forum in Davos. "It feels like the opposite of globalization is happening."
Modi's message came after Trump's signing off on the new tariffs on imported solar-energy components and large washing machines in a move he hopes will help U.S. manufacturers.
Without directly referring to Trump or the U.S., Modi said the "negative impact of this kind of mindset cannot be considered less dangerous than climate change or terrorism."
He urged governments not to turn to isolation, driving home his point by quoting Indian independence leader Mohandas Gandhi: "I don't want the windows of my house to be closed from all directions. I want the winds of cultures of all countries to enter my house with aplomb and go out also."
Modi's speech to the global elite, the first time an Indian prime minister has made the opening address at the WEF, comes a year after Chinese President Xi Jinping laid out his country's credentials as a champion of free trade and stability on the same week Trump was inaugurated president.
The forces of globalization, which have driven the world economy for the past couple of decades and that both China and India have benefited hugely from, are perceived to be facing a challenge from Trump who was elected on an "America First" mandate. Trump, who is due to make his own speech on Friday, argues that a strong U.S. economy is a boon to the wider world.
In Zurich, hundreds of protesters, some with their faces covered, marched in Switzerland's largest city to denounce the Davos forum and Trump's planned visit. Riot police and water cannons were deployed as a precaution, but there was no immediate sign of violence.
Since taking power, Trump has argued for the renegotiation of the North American Free Trade Agreement with Canada and Mexico and pulled the U.S. out of the Trans-Pacific Partnership, an initiative ostensibly designed to liberalize and enhance regional trade.
Though without its biggest member, the U.S., the remaining members of the TPP are committing to a deal — Trudeau told business leaders in Davos that a revised agreement had been signed in Tokyo after two days of high-level talks.
"This agreement meets our objectives of creating and sustaining growth, prosperity and well-paying middle-class jobs today and for generations to come," Trudeau said. "If we're going to push back against the anti-trade tendency in globalization that will leave us all worse off, we have to put the concerns and the well-being of our ordinary citizens at the center of what we are negotiating and that's what all 11 of us have been able to do."
The deal comes amid worries that Trump will pull the U.S. out of the North American Free Trade deal. Seventy-five percent of Canada's trade goes to the U.S. and Canada is eager to diversify.
And in a nod to Trump, Trudeau also said his government is "working very hard to make sure our neighbor to the south recognizes how good NAFTA is and that it's benefited not just our economy, but his economy and the world's economy."
Though the possibility of a tit-for-tat trade war between major economies is one of the clouds hanging over the global economy, optimism over the outlook is better than at any time since before the global financial crisis erupted a decade ago. The International Monetary Fund, for example, upgraded its global growth forecast for 2018 to 3.9 percent with India growing at a more-than-healthy 7.4 percent, up from 6.7 percent last year. Canada, though, is projected to see growth slow from 3 percent in 2017 to a still-solid rate of 2.3 percent this year.
While Canada is an established member of the Group of Seven major industrial economies, India remains an economy still marked by extreme levels of wealth and poverty.
A longtime Hindu nationalist, Modi was swept to power in 2014 by playing up his economic credentials, pointing to the industrial revival of his home state during his tenure there and promising to transform the country's economy.
"The interesting thing is that if you have a prime minister who understands the fundamentals of economics, he does the right reforms and Modi is doing that," said Frank Appel, CEO of Deutsche Post DHL.
Appel is particularly impressed by the reforms to the sales tax system, with a nationwide tax replacing a confusing tangle of state taxes. The changes, he said, will "pay back to India in a big way."
While Modi has done such things as open more of India's economy to foreign investment, his critics say he has not been averse to protectionism either, with a "Make in India" program that backs domestic producers, sometimes through tariffs.