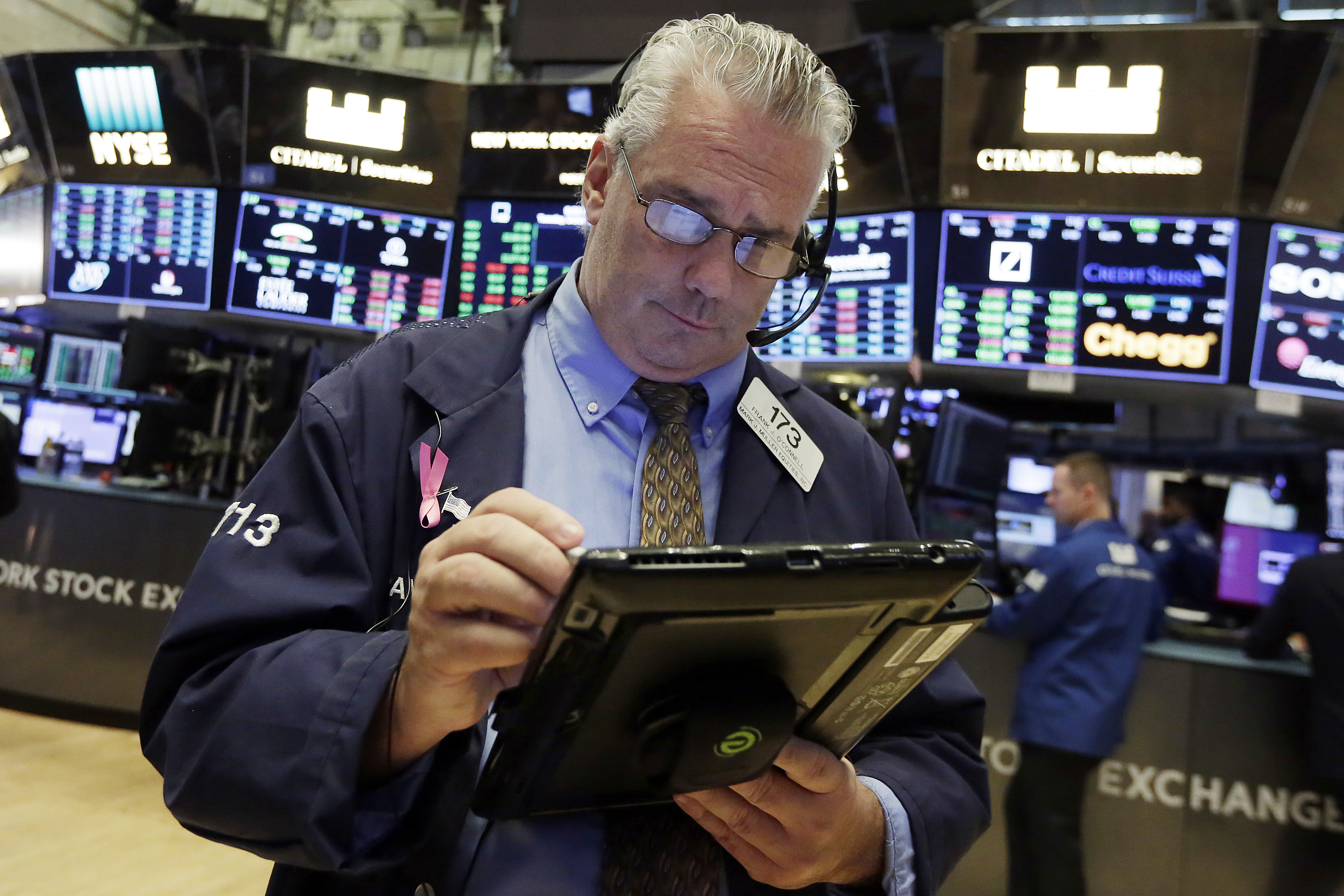 By MARLEY JAY
AP Markets Writer
NEW YORK (AP) — Technology and consumer-focused companies led U.S. stocks to more records Tuesday. Netflix, at the center of both groups, soared after saying it gained more than 8 million subscribers at the end of 2017.
Bond prices rose and yields fell after the Bank of Japan said it isn't cutting back its stimulus programs. Yields had reached long-time highs, and the decline helped high-dividend companies like utilities and real estate investment trusts. Health care and household goods companies fell after Johnson & Johnson and Procter & Gamble gave disappointing quarterly reports.
U.S. solar power companies spiked after President Donald Trump approved tariffs on imported solar-energy components. Some investors were relieved: analysts said the tariffs will make production more expensive for U.S. companies, but they weren't as harsh as they could have been. Companies that do their manufacturing overseas finished lower and some of the U.S. companies gave up their gains before trading ended.
"You could probably argue that this particular tariff is the first implementation of the protectionist rhetoric than he ran on," said Randy Frederick, vice president of trading & derivatives at Charles Schwab. That didn't worry investors much, but Frederick said stocks might decline if there are signs other countries are retaliating or that the administration is preparing to take more aggressive steps.
The Standard & Poor's 500 index added 6.16 points, or 0.2 percent, to 2,839.13. The Dow Jones industrial average fell 3.79 points to 26,210.81. The 30-stock index was pulled lower by Johnson & Johnson and Procter & Gamble's losses. The Nasdaq composite jumped 52.26 points, or 0.7 percent, to 7,460.29. The Russell 2000 index of smaller-company stocks rose 5.54 points, or 0.3 percent, to 1,610.71.
Netflix said it picked up 8.3 million subscribers in the fourth quarter, a much stronger result than the company and analysts had expected. The streaming video company's stock soared $22.71, or 10 percent, to $250.29.
Big technology companies also rallied. Facebook rose $3.98, or 2.1 percent, to $189.35 and Google's parent company Alphabet gained $12.01, or 1 percent, to $1,176.17. Online retailer Amazon climbed $35.23, or 2.7 percent, to $1,362.54.
The tariff on imported solar-energy components will start at 30 percent and it's aimed at cheaper imports places like South Korea and China. The latter country called the measures an abuse of trade remedies.
Raymond James analyst Pavel Molchanov said the extra costs from the tariffs will stop some projects from being built, but added that solar power capacity in the U.S. should keep growing at a rapid pace over the next few years.
First Solar rose as much as 8.6 percent before turning lower and falling 48 cents to $68.48. SunPower gained 6.8 percent early on, but later fell 56 cents, or 6.4 percent, to $8.16. However Sunrun gained 37 cents, or 6.1 percent, to $6.41. JinkoSolar Holdings sank $1.85, or 7.9 percent, to $21.52 and Canadian Solar declined 13 cents to $15.64.
The administration also placed a tariff of 50 percent on large washing machines and some components. Whirlpool climbed $5.33, or 3.2 percent, to $171.98.
Johnson & Johnson dropped after the health care giant said sharply higher spending canceled out a big jump in sales. A federal appeals court also ruled against Johnson & Johnson, saying a patent on its rheumatoid arthritis drug Remicade isn't valid. Remicade is its biggest-selling drug and the ruling could lead to increased competition. Its stock shed $6.31, or 4.3 percent, to $141.83.
Tide detergent maker Procter & Gamble lost $2.84, or 3.1 percent, to $89.05. The company reported a bigger profit and better sales than Wall Street expected, but analysts said its profit margins were weak.
Bond prices turned higher. The yield on the 10-year Treasury note fell to 2.62 percent from 2.66 percent. For the last few days, the 10-year yield has been at its highest level since September 2014.
Asian stock indexes also rose after the Bank of Japan said it will continue making massive asset purchases and using negative interest rates to spur inflation. Japan's benchmark Nikkei 225 index jumped 1.3 percent and South Korea's Kospi climbed 1.4 percent. Hong Kong's Hang Seng rose 1.7 percent.
Benchmark U.S. crude rose 90 cents, or 1.4 percent, to $64.47 a barrel in New York. Brent crude, used to price international oils, added 93 cents, or 1.3 percent, to $69.96 a barrel in London.
Wholesale gasoline rose 3 cents to $1.91 a gallon. Heating oil added 3 cents to $2.09 a gallon. Natural gas jumped 22 cents, or 6.8 percent, to $3.44 per 1,000 cubic feet.
Gold rose $4.80 to $1,336.70 an ounce. Silver lost 8 cents to $16.91 an ounce. Copper fell 9 cents to $3.11 a pound.
The dollar slid to 110.30 yen from 110.99 yen. The euro edged up to $1.2294 from $1.2258.
The International Monetary Fund estimated that the world economy expanded at a 3.7 percent annual pace last year, the fastest since 2011, and said it believes growth will accelerate to 3.9 percent in 2018-19. The IMF noted surprisingly strong growth in Europe and Asia and predicted that U.S. tax cuts will give the American economy a short-term boost.
Germany's DAX climbed 0.7 percent and the British FTSE 100 rose 0.2 percent. France's CAC 40 fell 0.1 percent.