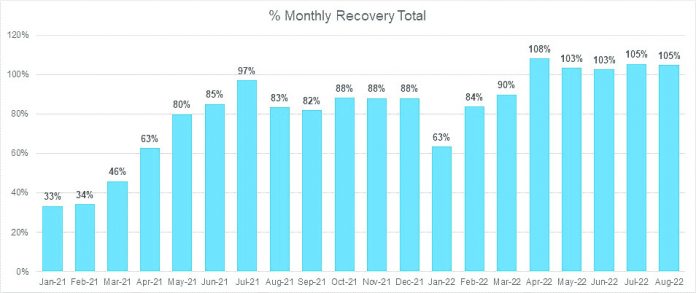 Aruba Tourism Authority (ATA) informed that for the month of August, our destination received a total of 100,770 stay-over visitors. If the month of August 2022 is compared to August 2019 – which was the last normal tourism year – it can be noted that Aruba recovered 105% of the amount of August 2019.
The three markets which stood out the most for amount of tourists who visited in August 2022, as well as the rate of recovery in the different regions are: United States, with 78,307 visitors, which represent a rate of recovery of 110% compared to August 2019. The Netherlands, with 3,236 visitors, which represent a rate of recovery of 98% compared to August 2019. And Colombia, with 2,384 visitors which represents a rate of recovery of 87% compared to August 2019.
2022 compared to 2021
2022 is showing a stronger and more stable growth than 2021. Comparing August 2022 with August 2021, a growth of 26% can be noted in the amount of stay-over visitors, from 80,230 visitors to 100,770 visitors.
Markets
North America remains as the strongest market for Aruba, and in August 2022, a total of 80,862 North American visitors arrived in Aruba. This is 80.2% of the total stay-over visitors. In August 2022, Europe grew with 9,701 visitors to Aruba, which is 9.6% of all stay-over visitors. A total of 7,641 visitors, representing 7.6% of stay-over visitors were from Latin America; and 2.5% of the total stay-over visitors for August 2022 – which is 2,566 visitors – visited our island from other parts of the world.
2022
The first 8 months of 2022, Aruba received a total of 738,101 stay-over visitors, representing a recovery rate of 95% compared to the same months of 2019. It needs to me noted that in the first 8 months of 2022, the market of the United States surpassed the amount of visitors for the same period in 2019, with 2,874 visitors.
Tourism Credits/ Central Bank of Aruba
According to the Central Bank, the so-called Tourism Credits (previously called Tourism Receipts) for the year of 2021 contributed Afl. 3,169.9 million to the local economy, which is 65.5% more compared to the same period in 2020. This is naturally due to the global pandemic of Covid-19, during which Aruba also closed its borders temporarily. Tourism Credits recovered with 80% when comparing 2021 to 2019.