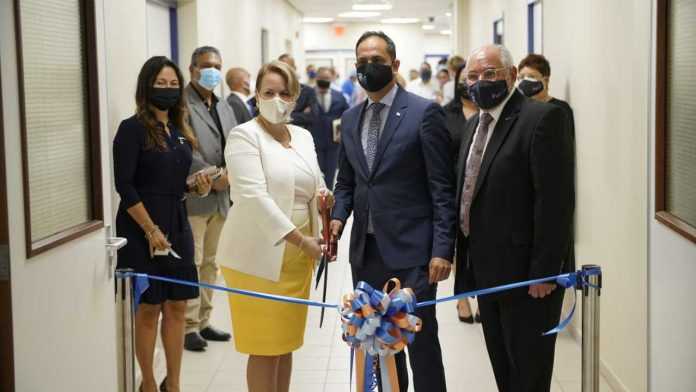 At the beginning of this week the minister of Public Health, Mr. Dangui Oduber, together with the Prime Minister of Aruba, Evelyn Wever-Croes and the director of ImSan, dr. Joel Rajnherc, had the honor to inaugurate Instituto Medico San Nicolas, IMSAN, as a hospital. The hospital consists of 22 rooms assigned for short stays.
The project is the result of months of planning and adaptation. The adaptation of ImSan into a hospital is seen as a success with the help of AZV and the cooperation of Dr. Horacio E. Oduber hospital. The Minister was able to reallocate the finances necessary to make the project a reality. The expansion and renovation of this project was an investment of 60 million florins. This project goes hand in hand with the vison of providing a better medical care for our residents.
The hospital includes a department called Short stay. Here, patients can stay for a few days. It is not the intention that chronic patients will be staying in the hospital for more than 7 months. The intent is to provide patients who undergo more complicated surgeries and cannot go home immediately a place to stay for a few nights. Something that has proven to be successful for over a year now.
IMSAN also has a radiotherapy department that provides treatment to patient without having to send them abroad. The Radiology department also has a CT scan machine and 2 echo machines. The hospital also has an eye clinic equipped with the most update technology in eyecare.
There are two operating rooms to conduct the surgeries in and one room that is specifically for eyes. The operating rooms are equipped with sterilized instruments to use during surgery. The surgery department is primarily for problems concerning the eye, and for eye operations, however, there is also a part dedicated to regular surgery which entails surgeries conducted by orthopedic surgeons, neurosurgeons, and plastic surgeons.
This project is very beneficial for our community and marks an important step in the medical history of Aruba.