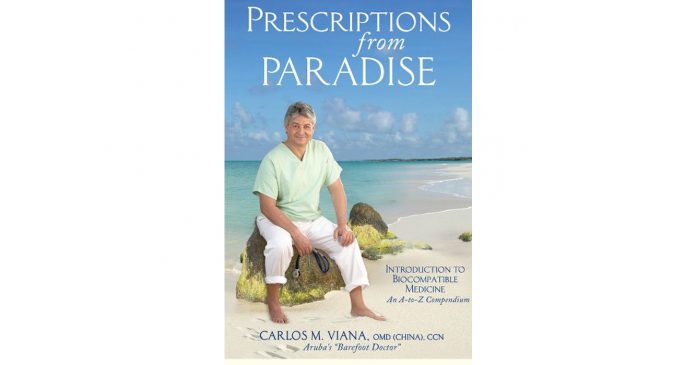 By Carlos Viana, Clinical Nutritionist
Traditionally, a festive feast or dinner is a focal element of the holiday season where we sit down with family and friends for the "breaking of the bread". The expression "breaking of bread", some believe, must be qualified. "Breaking of bread" signified the dividing of the bread cakes or loaves, which were used by Orientals. Sometimes "breaking of bread" is used concerning partaking of a common meal (Mk. 6: 41; Acts 27: 35) and "Breaking of bread: is also used in connection with the religious memorial called the Lord's Supper. We are talking about Christmas dinner and before we can sit down to enjoy our meal, we need to plan our menu.
Dr. Viana's HOLIDAY MENU
(For all blood types, gluten & dairy free)
Slow Roasted Turkey
With giblet gravy
Trimmed with raisons & plums
Brown, Wild Rice and Peruvian Quinoa Blend
Romaine & Field Green Salad
Fresh Cranberry Sauce
Rice Milk & Molasses Quesillo
Beverage: Light-Red Wine, Still or Sparkling Grape Juice, Mineral Water
For several years already we have said goodbye to the traditional holiday smoked ham. Ham, as all pork products is detrimental to people in all blood groups. Pork aggravates blood to become sticky; slows down proper digestion and obstructs absorption of nutrition. Instead we have a turkey that I slowly roast on the barbeque. No deep-frying here! Turkey has become my family dinner's centerpiece because it is a healthy alternative to more traditional foods that are classed as being detrimental according to your blood type. I carve a mean plate of turkey in front of our guests. You might not know this but the nutrition facts of turkey per serving is: 232 calories, 11 grams of fat, but only 3 grams saturated fat, 108 mg cholesterol, 77 mg sodium, 0 g carbohydrate, 0 g fiber, 32 grams protein, and 15% iron. There is nothing wrong nutritionally here. Additionally, hiding in the 32 grams of protein is tryptophan an essential amino acid. Tryptophan is needed for the production of Niacin (vitamin B 3) and is the precursor of our brain chemical serotonin. Serotonin is the calming, sedating substance essential for normal mood and sleep patterns. Now you know why you are so inclined to take a nap after a turkey dinner.
The traditional potato smothered in cheese is out. Both the potato and cheese will slow down the metabolism of most of us. Instead, for carbohydrates we use sweet potatoes, pumpkin, and brown rice. This year, after baking the potatoes in the grill next to the turkey, we are going to mash the sweet potatoes with a touch of ginger. Ginger contains components that positively influence known disease susceptibility, a good thing. I think the ginger balances nicely the taste of the sweet potatoes. Slow, baking brings out the sweetness in the potatoes, but the glycemic load is very low! This means it won't spike your insulin. The nutrition facts per serving of sweet potatoes includes: 240 calories, 6 g total fat, 4 g saturated fat, 15 mg cholesterol, 73 mg sodium, 46 g carbohydrate, 5 g fiber, 2 g protein, 294% vitamin A, 54% vitamin C. Did you see the amount if vitamin A? Wow, I am surprised that sweet potatoes do not need to be registered as an eye medicine.
We could not think about any holiday dinner without serving pumpkin. Here we go again helping our eyes. The nutrition facts for pumpkin per serving is: 286 calories, 13 grams total fat, 4 g saturated fat, 86 mg cholesterol, 120 mg sodium, 38 g carbohydrate, 2 grams of fiber, 7 grams protein, 130% vitamin A, 9% vitamin C, 7% calcium, 13% iron. Did you notice the blood building qualities of pumpkin? Only people with blood group B cannot enjoy this delicious and nutritious vegetable. In Aruba, pumpkin soup is a specialty. If I am lucky Amy might bake me a pumpkin pie, yum! Or maybe we will make pumpkin with onions.
As in every meal at our house brown rice is the staple carbohydrate. For this meaningful occasion we will add some zest (and even more nutrition) to our brown rice with wild rice and quinoa. Brown rice can be enjoyed by all blood groups. White "polished" rice is nutritionally lifeless since the bran, which contains all of the nutrition, has been stolen to sell to pharmaceutical companies to make B complex vitamins. This should give us a strong indication the benefit derived from eating brown rice. The wild rice, especially if harvested from wild ponds, contains trace minerals missing in our other grains. Super-grain, Peruvian quinoa has one of the highest amounts of absorbable calcium available. Support for our bones that cooks in just 15 minutes!
And what would turkey dinner be without cranberry sauce? This year, "can the can" full of dangerously unhealthy, high fructose corn syrup. Homemade cranberry sauce takes only 15 minutes on the stove, make with low processed cane sugar or natural grape sugar. Try arrowroot instead of cornstarch for thickener in the smooth variety or make chunky. Cranberries are a traditional remedy for bladder infection. Cranberries contain a naturally occurring simple sugar, closely related to glucose called D- mannose. D-Mannose is metabolized by our bodies and excreted into the urine. This simple sugar helps maintain a healthy urinary tract by its interaction with the bacterium found in over 90% of all bladder infections, Escherichia coli ("E. coli"). This strain of E.coli is found as part of the "normal microflora" in every intestinal tract. But even normal E.coli does not belong in the bladder and urinary tract. In these areas they multiply and become an infection. D-Mannose "sticks" to E.coli. When we take a large quantity of D-Mannose by eating cranberries, almost all of it spills into the urine through our kidneys, literally "coating" any E.coli present so they can no longer "stick" to the inside walls of the bladder and urinary tract. The E.coli is literally rinsed away with normal urination! Imagine, all from eating cranberries. Include your favorite fresh green vegetables prepared with olive oil and fresh herbs, and you've got yourself a healthy, holiday feast.
Choosing your Holiday Menu? Get the Point! Selecting healthy foods from your "beneficial" list (available at our Clinic) is a delicious and healthy alternative to some traditional holiday foods. As for our "Breaking of bread" dinner being a "common meal" or a "religious memorial", I do not make a distinction. Come to clinic so we can teach you how to make eating healthy an everyday event. Meanwhile, with my glass of red wine, loaded with antioxidants, I will toast and give thanks for the presence of healthy family members and friends and remember those of you who cannot make it this year. GIVE THE GIFT OF HEALTH: Gift Certificates and Organic Products available at Viana Center.q
CARLOS VIANA, Ph. D. is an Oriental Medical Doctor (O.M.D.) having studied in China; a US Board Cert. Clinical Nutritionist (C.C.N.), an Addiction Professional (C.Ad.), Chairperson of the Latin American Committee of the International Academy of Oral Medicine and Toxicology (IAOMT), a Rejuvenating Cell Therapist specializing in Age Management, has a weekly radio program, writes and lectures extensively. For information: VIANA HEALING CENTER, Kibaima 7, St Cruz TEL: 585-1270 Web Site: www.vianaheal.com
"Prescriptions from Paradise" – International Book Award Winner, Alternative Health – ta optenible na Aruba na Viana Healing Center, Tur libreria, Gift shops y centro nan di salud di calidad. tambe ta disponibel den forma do print y pa Kindle download pa nos amigo nan pa fo di Aruba na www.amazon.com Pa anuncio nan acerca di mas evento nan y firmamento di buki check , check corant nan local, radio y television tambe como riba www.vianaheal.com y join e discusion riba nos Facebook pagina: www.facebook.com/prescriptionsformparadise