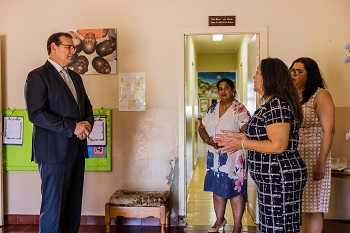 Stichting Kinderhuis Imeldahof received a visit from the Governor of Aruba, His Excellency Alfonso Boekhoudt, on Wednesday, October 20, 2021.
Upon arrival, Governor Boekhoudt was received by Natalia Hernandez (Director) and Denise Campbell (Pedagosich Coordinator).
The Imeldahof Children's Home Foundation aims to provide a temporary home and support to children who, for various reasons, cannot continue to live in their own homes. In most cases they stay there until a placement with their own family, with relatives or in a foster home can be realized.
The Governor visited all four houses of Stichting Kinderhuis Imeldahof. At Cas Marijke, Governor Boekhoudt was shown around by Liliana Kwidama (head teacher). This house is a 24-hour residence. Then at Cas Margriet, the day care location, a presentation was shown on what a day in the life of a pupil looks like. Following this, at Cas Irene, the Governor conducted an interview with two pupils. Finally, Wendy Croes (headmistress), who has been with the Foundation for 41 years, told about Imeldahof from the past and present. This talk took place at Cas Beatrix, the Foundation's crisis 24-hour shelter.