PALM BEACH —  On Aruba we have a few Italian companies offering quality Gelato (ice cream) in scoop format  but there is only one Traditional Italian Company that offers gelato artisanal on a stick. It is your road to surprise, your escape from the ordinary and your full-strength taste that is being tested. If you try one, you will be back. That is a promise by owners Randolph Arends and his wife Claudia Hernandez. 100 % artisan, fresh fruits, gluten-free and no dairy in the fruits. It is as pure as you can get it. A great r-evolution of the gelato on a stick and now available in Aruba!
Bit of History
Gelato represents one of the most famous and successful Italian histories worldwide. The art of making gelato in Italy has been a family business for a long time, indicative of great passion and creativity handed down from father to son. Thanks to technology and Italian creativity, in 2009 was launched Stickhouse franchising, an innovative project that allows you to taste a gelato on a stick in Aruba daily made with genuine ingredients. A great tradition has been reinvented!
Paseo Herencia & Hyatt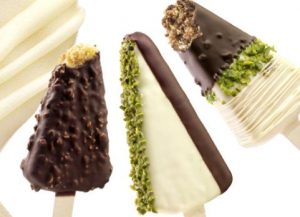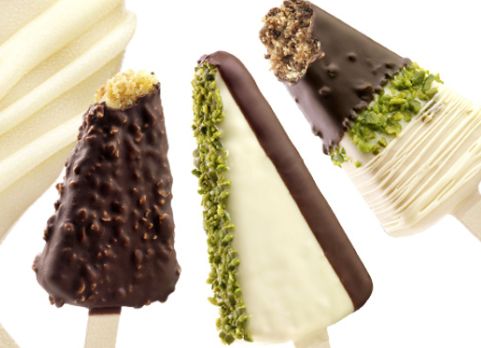 Coco, strawberry cheesecake, vanilla, hazelnut, pistachio, chocolate for those who love the rich fullness flavors without having a sugar bomb after taste. Sorbets of mango, strawberries, kiwi, watermelon, lemon are vegan-dairy & gluten free.  "In our factory here in Aruba the ice cream is made fresh daily by hand, my wife Claudia is the chef and she prepares all the bases sticking to the strict requirements of the Stickhouse concept, the mother company in Italy", says Randolph. No artificial flavorings or colorings, nor artificial emulsifier or preservatives are added. To complete this delight you may choose one of the four chocolate dips and/or sprinkled nuts. "Our experience is that when tried once, you will return as this is not your ordinary, over-sweet ice cream. This is the culinary art in ice cream for an ordinary price."
They have a cute little store with stand at Paseo Herencia where you can get your ice cream before watching one of the free shows that are on every night. Or just take a seat on their terrace. Seven days a week you can choose your stick and tickle your taste buds with the perfect dessert. Stickhouse is also present at the Hyatt Beach Bar and may be discovered in the future at perfect new location around the island.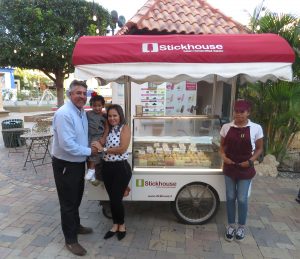 Open daily  at Paseo from 05.30 PM & at Hyatt beach bar (hotel hours)
Paseo Herencia, J.E. Irausquin Boulevard 382A Palm Beach
Tel.: +297 593 9177
Email stickhouseaua@gmail.com