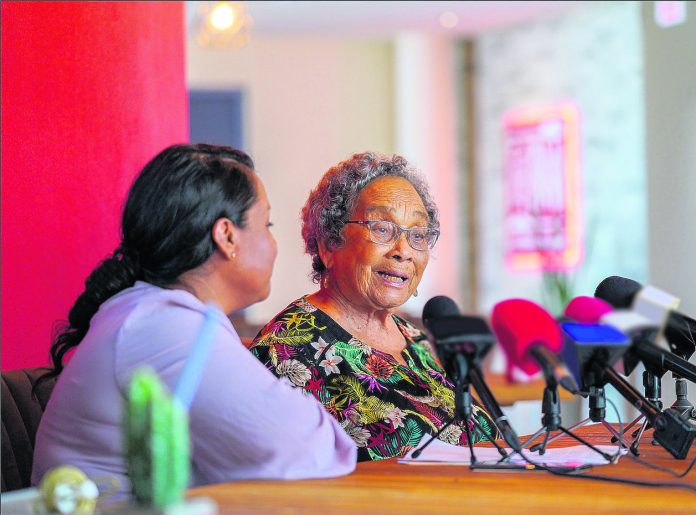 Fundacion Movemento ta Bida is known for promoting physical activities and habits for a more healthy life for the elderly population in Aruba. During a recent press conference, Rosa Leon announced the Caribbean Active Aging Congress II (CAA II). Leon elaborated on the focus of the congress and how this will contribute to the well-being of the older persons in Aruba.
Five years ago, Fundacion Movemento ta Bida (Movement is Life Foundation) presented its first Caribbean Active Aging Congress, for which the main focus was to provide all professionals in Aruba and the Caribbean with the necessary information on the physical aspect and general aspects for older persons. The importance of this was really creating awareness on how to work with older persons.
Leon explains that CACC II has the objective of creating awareness and preparing Aruba and the Caribbean regarding the aging population, as well as all the challenges associated with this. CAAC II has the objective also to increase the abilities of older persons to remain active, healthy and to live independently in their community.
Caribbean Active Aging Congress this year will take place on the 1st and 2nd of October. The 1st of October is a special day because worldwide, on this day World Day for Older Persons is celebrated. Every year the United Nations has a theme for this celebration, and this year's theme is resilience, and the contributions of older females.
Leon commented that the UN wants to emphasize the role and determination that the older female plays in order to surpass any global challenge, and at the same time their contribution to solve this with resilience and strength.
"If we want to focus on the quality of life of our older persons, it is important to give them the necessary tools so that they can work on their own lives. But the question we all ask ourselves is, are we ready to become and older adult in a healthy way?" Leon highlights.
She indicated that to elaborate on this question, CAAC II will present seven local speakers and four international speakers who will discuss various aspects, for example, incurable diagnosis, how to deal with this and what can be done. They will also expand on the physical aspect, aging, social aspect and pension, among other topics.
During the congress, the discussion will also touch on alternatives for living arrangements and care at home, how the situation is currently on Aruba regarding aging, and what this means for the island.
Leon indicated that there will also be a panel of older persons who will focus on the active older persons in Aruba, at the beautiful age of 80+, what they are doing to remain active and contribute in society.
Mrs. Carmen Bislip, who is older than 90, is active in society and lives independently, was also present during the press conference and shared her experience as an active older person 90+.
Bislip emphasizes that a person is getting older does not mean that they can't do anything anymore. She said that really, an older adult cannot do everything like they used to when they were 18, 20 or 30 years old, but there are many things that do remain possible.
"Firstly, don't be afraid of getting old. Start from when the body starts showing you that you cannot do everything, start looking forward", she said. "If you want to know how to live life as a happy older person, come on the 1st and 2nd of October. Being old doesn't mean that you have to just sit with your arms crossed and say 'I am old, I cannot go anywhere'. I might not be able to do everything, but what I can do, brings me joy."
Leon explained that they want to invite younger persons to attend the congress as well. "We want to bring awareness among our youth, because if you want to contribute to a good quality of life in your old age, you need to start right now, preparing yourself for wellbeing as an older adult", Leon said.
Finally, Leon said that Fundacion Movemento ta Bida is extremely grateful for the support that the foundation has received. Recently the foundation received a contribution from the Ministry of Transport, Integrity, Nature and Older Persons Affairs, which saw the necessity and importance to have a congress of this magnitude for the community.