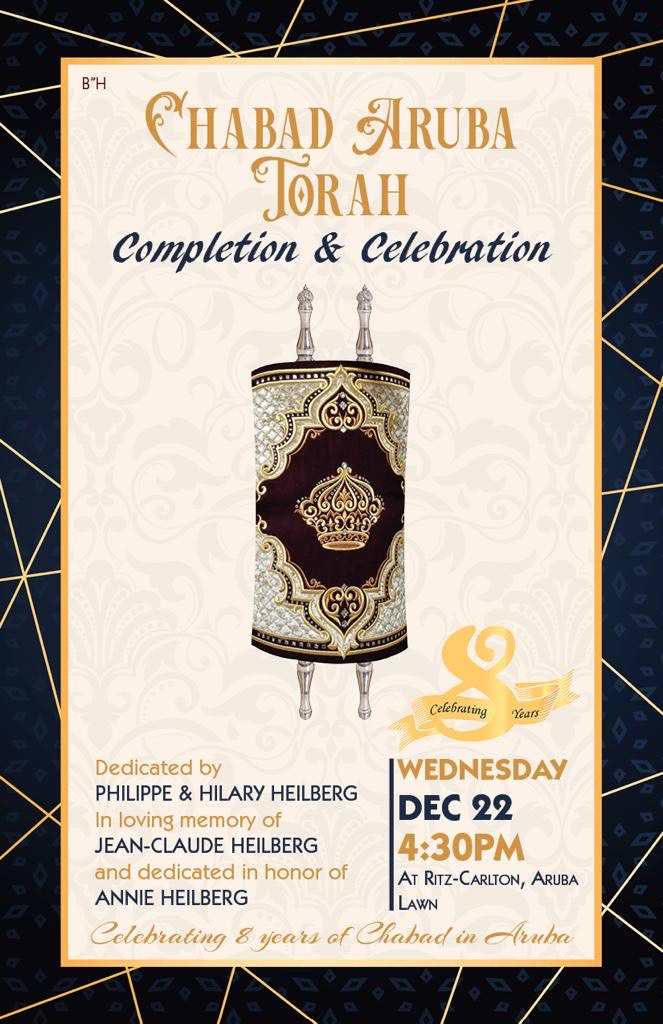 The Jewish community of Aruba will be completing and welcoming a Torah scroll — Judaism's most sacred object — with a unique and celebratory ceremony on Wednesday December 22nd. The celebration will begin at the Ritz-Carlton, Aruba and end with a procession accompanying the Torah to its new home at the Chabad Jewish Center of Aruba. 
An expert ritual scribe will ink the final letters of the magnificent scroll, as done 3,300 years ago for the very first time by Moses. Following the completion of the Torah, the sacred scroll will be taken to the streets under a traditional canopy in a joyous procession that will include live music, torches and dancing.
An authentic Torah scroll is a mind-boggling masterpiece of labor and skill. Comprising between 62 and 84 sheets of parchment – cured, tanned, scraped and prepared according to exact Torah law specifications, and containing exactly 304,805 letters, the resulting handwritten scroll takes months to complete
. Timeless dictums hold for a certified Torah scribe and everything from the character of the scribe to the quality of the parchment and type of ink are taken into account. The slightest error voids the entire 54-portion parchment.
"This new Torah scroll is an appropriate and exciting addition to the local Chabad community center, as it represents the unbroken chain of Jewish tradition and survival" said Rabbi Ahron Blasberg, director of Chabad Aruba, the organization which has commissioned the scribe and will be hosting the event. "The ancient wisdom contained in this scroll has timeless messages that directs our Jewish life to this day and is the essence of our identity as Jews. Possessing our very own Torah scroll is a cause for great pride and celebration."
For more information and to participate in this special event please visit www.JewishAruba.com/Torah
Chabad of Aruba is dedicated to providing every Jew regardless of background, philosophy or level of commitment, an open door environment for strengthening and enhancing Jewish family life. For more information on Jewish life in Aruba please visit www.JewishAruba.com.