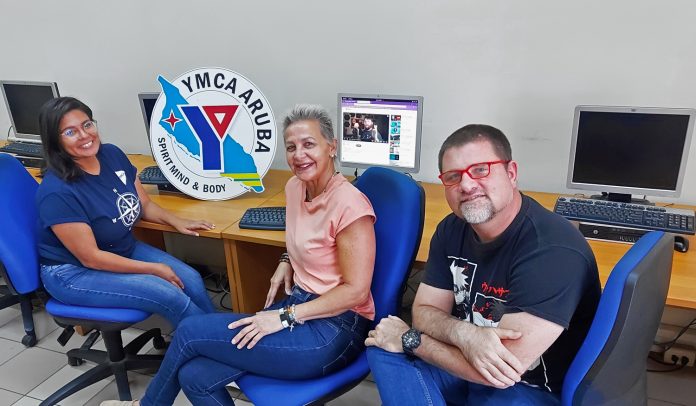 The Full Stack Vision Foundation team met with Ms. Inki Geerman, Team Leader of the Y's CARE Afterschool Program, at YMCA Aruba's San Nicolas location on November 24th, 2022, to officialize their gift of six (6) refurbished computers to the community center thus establishing a new computer room for YMCA San Nicolas.
The six (6) computers that were refurbished by Full Stack Vision Foundation (also known as Full Stack Vision and FSV) were donated by SKOA's Pius X School which is based in Dakota, Aruba.
YMCA Aruba previously used the San Nicolas-based community center's space as a homework support room. Although this space was originally a computer room, but as the original computers broke down and were disposed of, the space transitioned. The newly reactivated computer room at the YMCA San Nicolas community center is available for use during YMCA Aruba's Afterschool Program hours which are Monday to Friday from 12.30PM to 6PM.
YMCA Aruba's San Nicolas location & Full Stack Vision are currently in the works to further develop their collaborative relationship in the form of introducing Aru Coder Dojo sessions, a FREE kids & youth computer coding club that is powered by FSV, in the newly up-and-running computer room as of 2023.
The YMCA Aruba is a nonprofit organization that is a part of the international organization, The YMCA, which is committed to improving the lives of people in communities on a global scale. YMCA Aruba's mission is to strive for spiritual, intellectual and physical wellbeing of both individuals and communities as a whole and Full Stack Vision Foundation is a nonprofit organization with a focus on developing skills for future jobs in the borderless economy by making Aruba digitally intelligent. Full Stack Vision executes their vision and mission through the education of Aruba's youth and children, as well as industry professionals, with a focus on 21st century skills.