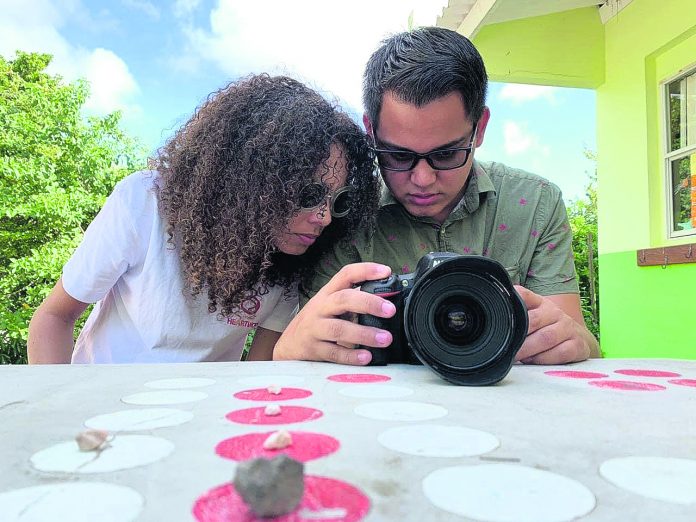 From a restless child who was bored with everything, to one of the most sought-after professional photographers in Aruba. We're talking about Ayrton Tromp (25), who thanks to his parents' 'no', learned to appreciate all that he can achieve on his own: From nature photographer to photographer for His Majesty King Willem Alexander of the Netherlands and his wife Queen Maxima. All this in only ten years.
Ayrton was always artistic, but easily distracted. When he was 11 years old already he realized he could work easier with images. And when he was 14, he expressed to his parents that he wanted to try photography. But because Ayrton was never consistent with what he started, his parents didn't want to give him what he wanted, and surely not invest in a camera, which isn't cheap. Consequently, the 14 year old decided to go to the supermarket close to his house and get a job during his vacation, and for weeks he filled bags of groceries. That way he saved and got 1,500 florin, and Ayrton went to Boolchand's, and so the photographer was born.
"I was very ashamed to talk about what I did. In the beginning, I was influenced by friends and watched how my friends got the latest phone, the latest computer. But my parents didn't want to buy the camera, because I was the kid who didn't stick to anything. After a few months of doing something, I would get fed up." And know, Ayrton understands, because he got tired with everything he did before.
Ayrton started taking pictures of plants, flowers, animals, and all that surrounded him at home. And using Facebook, he shared his pictures, which caught attention right away. "Recently someone asked me when I'm going to go back to nature photography", he commented. [red. On the day of the interview, Ayrton published some nature images, with the comment that he decided to go back to his roots, for a moment.]
Currently, most of his energy goes into his work. Photography is his hobby, but it's also his responsibility. And what always remains, from the beginning, is his own style. "Those who know me know that I never want to be like someone else. I want something different. I want to be apart. I never want to imitate another. I can say that I could come up with a way to present an image in a different way." Even though it was a risk, it worked for Ayrton, because his style opened doors to him. "I managed for people to recognize my pictures without me having to put my name. For me, it's weird because I just do something I like. Logically I'm happy, but I don't know how I managed. I think it's because I really like photography and I give it hundred percent of myself in it."
It didn't take long for the young nature photographer to get commercial opportunities. He was in secondary school when he received his first offer for a commercial job. "I was sixteen, in the middle of exams, and my mom was helping me reply to the person to tell them that at that moment I had to focus on school." But the opportunities didn't stop, and once he was in higher education (EPI), as a 17 year old, Ayrton started to combine work with school. Each free hour he spent working on photography, for magazines and even for Aruba Tourism Authority.
Ayrton was even invited to take pictures during the Royal Visit. "I skipped school to be able to do the job. The other students were asking me if I knew what I was doing, because EPI requires presence at school, which counts towards your grades. On top of it, my own mother was a teacher at EPI." Even so, Ayrton took the risk and got the opportunity to document the visit of King Willem Alexander and Queen Maxima, and even found himself presenting a gift to the royal couple. "I was doing what I really liked. And remember, I didn't even have a driver's license, so I had to walk to get to the photoshoots."
When Ayrton turned 18, he knew he had to start his own company. And the Chamber of Commerce didn't believe in him, and wanted to put the company in his mother's name. But the young man was determined, because without a company registry from the Chamber of Commerce he wasn't allowed to take on jobs. But the institution indicated that he needed to have Afl. 10,000 cash in his account to be able to open his company. "Now I know that wasn't necessary. But I had to wait a few months until I could gather Afl. 10,000 and so start my own company."
And in the next six years, Ayrton expanded his portfolio with pictures of weddings and other events. He received a lot of guidance from other professional photographers, who he admires, including Luis Mejia, Crooze Photographers, and Kenneth Theysen. But always with his own style, creating a bond with his customers. "I want to know my clients, I want to keep my job fun." Because to achieve quality and reputation is easy, that's his talent and desire; but the job requires contact, meeting the client's demands, and deliver a good product. "Work ethic is extremely important. Everything has to go smoothly."
And so the young man who was bored with everything found his rhythm. A profession that carries risk became his anchor, which helped him brave even the pandemic, when there was no job and no security. And his mom? She's his bigger supporter and is happy that her son worked for his own things himself. Because of this, Ayrton appreciates the value of his job. "Everything I have today, I worked for myself. My parents had to make me work for my things. My mom is super proud."
His vision for the future is to get the opportunity to explore each corner of the world and continue encountering more culture, other countries. "Practically I want to travel and take pictures."