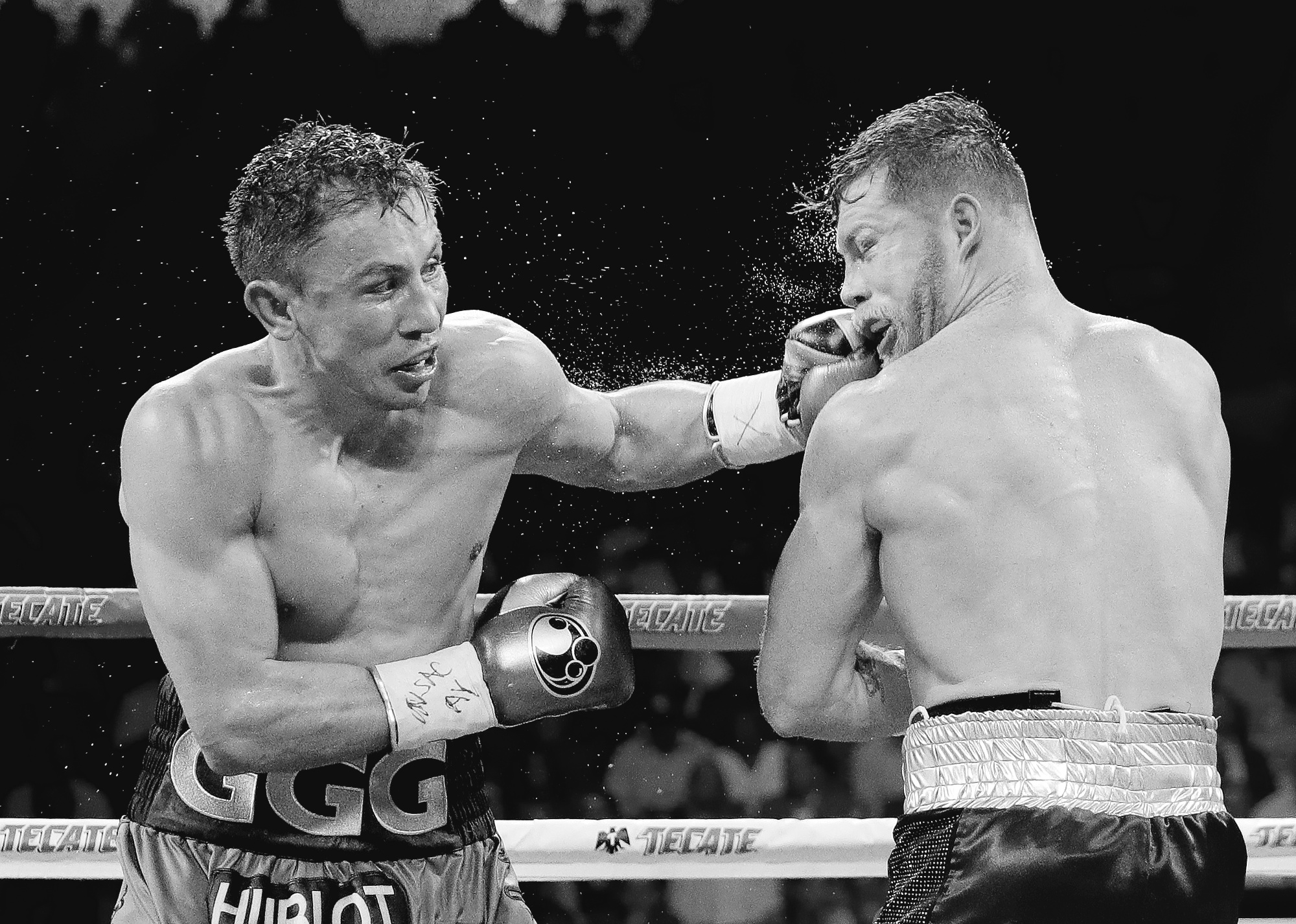 By GREG BEACHAM
AP Sports Writer
LOS ANGELES (AP) — Gennady Golovkin is growing frustrated with boxing's sanctioning bodies while he struggles to find a replacement opponent for Canelo Alvarez on May 5. Golovkin and his promoter and trainer appeared in downtown Los Angeles on Thursday to announce they still haven't found a suitable replacement, and time is running out. "I'm hungry," said Golovkin, who turned 36 years old last Sunday. "Just give me a fight."
The unbeaten middleweight champion's rematch with Alvarez in Las Vegas fell through after the Mexican star failed a doping test in February and finally withdrew from the bout last week. Golovkin (37-0-1, 33 KOs) is still in training for a fight on Cinco de Mayo weekend, but he doesn't appear to be much closer to finding a suitable opponent for what would be his 20th defense of his 160-pound titles. Promoter Tom Loeffler believes he must finalize a deal by "the middle of next week" to stage a bout on a traditionally huge date for boxing.
"At some point, we're going to run out of time," Loeffler said. "Right now, it's three weeks from Saturday. The arenas are all still working with us. The networks are working with us. … Unfortunately, when you have fights like this that fall out, not everything is under our control. We're under the gun now just to save May 5." Loeffler said he has worked extensively to reach a deal with a new opponent while still keeping happy all three sanctioning bodies behind Golovkin's middleweight belts — a nearly impossible chore in the fractious world of prizefighting.
Although Loeffler repeatedly declined to go into extensive details about the obstacles in place, Golovkin is determined to avoid being stripped of any titles by the sanctioning bodies.
Unlike Floyd Mayweather and other champions who view title belts as relatively unimportant, Golovkin prizes his reign as a decorated champion after he fought in Europe for years without attention or title belts. After concluding his lucrative business with Alvarez, Golovkin's ultimate dream is to fight Britain's Billy Joe Saunders for the WBO middleweight title, the only one he doesn't hold among the four major sanctioning bodies.
With that mandate from his champion, Loeffler is having trouble reconciling the desires of the IBF, WBA and WBC in finding a replacement for Alvarez. The IBF is particularly strident in its opposition to any opponent except mandatory challenger Sergiy Derevyanchenko. While Golovkin would be willing to fight the little-known Ukrainian contender, Loeffler believes the
matchup would be much less lucrative than other potential matchups. "If we had enough time, we could promote that bout," Loeffler said. "It would be much more difficult in a short period of time like we have right now."
Irish contender Gary "Spike" O'Sullivan, Jermell Charlo and former U.S. Olympian Vanes Martirosyan all have been discussed for the bout. Martirosyan seems to be the most likely candidate, with the boxers probably fighting in the famed outdoor ring in Carson, California, but Loeffler hasn't closed the deal. "I'm a little disappointed because there's no opponent," said Golovkin's trainer, Abel Sanchez. "We're on schedule for our May 5 fight. … I think the fans are clamoring just to see him fight somebody. Hopefully none of the people and the organizations trying to get in the way are going to be able to."
While Golovkin wants to keep busy, he also has his eyes on the future. If Canelo's potential suspension is only a six-month ban after his meeting with the Nevada Athletic Commission on April 18, Golovkin and Alvarez probably could meet in September near Mexico's Independence Day, another traditionally big weekend for boxing. "This is one of the longest layoffs of his career," Loeffler said of Golovkin. "We think it's patently unfair that he doesn't fight just because Canelo is suspended."