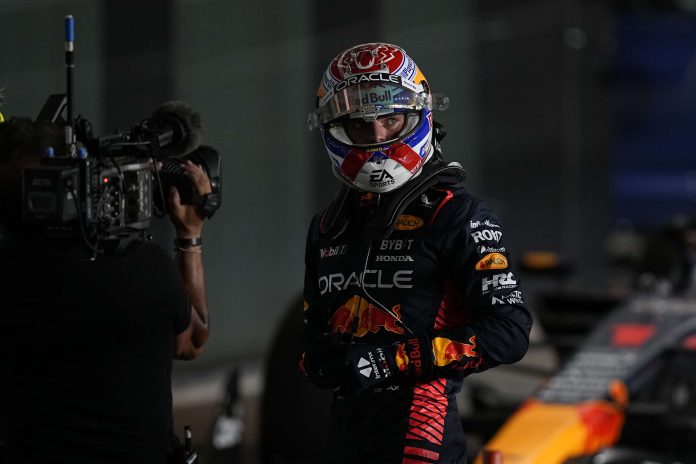 LOSAIL, Qatar (AP) — Max Verstappen underlined why he's on the verge of a third consecutive Formula One title as he qualified on pole for the Qatar Grand Prix on Friday. He can clinch the title in Saturday's sprint race.
Verstappen set a commanding time early in the third and last session of qualifying and bailed out of his final run after his car slid off the racing line. It didn't matter as George Russell could only manage a time .441 seconds slower than Verstappen as he qualified second. His Mercedes teammate Lewis Hamilton was third, .527 off the pace.
Verstappen can secure the title with at least a sixth-place finish in the sprint Saturday. That contest will have its own separate "shootout" qualifying session earlier the same day. If it doesn't work out Saturday for the Dutch driver, pole position is the best possible insurance policy for Sunday.
"It doesn't really change anything. I just want to have a good weekend," Verstappen said of the standings situation. "And of course, I know in the back of my mind that that's happening. But it doesn't add any extra pressure or whatever. I just want to enjoy the weekend and try to do the best I can."
Verstappen's teammate Sergio Perez qualified only 13th for Sunday's race after his best time in the second part of qualifying was deleted because he went off track. Had it counted, he would have scraped into the third session in 10th.
Even if Verstappen fails to clinch the title in Saturday's sprint, Perez would have to storm through the field on Sunday and score far more points than Verstappen to keep the title race alive.
Russell gave no sign he expects to challenge Verstappen for the race win Sunday. Asked what he could do about Verstappen from second on the grid, he said: "Waving him goodbye, I think, after turn one."
"Max has done an exceptional job. He deserves to be champion this year," Russell added. "Of course, Formula One, we love the competition, but we can't take anything away from what he and Red Bull have done. And we need to look at ourselves in the mirror and raise our game into next year and give him a challenge."
With Verstappen's time far out of reach, more qualifying drama came from stewards' video reviews than on-track action.
As drivers took wide lines in search of quick times, there were constant investigations examining if all four tires were off the track. By the time the standings were confirmed, drivers were already out of their cars and giving interviews.
McLaren's Lando Norris set a time which was good enough for second place, only for it to be deleted for an infringement. That promoted Russell to second and Norris' teammate Oscar Piastri to third, only for the Australian to be told in a TV interview that his time also wasn't valid.
"I didn't know, but this is fun, isn't it?" the Australian replied.
The decisions dropped Piastri to sixth and Norris to 10th.
Hamilton was promoted from fifth to third when the rulings went against the McLaren drivers, but said Norris deserved to be in the post-qualifying news conference for the top three instead of him.
"Lando should be up here," he said.
Hamilton suggested F1 could take a different approach to track limits infringements, perhaps relying more on track-side kerbs to slow drivers down than ruling on whether they crossed the white line at the edge of the circuit.
There was also disappointment for Ferrari's Carlos Sainz Jr., the only non-Red Bull driver to win a race this year. He was 12th, seven places behind his teammate Charles Leclerc. Lance Stroll was another driver who qualified far behind his teammate, placing 17th for Aston Martin while Fernando Alonso was fourth.