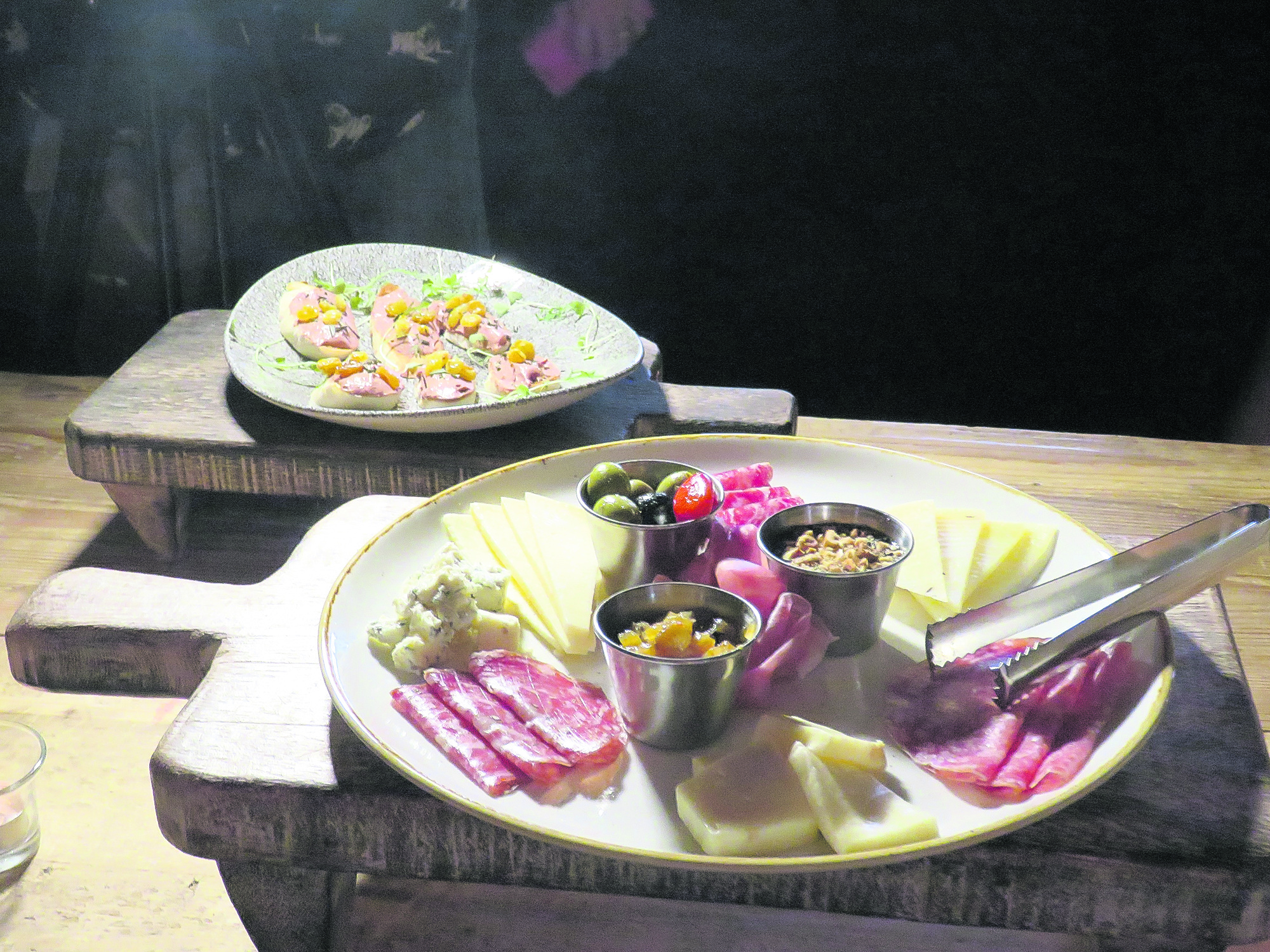 PALM BEACH – Its name means literally 'Grandmother's House' in Italian. Casa Nonna is the new restaurant in Ritz-Carlton, Aruba. There are only two of them: one in the heart of NYC's Theater District, and the other one in Aruba. In case you would like to taste what real Italian pure food is about, you must come over here.
The press was invited this week to take a look and have a taste of what Casa Nonna had to offer. Presentation is everything and the redecorated style of the restaurant takes you to this upscale though laid back Venice-in-the-fifties ambiance. The round corner sofas around the dining tables, the natural colors combined with orange-red, the candles and the rustic wall paper make this a sophisticated establishment with a 'chill' edge.
This is topped of course with the food and we were presented a Piato di Carne E Formaggio, a platter with cured meats and cheeses and exquisite relish, bruschetta's, ravioli like the Siamese Agnolotti, stuffed with a veal ragout and with cheese and spinach, gnocchi and a selection of desserts like chocolate delight: Torta di Cioccolato. All just mouth-watering.
Leading Man
Who is the man behind all this heavenly food? The creator of course is not a one man show, but the Chef de Cuisine does play the leading role. Rollyn R. Angela Rosastells Aruba Today: ""My sous chef Dennis and I went over to New York for two weeks to be trained at the original flagship Casa Nonna restaurant. I am originally from Puerto Rico but I have lived here most of my life. I have done internships here in the island like at Screaming Eagle, White Modern Cuisine, Renaissance and Buccaneer and finished my studies at EPI.
After I went abroad to study in Florida for my bachelor's degree and worked one year for world-known chef Masuhara Morimoto with the re-opening of the Shelborne Hotel." Luckily
for Aruba, Rosas came back as part of the opening team of BLT Steak and now leading man in Casa Nonna's kitchen. "To maintain the freshness of the ingredients, required by Casa Nonna, we actually make our own pasta. We bring in the flour from outside and are trained to prepare the pasta fresh just like the flagship restaurant with the highest quality. We make the dough daily and maintain freshness, same like our bread." Freshness, quality, simplicity and the reminders of home. That to me is Casa Nonna, in the words of the chef.
Signature Bellini
Sabino makes the Bellini. It sounds like an Italian mob movie, but really: this is the name of the cocktail bartender of Casa Nonna who makes a dream of a signature drink. "The Bellini's origin goes back to Venice in 1930, where Giuseppe Cipriani, founder of the world-famous Harry's Bar served celebrities like Hemingway, Woody Allen, Al Capone… Giovanni Bellini was one of his favorite painting artists and the pink color reminded him of the toga of a saint in a painting by this 15th-century artist."
Casa Nonna has her own type of white peach Bellini which takes them three weeks as they get the white peaches from the states. A bit if fresh raspberry, white peach, peach liquor and nice, high-quality prosecco … it is the only place where you can get the original Bellini!
Casa Nonna serves dinner from 6pm to 10pm. Breakfast is still from Solanio between 6:30am to 12noon.
Andiamo a mangiare!