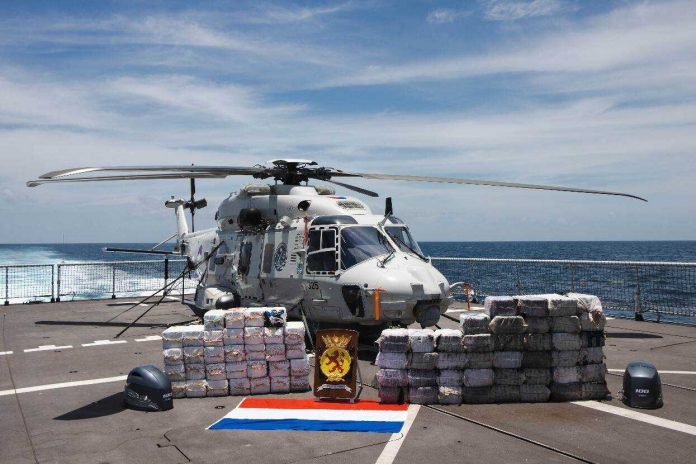 Dutch patrol vessel HNLMS Holland has intercepted three additional shipments of drugs. In the Caribbean Sea, the patrol vessel managed to stop go-fasts two days running, seizing significant shipments of cocaine. The two drug hauls preceded another drugs seizure previously announced by the Netherlands Ministry of Defence. A few days later a fourth drugs seizure followed.
On Monday 9 August, the Dutch Caribbean Coastguard spotted a go-fast. HNLMS Holland and her NH90 maritime combat helicopter pursued the suspicious contact. When the go-fast ignored the stop signals and warning shots, a Marine Corps sharpshooter in the helicopter took out the three outboard motors. Once the go-fast had been brought to a halt, a combined team of the US Coast Guard and the Netherlands Marine Corps conducted a boarding. Bales of drugs were recovered from the sea, resulting in a haul of more than 1,000 kilos of cocaine.
New sighting
As HNLMS Holland continued on her way in the morning of Tuesday 10 August, she encountered a go-fast that had been sighted by both the US Coast Guard and the Dutch Caribbean Coast Guard. HNLMS Holland, with the US Coast Guard Law Enforcement Detachment on board, also successfully completed that interception and seized approximately 800 kilos of cocaine. The third drugs haul took place on Thursday 12 August under the flag of the Dutch Caribbean Coast Guard. The Netherlands MoD was able to announce that haul earlier. And on Monday, August 16, the Coast Guard authorities detected a go-fast on Caribbean waters for the fourth time. HNLMS Holland deployed her NH90 helicopter on this. Again on this boat, stop signals and warning shots were needed to force it to stop. With the help of the NH90, a large part of the contraband – about 360 kilograms of cocaine – was removed from the water.
Joint action with the Americans
The first, second and fourth drug haul took place in support of the Joint Interagency Task Force South. This is a partnership headed by the Americans and focused on international counter-drug operations. The detainees and the contraband from the seizures on 9, 10 and 16 August were later handed over to a United States Coast Guard vessel for prosecution in the United States. The three hauls amounted to a total of more than 2,160 kilos of cocaine.
Constitutional task
HNLMS Holland returned to its post as station ship in the Caribbean in May 2021 and combines counter-drugs operations with lending support to the Dutch Caribbean Coast Guard. Enforcing the international rule of law is one of the constitutional tasks of the Defence organization. At this moment HNLMS Holland is providing emergency aid to Haiti.