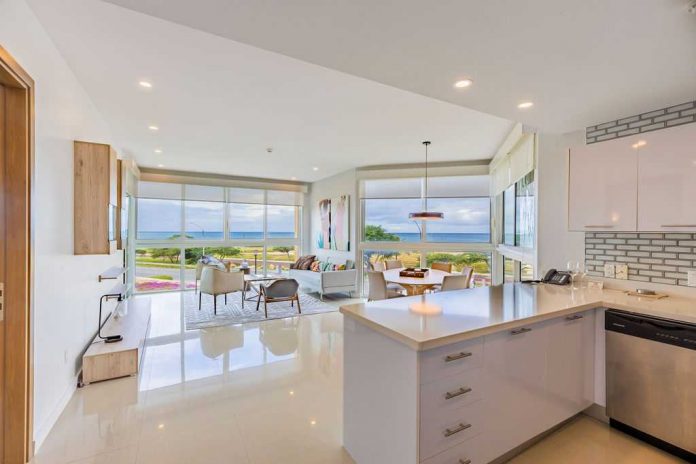 Dreaming of your own private Caribbean sanctuary is a reality now. Allow us to define this: Blue Residences offers you a condo or penthouse with top notch amenities equal to the offerings of high-class resorts facing the Caribbean Sea, the white-powdered sands of Eagle Beach. According to the Travelers Choice Beaches Award, it is one of the top 25 beaches in the world. And if you don't believe them, you can always read the thousands of positive reviews on TripAdvisor.
Blue Residences is situated in front of The Bubali Plas bird sanctuary and one of the biggest reservoirs on the island. It's also within walking distance to Palm Beach, home of the high-rise luxury hotels. The location is unequalled on the island with a variety of water sports concessions, casinos, restaurants, bars and shops just a leisurely stroll away.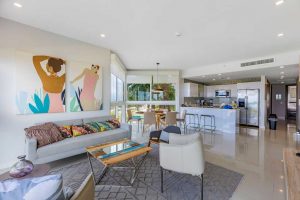 The onsite amenities include pools, hot tub, restaurant, landscaped sun-deck, fitness center, full service spa and concierge service.
The project has three towers which contains 60 two-bedroom, two-bath units; 32 three-bedroom, three-bath units; 8 one bedroom, one bathroom unit; 4 four-bedroom, four-bath duplex townhouses; 2 five-bedroom, five-and-a-half-bath duplex townhouses; 12 three-bedroom, four-bath duplex penthouses; and 6 five-bedroom, five-and-a-half-bath duplex penthouses.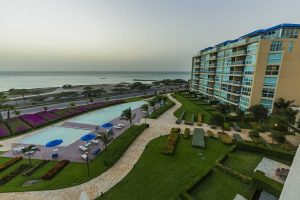 Penthouse perfection
This is an once-in-a-lifetime opportunity to be the owner of one of the hottest spots in the Caribbean and own an amazing, upscale penthouse. There are two levels of 180 degrees of spectacular, ocean-viewing pleasure and amazing daily sunsets await you! Porcelain tiles, Italian-designed kitchens, stainless steel appliances (stove, refrigerator, dishwasher and microwave), washer and dryer machines and assigned parking space is what you get for a great offer. Take this chance to buy your dream and be part of a builder's organization with an impeccable reputation who even arrange your short-term and long-term rentals if you are looking for a return on your investment.
Office is set for you
Did you know Aruba has the best internet connection in the whole of the Caribbean?
Did you also know that the island is actually designed for working remotely? All the facilities you need are ready for you, there are even special "workation packages" available.
Yes. The office at Blue Residences is just right for you. With windows all around you for viewing the blue skies and turquoise waters as decoration for an energized, productive day is set.
If you want to rent or buy and live the Blue Residences experience please email Jaime Gomez at jgomez@azure-aruba.com or visit www.bluearuba.com. The sales office is open from Monday to Sundays from 9 am to 5 pm. Go see the amazing view.