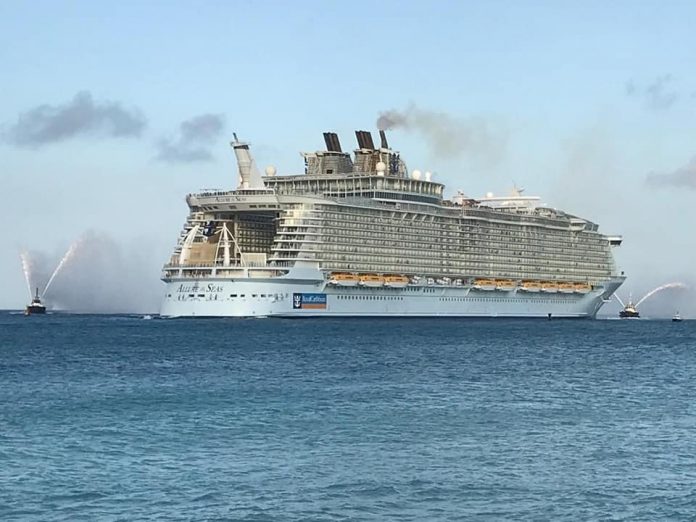 Yesterday was a historic day for Aruba Ports Authority NV as we welcomed Allure of the Seas, one of the biggest cruise ships in our Port of Oranjestad. This was welcomed with a traditional water salute by our tug boats.
Allure of the Seas from the Royal Cairbbean Cruise Lines company is one of the biggest cruise ships in the world. They received a warm "Bon Bini" (welcome) with a traditional salute from our tug boats. There were a lot of preparations made to receive this mega cruise ship in Aruba.
Allure of the Seas arrived in Aruba with a total of 4505 passengers on board. The most positive part for Aruba is that in the entire route and schedule of the cruise ship, the port at Oranjestad is the one where it will be docket at for the longest, namely for 15 hours. This means that the passengers will have more hours to contribute to Aruba's economy and enjoy of our beautiful Island. The ship can hold 5400 passengers, with a total of 18 floors and a length of 362.12 meters. It also travels using 30% LNG gas which makes it much friendlier to the environment.
The preparations to receive a mega cruise ship at our port had started a long time ago already. Since 2018 the government of Aruba made an investment of 14 million florins so that we could receive the Colorado Tugboat to make this possible. 3 months ago, Aruba Port Authority invested 1.6 million florins to being with underwater construction jobs, namely digging and cleaning the sea floor to reach a depth of 12 to 13 meters again. Today, we see the results of our investments with the arrival of one of the biggest cruise ships that have ever stationed at our port.
Minister Dangui Oduber firmly believes in the recovery of Aruba's tourism and economy, and that is the reason why the government is doing all they can to stimulate our economy.
Words of gratitude go to the director sr. Marc Figaroa, management of APA N.V and the board of commissioners.