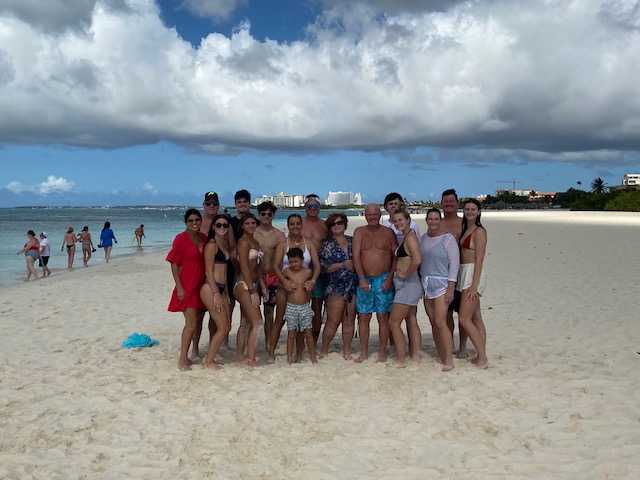 There must be something special about Aruba that keeps the Hearn's coming for almost 50 years. And yes it's the perfect weather, the beautiful beaches, the amazing restaurants, the hospitality of its people, the resort and most important their family.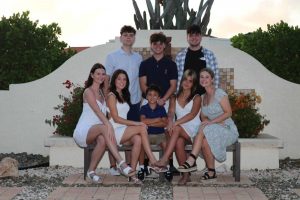 Don and Susan Hearn are from Canada. Their love for Aruba started since 1973. It was love at first site. They fell in love with it and have been coming ever since during Christmas time and other times for over 56 times. The first 15 years they stayed at the Manchebo Beach Resort, Talk of the Town, Tamarijn and when they started building La Quinta Beach Resort they purchased a timeshare during pre-construction in 1988 and moved in the next year and have been there ever since.
La Quinta is simply their home away from home. The resort has seen their entire family grow. From their sons who have been coming since 1978. After their sons married, their wives started coming and off course the Grandchildren couldn't have been left behind. They love the peacefulness they find at the resort and the many familiar faces they see each year again. Strangers who've became more like friends and family throughout the years. 50 years of unforgettable memories.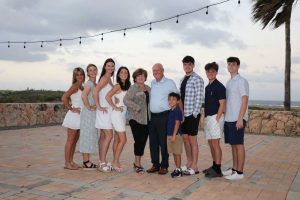 Another special bond they have to La Quinta is the many years of friendship with our current Minister of Integrity, Nature, Transport and Elderly Care, Mr. Ursell Arends. They are so proud of seeing Ursell grow into this fine gentleman and all that he has accomplished. Whenever they are here Ursell never misses the chance to pass by and spend quality time with them.
Last year they couldn't come due to Covid, but this year nothing was going to stop their family tradition from coming to their beloved island. There were lots of travel procedures and protocols to follow and despite arriving here on Christmas day, they found the whole process went by smoothly. Despite the increase in numbers they still feel very safe being here. Protocols are in place and they avoided crowded places and ate at restaurants who offered outdoor dining.
This year was another special one, since Grandma Susan's celebrated her 75th Birthday. She had many birthday celebrations and this one was a very happy one. January is a busy birthday month for the Hearns. Grandma is January 2nd, son Donald, January 6th and Grandson Conner, January 12th. The entire family is looking forward in continuing this family tradition for many years to come.
To the Hearn's vacationing in Aruba is all about quality family time, infinite memories, good company and the best life has to offer.