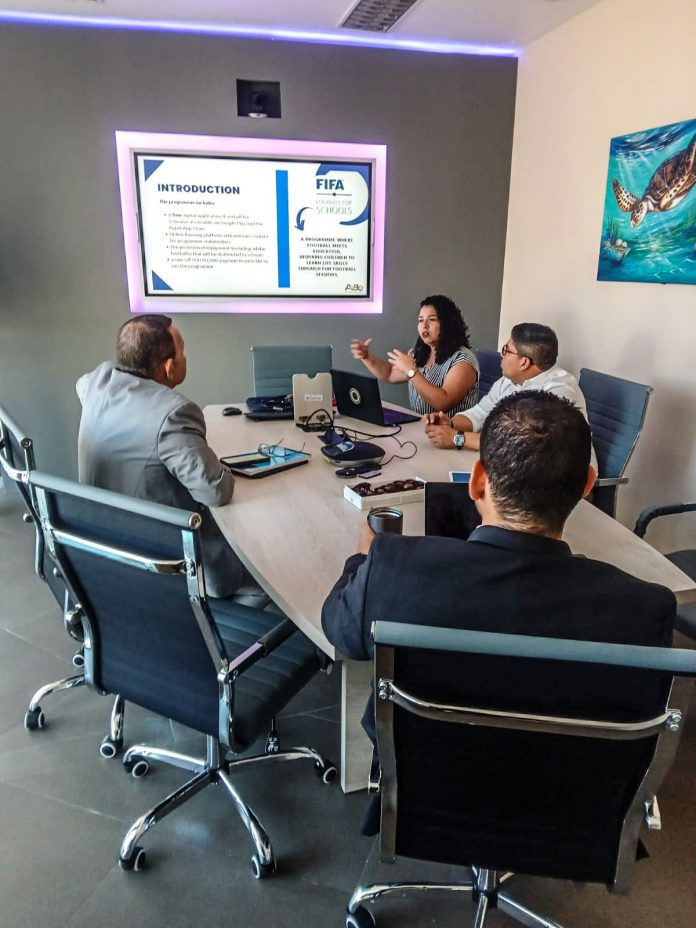 Recently, minister of Sport and Education, Endy Croes together with his colleague minister of Justice and Social Affairs, Rocco Tjon had a meeting with Mr. Randolf Lacle and Mrs. Dyane Wiersma of the Aruban Football Association. During the meeting they dialogued about a FIFA project, Football for Schools.
The idea behind this project is to introduce female football (soccer) to schools in Aruba. The goal of this project is to develop the football abilities of those who practice this sport, while at the same time contribute to the development of important life skills, among others, ability to communicate effectively, to solve problems, to think critically and creatively.
Football for Schools contains three main contributions, which is an app, material and financial incentive. Teachers who take part in this program can use an app that serves as a guide to give football lessons.
Aside from this, the app has a variety of methods with the purpose of developing important skills in the lives of the players.
The target group is children aged 4 to 14 years, and it is divided in different categories. The costs for this project are completely covered by FIFA.
Minister Croes and Tjon agreed to support this education and sport project which is set to begin in 2023 and works together with the directive of neighborhood centers – known in Aruba as Centro di Bario – and CEDE Aruba to make this project possible.