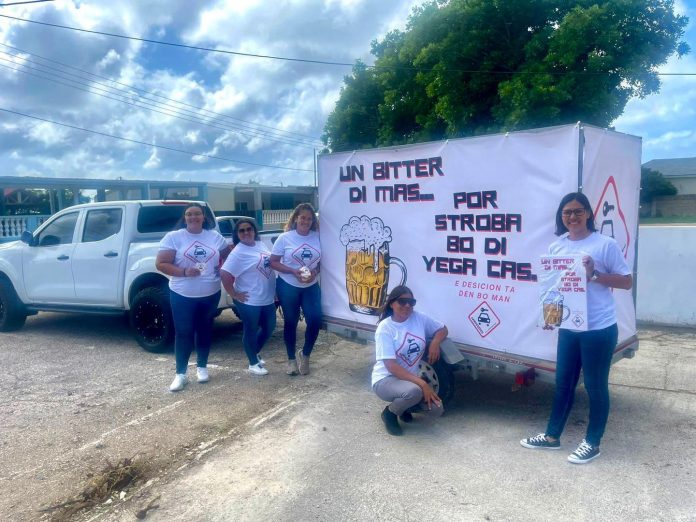 (Oranjestad)—The carnaval season is one of many activities and celebrations that also invite alcohol consumption. The Anti-drug Foundation of Aruba (FADA) is going to be active during the carnaval season with their campaign called 'Amigo DIDI' (DD Friends) to raise awareness on alcohol consumption to the public.
In a press conference for local news outlets, Miosotis Tromp, social worker for FADA, indicated that the carnaval season is where they are especially active, seeing as the busiest days are yet to come.
She explained that the organization has already started with their plan, and they will be visiting different locations to inform and raise awareness on the importance of the campaign 'Amigo DIDI'.
Tromp remarked that even though Amigo DIDI is seen as a campaign specifically directed towards adults, they have also been visiting schools in the last few weeks, giving presentations about alcohol consumption. This is because they have noticed that drinking is also becoming popular among the youths.
"We often forget during the festivities that kids may not be used to seeing people drink or experience drunk people daily. It's very important to explain that during parades, these things happen and in the case that it does, we must make sure to be OK and that children are beside their parents," she underlined.
She highlighted that it is very important to them to try to remind parents that they must set an example for their children to have the chance to understand that alcohol is not an important part of life.
"On our part we're also busy with reminding children to remind their parents not to drink and drive. In the case that they do have to drive, it is important to have an Amigo DIDI. It should be highlighted that the Amigo DIDI is the one driving, and not the passenger," she remarked.
FADA Aruba will be present in every grand parade with their banners to keep reminding the public the message behind their campaign. "Alcohol is something that doesn't have to be a part of carnaval, but if you do consume alcohol, please do so moderately," she urged.