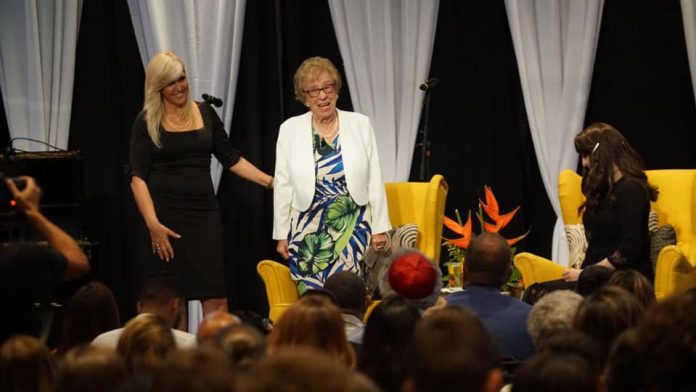 Eva Schloss is a holocaust survivor and step sister of Anne Frank. She was in Aruba where she shared her life story with a couple hundreds people in a packed ballroom of the Hilton Aruba Caribbean Resort & Casino. The night was organized by Chabad Jewish Center Aruba. "I share my story with the world to create awareness and give knowledge about what the holocaust is." You could have heard a pin drop during her presentation.
The event was sold out, and the great thing was that many teens were present, a sign that parents strive to educate their children about a part of history we must-never-forget. The emcee Ruben Garcia did a great job and the speech by our Prime Minister Evelyn Wever-Croes was powerful, empathic and thankful. "We are honored to be able to hear you share your life with us," she said to Eva and also referred to the upcoming International Day of Women, where she sees Eva as an example to the empowerment of women.
Rabbi Ahron Blasberg of Chabad Aruba introduced his wife Chaya as the interviewer of Eva. While the two sat down in comfortable sofa chairs, Eva took the public to another place. The world of a young Jewish girl in Austria who had to flee, with her parents and brother to Amsterdam when Hitler invaded their country. In Amsterdam, she met Anne Frank and her family and the two became close friends. It did not last for long, because the Nazis entered the Netherlands and from there the horror started. She paints a picture of the fears, the insecurities and the emotions of a young girl in the time of war and persecution of Jewish people. The audience barely moved, anxious to hear what came next. Of course, we all hoped for a happy ending. Alas there are none in war time, there is only losing. That was also Eva's answer to one of the three local students that asked: "Was there anything positive within the concentration camp life?" Eva: "Nothing. There was no fun. It was surviving day by day while suffering."
The impactful evening made one realize that there is no way you can imagine how it was for real. When Eva talked you imagined the streets of Amsterdam, the hiding places, the horrible trains that took them to Auschwitz with one bucket drinking water and one bucket to urinate for 80 people, the huge camp where Nazi colonel Mengle separated what he deemed, the weak from the strong, the illnesses in the barracks, the hunger and cold and, the unknown. You imagined, but you can never feel what they felt. And that exactly is why this evening was so important. We must prevent anyone from going through this again. Eva dedicates herself to holocaust education and global peace, and is the perfect person to do that. She wishes Aruba preserves their multicultural treasures and openness towards each other. "You have all these different people living together here without problems. You see, it can be done. As long as we strive for that." Life is precious and fragile, but the creative spirit is stronger than fear, the power of good is immeasurable, and love makes a difference.
Eva has spoken on more than one thousand speaking engagements. She has written two books and has had a play written about her life. In 1999 Eva signed the Anne Frank Peace Declaration along with United Nations Secretary General Kofi Annan and the niece of Raul Wallenberg, a legendary figure who rescued thousands of Jews in Budapest.