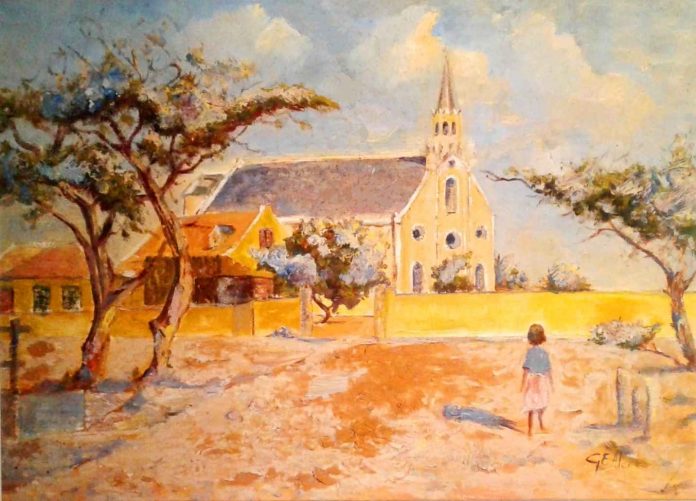 Article by Etnia Nativa call us 592 2702 and book your experience!
In 1824 there were two churches in Aruba: the Church of Santa Ana in Noord and the Church of San Francisco in Schipau or ship out at Solito (Oranjestad area). Both of these churches were mud constructions or" torto," adobe". In 1825 the San Francisco church collapsed after a heavy rain and a new church was built in 1828. During 1831 a stone church was built in Noord which was "modernized" in 1886 and remained as was until 1916 when the current Church of Noord was built at some distance to the previous.
Only the Church of San Francisco had a priest, a Franciscan Father Johannes Josephus Pirovano, who in 1813 baptizes the church of Oranjestad in honor of Francisco de Assis. During that time the church of Noord did not have its own priest, Father Pirovano came from Oranjestad every Sunday to give mass in Noord.
Before his decease Pirovano made a somewhat strange request that he should not be buried before signs of decomposition had become visible. The vice-commander of Aruba consented this and thus Pirovano laid in state for three days, whilst the people were coming from far and near to pray.
Documents of that time indicates that when the Priest Pirovano died he was buried in the middle of the church of Noord from short distance to the altar. At that time the church was known by the name of Iglesia de Monte Calvario and also with the name of Santa Ana which we know up till today. Three residents of the area had the keys to the church and were responsible for taking care of it. These three inhabitants of Noord, Jan Hendrik Semeleer, Manuel Wolff and Nicolas Tromp, were qualified by the government as "caretakers of the church" and it was them whom ensured that in 1827 the current cemetery was built next to it.
Some information about two of these "church keepers" is recorded and so we know that Jan Hendrik Semeleer is the ancestor of all those who bear that surname in Noord. He was born in Aruba in 1788. He was the son of Maria Eleonora Semeleer and an unknown father. He had a plantation in the southern part of the current Noord area of Koyari and Washington.
Manuel Wolff, born in Aruba in 1790, was the son of Jurrian Wolff and Johanna Catharina Alvarez, he married Ana Catharina Silvester and they had eleven children, who were born between 1813 and 1829: George Victorino, Bernardino, Jan Isaak, Domingo Antonio, Jan Hendrik, Caspart Robert, Alexander, Francisca, Nicolas, Lorenzo Jose and Jose de los Santos.
Nicolaas Tromp, born 1825, descendant of Daniel Pietersz Tromp born 1808, was the son of Jacobus Tromp born in Aruba on October 3, 1781 and of Johanna Helena Tobel.
To get to know a little more regarding Aruba's and its cultural origins, etc. we highly recommend you to book your participation in our cultural encounter session. A mind opening revelation and entertaining island experience. Mail us at etnianativa03@gmail.com our facilities and activities take place close to high rise hotels.